ON THE COVER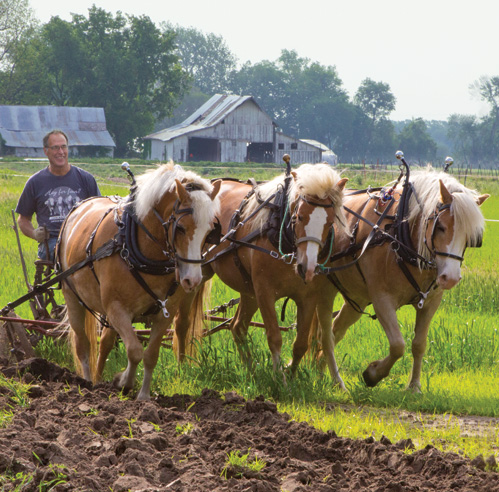 Second Quarter 2014
story by LIZ WESLANDER
photos by STEVEN HERTZOG

Willing Horse Farm is truly an apt name for John Craft's five acres of farmland just east of Lawrence. John tends his land almost exclusively with horse-drawn machinery powered by his three Austrian Hafl inger horses. It a method that he says is built on a trusting and rewarding relationship with the animals. "It is no mistake that I call the place Willing Horse Farm," says John. "The Hafl ingers have always been bred for great dispositions and they enjoy working. They like to cooperate."
John grew up riding tractors on his family's small dairy farm in central Kansas, but only tried farming with horses after he began growing vegetables on his current land in 2000. One of the horses staying on the land happened to be trained for a harness, so he thought he would give it a try.
IN THIS ISSUE
PROFESSIONAL SPOTLIGHT
Second Quarter 2014
story by EMILY MULLIGAN
photos by STEVEN HERTZOG

Kansas is known as the traditional "bread basket" for the nation, and that moniker is surprisingly as fi tting for Douglas County as it is for rural Kansas. According to the USDA Census of Agriculture, in 2012 there were 945 farms on 210,676 acres in Douglas County. The number of acres is about 5 percent less than in 2007, but sales for farms increased 6.3 percent between 2007 and 2012, to $43.9 million in 2012.
---
Second Quarter 2014
by EMILY MULLIGAN
photos by STEVEN HERTZOG

When Dan Nagengast and Lynn Byczynski started their company, like any other new business owner, they needed seed money. Unlike other entrepreneurs, though, their seed money was actually being used to purchase seeds – a whole company's worth.
Second Quarter 2014
story by LIZ WESLANDER
photos by STEVEN HERTZOG


Most people would be hard-pressed to conjure up a mental image of a shitake mushroom farm, but according to Alan Terry, a peaceful patch of woods, and lots and lots of logs is about all there is to it.
---
NON-PROFIT

Second Quarter 2014
story by DAISY WAKEFIELD
photos by STEVEN HERTZOG

The rst and last time, Lawrence Business Magazine talked with Jeremy Farmer, Executive Director of Just Food, the edgling director had been on the job for four months. His sta consisted of himself and a handful of volunteers. e yearly budget was a Spartan $139,000, and Just Food had just been pulled back from the brink of closure the previous year. At that time, the measurement of success revolved around numbers like tons of foods dispersed and number of people served.
Second Quarter 2014


>> VIEW HIS ARTICLE
---
NEWSMAKERS
Second Quarter 2014
SUNFLOWER BANK PROMOTIONS AND OFFICER ELECTIONS
Second Quarter 2014
BREITHAUPT NAMED MORTGAGE LOAN OFFICER AT TRUITY CREDIT UNION