ON THE COVER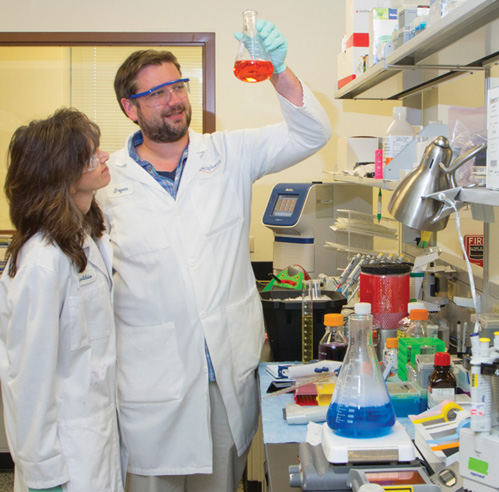 Fourth Quarter 2014
story by LIZ WESLANDER
photos by STEVEN HERTZOG

Hidden in plain sight among unassuming buildings in downtown and north Lawrence are two high-tech biotechnology companies that are working on innovative cancer treatments that could be available on the market in the future.
CritiTech, a Lawrence born-and-bred drug development company, operates both its labs and business offices in a space along E. 1450 Rd just north of downtown. Deciphera, with its business headquarters in Boston, Mass. has biology and chemistry labs located on the 600 block of Massachusetts Street- right across from the Free State Brewery.
IN THIS ISSUE
PROFESSIONAL SPOTLIGHT
Fourth Quarter 2014
story by ANNE BROCKHOFF
photos by STEVEN HERTZOG

The Bioscience & Technology Business Center at first glance looks much like a typical incubator. Look closer, though, and you'll see the BTBC's reach goes far beyond fostering private sector start-ups to embrace everything from University of Kansas spinouts, student-run enterprises, small- and mid-size businesses, Fortune 500 types and international companies.
---
Fourth Quarter 2014
story by ANNE BROCKHOFF
photos by STEVEN HERTZOG


High efficiency, bright light and energy savings, what more could you want from an LED (light-emitting diode) light? If you're Jeff Chen, Founder and Chief Technical Officer of Sunlite Science & Technology, the answer is even greater efficiency, better quality light and more savings.
---
Fourth Quarter 2014
by MARK FAGAN
photos by STEVEN HERTZOG

Someday, Price Morgan wants to build a concussion-proof helmet to protect his football teammates from head injuries. Nia Rutledge aspires to develop a revolutionary personal health device, one that can scan the human body for anything from a cold to cancer.
---
NON-PROFIT

Fourth Quarter 2014
story by KATHERINE DIAZ
photos by STEVEN HERTZOG
Janet Dehnert is as busy today as she was when she retired, if not more. As head of the fundraising committee board member and a volunteer advocate, Dehnert strives each day to improve the lives of women and children who fall victims to domestic violence.
Fourth Quarter 2014


>> VIEW HIS ARTICLE
---
NEWSMAKERS
Fourth Quarter 2014
Mock named Business Development Officer at Truity Credit Union
Fourth Quarter 2014
Craig Lane joins Sunflower Bank as Mortgage Lender