ON THE COVER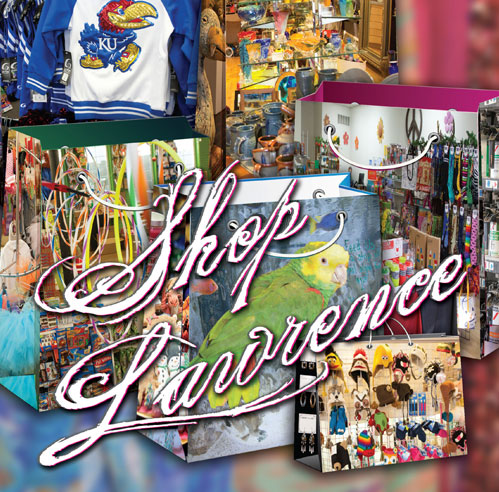 Fourth Quarter 2013
story by EMILY MULLIGAN
photos by STEVEN HERTZOG
Plenty of big issues and changes face local residents these days. From higher education funding in the state to new developments to the east (VenturePark), west (Rock Chalk Park) and downtown (9th and New Hampshire), why should anyone care about retail in Lawrence?
IN THIS ISSUE
PROFESSIONAL SPOTLIGHT
Fourth Quarter 2013
story by ANNE BROCKHOFF
photos by STEVEN HERTZOG

When the calendar turns to December, more than just the lights on the trees begin to sparkle. Cash registers come alive as shoppers search for the perfect gift for their loved ones. That perfect gift, more often than not, is for a son or niece or grandchild. Lawrence retailers specializing in children's items are ready for the business.
---
Fourth Quarter 2013
by DAISY WAKEFIELD
photos by STEVEN HERTZOG

According to a 2012 American Pet Products Association Survey, 68 percent of all U.S. households now include pets. The national affinity for pet ownership has translated into a massive industry, with an estimated $55 billion spent in 2013 on pet related expenses. Seemingly immune to fluctuations in the economy, numbers in the pet industry have been steadily climbing, averaging an 11% yearly growth rate over the past 20 years.
Fourth Quarter 2013
story by ANNE BROCKHOFF
photos by STEVEN HERTZOG

Art has a reputation for being exclusive, however, in Lawrence, it's anything but. The city's creative community embraces fine arts and functionality, established and experimental genres and spaces and public events of all types.
---
NON-PROFIT

Fourth Quarter 2013
story by DAISY WAKEFIELD
photos by STEVEN HERTZOG

The Shelter's Residential Program provides emergency residential care and longer-term residential care for children ages 10 through 18. This program was the inspiration for starting the agency. The community lacked emergency placement homes and places for kids who did not need to be incarcerated, but did need a temporary place to stay — such as kids in police protective custody. There were volunteer homes for these situations, but the need was outgrowing the supply, and kids were being shuttled to other communities in Kansas where there was a specific facility. The Shelter opened with its own facility that the city leased to them. This facility has been used for emergency shelter. Over time, a second facility was opened which houses kids who need longer term residential care. Each facility houses up to 14 kids.
Fourth Quarter 2013


>> VIEW HIS ARTICLE
---
NEWSMAKERS
Fourth Quarter 2013
DEREK KWAN NAMED NEW DIRECTOR FOR LIED CENTER OF KANSAS
Fourth Quarter 2013
BTBC AT KU NAMES PRESIDENT, CHIEF OPERATING OFFICER