ON THE COVER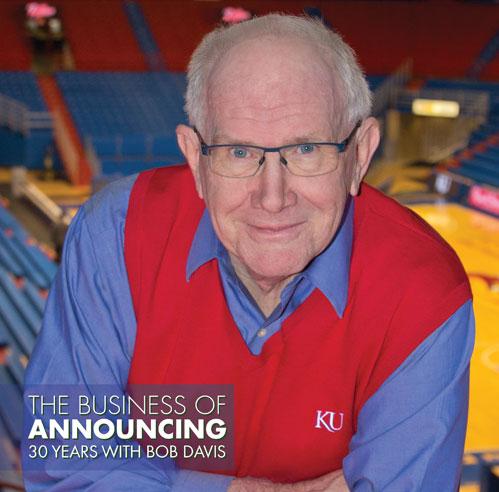 First Quarter 2014
story by STEVEN HERTZOG
photos by STEVEN HERTZOG
It is a question where the only right answer is your own.
How often should hall-of-fame radio broadcaster Bob Davis give the score during a University of Kansas basketball game?
Davis, who has been calling the action for Jayhawk fans for decades, ponders the question for a moment before offering his point of view.
"You cannot give the score too much," he says. "No broadcaster I know has ever been criticized for doing that."
Davis' wife, Linda, all at once his most ardent fan and harshest critic, offers a lighthearted but no-less contrarian opinion.
IN THIS ISSUE
PROFESSIONAL SPOTLIGHT
First Quarter 2014
story by ANNE BROCKHOFF

Most basketball fans streaming into Allen Fieldhouse don't even glance east across Naismith Drive, to the corner lot where the University of Kansas' outdoor tennis and volleyball courts now are.
---
First Quarter 2014
by EMILY MULLIGAN
photos by STEVEN HERTZOG

These days, the University of Kansas School of Engineering is most recognizable by the giant crane adjacent to the School's buildings on main campus.
First Quarter 2014
story by MARK FAGAN


The newest public school in Lawrence won't be fielding competitive sports teams, putting on theater productions or handing out diplomas.
Think a little more practical.
---
NON-PROFIT
First Quarter 2014
story by DAISY WAKEFIELD
photos by STEVEN HERTZOG

Rud and Ann Turnbull are distinguished professors, research scientists, and critical influencers in the world of disability policy. But before that, they were parents. Their son, Jay Turnbull, had significant developmental disabilities, and his quality of life was the major motivator and inspiration for the Turnbull's professional careers. In 1988, they co-founded KU's Beach Center on Disability, a research and training center that seeks to make positive change in the lives of people with disabilities and the people who support them. In the last 25 years, the Beach Center has become a leading disability research and training center with worldwide influence.
First Quarter 2014


>> VIEW HIS ARTICLE
---
NEWSMAKERS
First Quarter 2014
LAWRENCE BUSINESS MAGAZINE ADDS DIRECTOR OF NEW BUSINESS
Fourth Quarter 2013
DR. VENIDA S. CHENAULT ANNOUNCED AS PRESIDENT OF HASKELL INDIAN NATIONS UNIVERSITY