ON THE COVER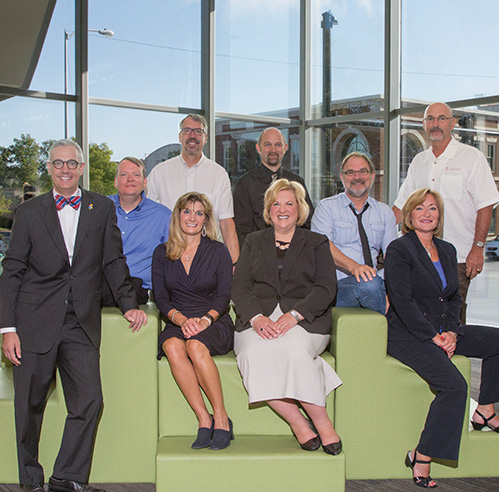 IN THIS ISSUE
PROFESSIONAL SPOTLIGHT
Third Quarter 2014
story by EMILY MULLIGAN
photos by STEVEN HERTZOG

Growing up on a farm in western Kansas, Kathy Clausing-Willis could not have known what her career would be. And she says many people still don't understand exactly what she does. However, that hasn't stopped her from pouring hard work and passion into her job, benefiting countless people in Lawrence and Douglas County, as the vice president and chief development officer for the Lawrence Memorial Hospital Endowment Association (LMHEA) for the past 17 years.
---
Third Quarter 2014
story by DEREK HELMS
photos by STEVEN HERTZOG


When asked about it, Shannon Abrahamson lowers her head and a slight smile crosses her lips. She is a quiet lady and seems to blush easily.
---
Third Quarter 2014
Third Quarter 2014
by EMILY MULLIGAN
photos by STEVEN HERTZOG

He has many responsibilities and roles, that even as the University's spokesperson, Tim Caboni, University of Kansas Vice Chancellor for Public Affairs, cannot list them all, except to sum them up, "My job is whatever the Chancellor says it is."
---
NON-PROFIT

Third Quarter 2014
story by LIZ WESLANDER
photos by STEVEN HERTZOG

Tucked up on a little hill at the corner of Clinton Parkway and Kasold Drive are the administrative offices of DCCCA, Inc., a diverse non-profit agency that has been quietly addressing substance abuse issues in the Douglas County community for 40 years.
Third Quarter 2014


>> VIEW HIS ARTICLE
---
NEWSMAKERS
Third Quarter 2014
OrthoKansas, LLC Welcomes Four New Providers
Third Quarter 2014
CritiTech Names New Chief Commercial Officer