Andrea Hudy
Assistant Athletic Director for Sports
Performance University of Kansas
Third Quarter 2012
story by ANNE BROCKHOFF
photos by STEVEN HERTZOG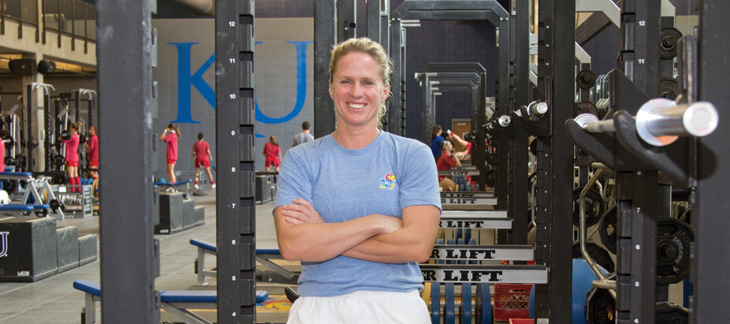 Andrea Hudy's office is filled with exactly the sort of memorabilia you'd expect the University of Kansas' assistant athletic director for sports performance to have—NBA jerseys from former students, a photo of the nine national championship rings her teams have won and signed basketballs.
Hudy, 40, clearly likes to win. But the key to her success isn't in a frame. It's written in the lower corner of a white board on her wall, a list of core values including trust, care, hard work, knowledge and, perhaps most important, authenticity.
"I never want somebody to be what they aren't," says Hudy, who is strength and conditioning coach for the KU men's and women's basketball teams and who manages the Anderson Family Strength and Conditioning Complex for all KU sports except football. "Authenticity is huge."
Hudy grew up in Huntingdon, Pa., the daughter of two high school teachers and coaches and the youngest of five athletic siblings. Days were spent outside hiking, biking, playing on the water or competing in sports.
Dinnertime found the family at the table, where accomplishments were celebrated, discipline doled out and accountability and responsibility emphasized. Money was tight in her Irish-Catholic household, Hudy says, but that didn't stop her parents from opening their home to other kids who needed a hand.
"There were some times in our house when I didn't know who those people were sleeping on our floor. You just walked over them," Hudy says. "It was just because my parents wanted to help kids. I think that's been ingrained in my upbringing."
So was hard work. Hudy mowed lawns in junior high, and, in high school, worked at a local marina and cleaned boats on the side while competing in three sports. She went on to play volleyball at the University of Maryland, where she graduated with a degree in kinesiology.
A stint in corporate fitness followed—something Hudy says she hated. So, she returned to higher education with a graduate assistantship at the University of Connecticut and helped coach two men's basketball, five women's basketball and one men's soccer team to national championships while earning her masters in sports biomechanics.
Hudy joined KU's staff in 2004 and regularly pulls 12-hour days throughout the university's 46-week training schedule. Working in a male-dominated field for the past 18 years has not been without challenges, Hudy admits, but she doesn't waste time worrying about it.
"I'm in charge of the weight room, but I'll be the last person somebody will approach because I'm female, which is fine," Hudy says with a smile and shrug. "I get it."
She remains entirely focused on her "kids," often training with them as they lift weights or run stadium stairs, and is quick to share credit for any success with her staff, KU's coaches and the administration.
Hudy enjoys spending time on her boat on Clinton Lake and sometimes heads out of town for a weekend break, but hers is not a job she ever feels the need to escape from.
Helping her teams reach their full potential—both as athletes and people—is simply what she loves doing.
"If I'm true to myself, and I trust the kids, and they know I'm honest and care, then how can you fail at that? You can't," Hudy says.