Cris Anderson
Principal, Kennedy Elementary School
Third Quarter 2012
story by ANNE BROCKHOFF
photos by STEVEN HERTZOG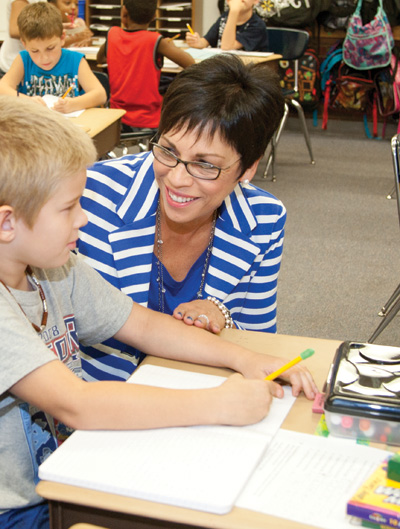 Only weeks before school started in August, Cris Anderson stood in the Kennedy Elementary School office, surrounded by boxes of supplies and stacks of enrollment letters waiting to be mailed.
There was clearly much to be done, but instead of worrying about it, Kennedy's principal instead focused on the students who would soon fill the hallways.
"We are a school with a beautiful neighborhood, and a wealth of talent and beauty within our families and children," says Anderson, 56. "It's really exciting to see all those kids stand tall and be proud when they come here."
"Here" is a low brick building on Lawrence's east side that houses an early childhood program and grades kindergarten through fifth. There are about 350 students, and Anderson is committed to seeing each child succeed.
Her determination stems from example. Anderson was born in south Texas. Her family moved to Michigan when she was five, where her parents continued their efforts to improve migrant access to health care and education.
It was hard work, and it wasn't glamorous. But watching her parents make that kind of impact on others' lives left Anderson in no doubt about the path her own would take.
She decided early to teach – playing school was a favorite childhood game – and earned a bachelor's degree in elementary education and a master's degree in early childhood education from what is now Grand Valley State University in Allendale, Mich.
Anderson married, and then taught kindergarten in Holland, Mich., and Rockford, Ill., before job opportunities drew the couple to Lawrence in 1989. Anderson taught in the Broken Arrow and Cordley elementary schools before being tapped for the district's early childhood program.
As an early childhood specialist, Anderson helped develop a comprehensive system to serve children from birth to age four, including a family literacy program. She also coordinated the district-wide offerings and supplanted grants with private funding from local supporters.
"I've found it easy to advocate for families and children, because Lawrence does not turn away from things that are so obvious, that can make such a difference," says Anderson, who belongs to the Douglas County Child Care Association, Lawrence Education Association and National Education Association.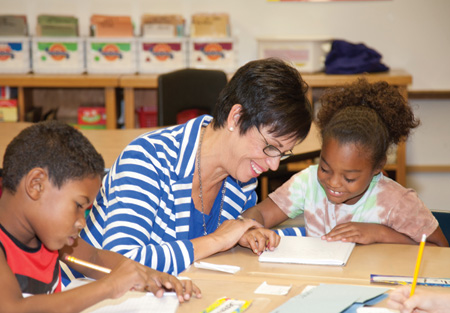 The Lawrence school district consolidated its early childhood programs into one location—the East Heights Early Childhood Family Center—in 2003 and named Anderson its principal. When the center closed in 2010, Anderson became principal of Kennedy.
She begins each day walking the school's halls to connect with "her kids." Anderson's clearly proud of her students and staff—she enthuses about the "pride families" each staff member forms with a small group of students and quickly reaches for a photo on her computer to show off hers.
Anderson points to a bouquet of paper flowers, each with the word "respect" written on it with grade-school letters, that sits on her windowsill. And she tears up when relating one 10-year-old student's reason for wanting to be on the newly formed student council.
"Her first line was 'I have been waiting for an opportunity like this for my entire life,'" Anderson says while both laughing and crying. "At age 10! I thought, well, yes, of course!"
Anderson's office is a welcoming place, with a table big enough for a group of kids to gather, a small collection of Hopi kachina dolls and black-and-white photos from one of her favorite beach town.
There are also pictures of her husband and two grown children, mostly taken at the beach. Water, sun and sand soothe her soul, Anderson says, just as her Mexican-American heritage and close relationships with her parents and five siblings help keep her rooted and ready to give everything she's got for Kennedy.
"I can't remember a day that I didn't get up ready and happy to go to work," Anderson says. "I feel blessed that I love what I do."