FROM CANINES TO CASH
by Derek Helms
photos by STEVEN HERTZOG
On one of Lawrence's scorching summer mornings, a rambunctious two year-old black lab named Frankie confidently trots to the counter of Pawsh Wash. Nails freshly trimmed, coat washed and teeth cleaned, Frankie sits, raises his eyebrows and glances at Sarah, his owner.
Frankie waits patiently and his eyes begin to dart between Sarah and the turnstile of handmade treats.
"What," Sarah jokes. "Is looking that good not enough of a treat?"
"Oh, come on," says Amber Nickel, Pawsh Wash owner. "A little treat never hurts."
Sarah concedes, both to Frankie's cock-eyed plea and Nickel's subtle urging, and fetches a frosted cupcake.
"Making dogs and their owners happy is such a great feeling," Nickel says. "It's so cool to do that for a living."

AMBER NICKEL MUST HAVE BEEN A GREAT BARTENDER.
Her smile is omnipresent, she doesn't let much get to her, and her dry humor keeps others on their toes. After graduating from the University of Kansas with a degree in journalism, she spent days in local media as a producer and nights behind the bar slinging beers to locals.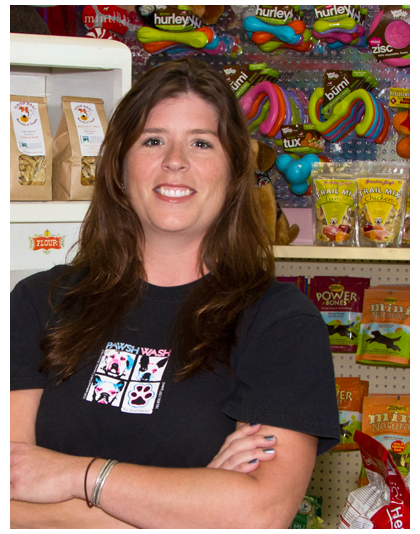 "You know, I loved bartending," Nickel said. "You meet the most interesting people, hear great stories and become everyone's best friend."
Amber and her (only slightly) older sister Nicki were both living a good life in Lawrence. Amber was using her degree and havinga blast behind the bar and Nicki was happily employed as a nurse, working at the Douglas County Jail. The two were young and enjoying the world of young professionals. Something kept eating at them, however.
"Following an entrepreneurial spirit is really our family business," Amber said. "The passion and drive to be our own boss was instilled in us by our father at a very young age."
Both girls remember the initiative of their dad, a serial entrepreneur. He was an accountant, restaurateur and consultant.
"He would always tell us 'if you have a good idea, someone else will probably agree with you."
The girls had the drive, but didn't know what they wanted to do. A trip to a dog wash in Kansas City with Nicki's yellow lab changed everything.
"Nicki's lab is huge," Amber says. "I love Chance (the yellow lab), but washing him in the bathtub or with a hose just, well, it sucked. We heard about a place in Kansas City that had pet washes, so we drove over to check it out. Needless to say, we thought it was pretty awesome."
When the trip to Kansas City to wash Chance became a regular thing, the proverbial light bulb went on. "On the way back we always talked about how dog-friendly Lawrence is," Amber said. "It really seemed like all out friends and neighbors had dogs. That thought led to how great it would be to open a dog wash."
Like most entrepreneurs, Amber and Nicki thought about the idea. A lot.
"We would call each other with ideas and thoughts," Nicki said. "It's really easy to have the ideas. The work begins when you try to implement them." As expected, the girls' dad was keenly interested in the idea.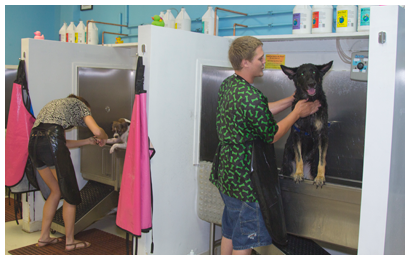 "The thought of opening a dog wash was really kicked into gear by our dad," Amber said. "He did the research on the actual number of dogs in Lawrence. He sent us these great numbers of pet owners and habits he had found. Seeing those figures really sold us on the idea."
Finding space was tricky. Yes, the shop would need room for industrial cleaners. Yes, the shop would also need space for retail sales. Parking was a must.
"Well," Amber says rather bluntly. "We needed a space that had close proximity to a good spot to poop and pee."
Downtown was scouted, but the thought of clients trying to cross Massachusetts Street with their dogs was disconcerting. The girls even considered buying wagons for clients to use as a transport for their pets. The shop's current location on Wakarusa, with its proximity to the dog park at Clinton Lake and many family-friendly neighborhoods, was a natural fit.
"It has great parking and green space for poop," Amber says. "As nice as a lawn outside the shop is, it certainly doesn't eliminate accidents. We joke everyday about it being a two, three or even six or seven poop day."
With a location set, financing secure through a line-of-credit and their own pocketbooks, the sisters took the leap into starting their own business. Pawsh Wash opened in the fall of 2005 as a self-wash dog cleaning company. They offered limited retail, but that has changed.
"People really like the self-wash option," Nicki said. "But we quickly saw a great opportunity to grow by offering full-service cleaning and expanded food and equipment."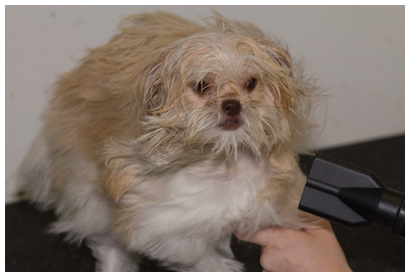 The girls and their staff learned the proper and most efficient dog washing and grooming techniques. They increased their pet food supply, improved their selection of leashes and toys and started stocking beautiful gourmet treats. Learning on the job has been the best business lesson the Nickel sisters could as for.
"If we don't have something you are looking for, let us know," Amber said. "We will find the product, or the best answer to your question. We learned early on that making the customer happy, even if you can't do it immediately, is absolutely the top priority."
Return customers build the bulk of Pawsh Wash business. Making dogs look good, it turns out, makes their owners very happy.
"We try to be as full-service as we can," Amber said. "A lot of our customers appreciate our proximity to the off-leash dog park. They can take their dog to the park, let him or her run around in the grass and mud and stop here on the way home to clean up and get a treat or fresh bag of food."
Kristin Piper is one of those long-time, loyal customers. She has been bringing her dogs, Simon and Zoe, to Pawsh Wash for 5 years.
"The dogs absolutely love going to Pawsh Wash," Piper said. "I really don't even consider washing them at home. Once you take your dog to see Amber and Nicki, it's hard to do it in your house again. My dogs, Simon especially, can be crazy. Having someone else do the dirty work to get them clean is awesome."
The result of a job well done is, well, more jobs. As Pawsh Wash became established in Lawrence, the strains of success started to
creep in. Amber and Nicki had to increase and consistently train staff, increase food orders and buy (over and over) new vacuums.
"If I had known then what I know now," Amber said. "I would have bought stock in vacuum cleaners. Seriously, we go through those suckers!"
As the business continues to thrive, Amber and Nicki have had to make some difficult decisions. The desire to expand services and increase their market share created a need to free some cash. At the beginning of the year, Nicki stepped away from Pawsh Wash and back into her former nursing career.
"It was really a very difficult decision," Nicki said. "I love being with the dogs and helping the customers everyday, but I also missed life in the nursing world. When my old job became available, Amber and I had a long talk."
Nicki is still involved in nearly every aspect of the business and may be even more excited for the future of Pawsh Wash than Amber.
"Well, I miss it everyday," Nicki said. "But I don't have to clean up dog hair anymore."
Amber has embraced her new role and solo shop director.
"To be an independent business owner, in the town I love, working with people and animals that I love," Amber says. "I'm not sure it gets much better than that."