NEWSMAKERS
March 2012
Landmark Promotes Moore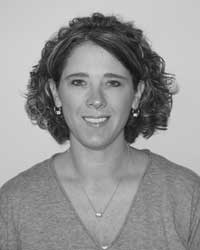 Leigh B. Moore has been promoted to Bank Manager at Landmark National Bank. Moore manages Landmark's Lawrence location at 4621 W. 6th Street. Her Landmark career began as a Personal Banker in March 2009. Moore is responsible for supervising the Bank's daily operation, supervising bank associates and meeting the deposit and lending needs of customers.
"Leigh is a consummate professional and epitomizes what we and our customers look for in a bank manager," said Brad Chindamo, Landmark National Bank Market President. "Leigh's success comes from leading by example and recognizing and addressing the individual needs of each customer," Chindamo added.
Prior to Landmark Moore served as a project coordinator for a construction company. She was also a brokerage services supervisor for Forrest T. Jones & Company and provided technical support and processed claims for Centennial Life Insurance Company.
Moore has a Bachelor of Science degree from Pittsburg State University. She is a graduate of Leadership Lawrence and current Leadership Lawrence Advisory Board member. She has served on the Lawrence St. Patrick's Day Parade Committee and on the Board of Directors of Crime Stoppers of Douglas County.