Newsmakers
Third Quarter 2012
Lawrence Habitat for Humanity Women Build Honors Marilyn Dobski With New Award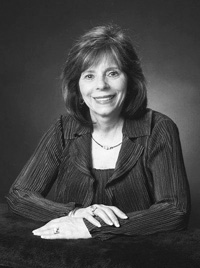 Lawrence Habitat for Humanity's Women Build program is set to honor longtime Lawrence businesswomen Marilyn Dobski with a new award. The inaugural presentation of The Rosie will be at the 2nd
Annual Women Build Luncheon, set for October 12 at 11:30 a.m. at Maceli's in downtown Lawrence.
The Women Build Luncheon is the main fundraiser for the annual Lawrence Habitat home sponsored by the Women Build program. The event features a live auction of items used to build the home. Women Build's goal is to empower women to help eliminate poverty housing and provide a comfortable construction environment while building a Habitat home.
Since opening her first McDonald's in Leavenworth in 1981, Marilyn Dobski, along with her husband, Tom, have become deeply rooted in the Lawrence community. The Dobskis now own 12 Mc-Donald's restaurants in five counties and Marilyn has become a visible leader in both local business and the community. Marilyn has spent time giving back through many local groups, including the Douglas County Community Foundation, the Lawrence Arts Center, the Lawrence Chamber of Commerce, and Corpus Christi Catholic Church & School. She has won numerous awards for her business leadership and service to the community, including induction into the Lawrence Business Hall of Fame in 2010.
Marilyn embodies the meaning behind The Rosie by empowering local women to succeed in business and in life. Marilyn and her husband, Tom, have been married for nearly 40 years. They have three sons, Michael, Kevin and Brian, and two grandchildren, Kendall and Hadley.
The Rosie, named after Lawrence Women Build's logo, Rosie the Riveter, is an award given to a local woman who stands out among her peers and empowers women to succeed in whatever they choose to do. Rosie the Riveter is an icon that inspired a social movement that made women an integral part of the economy in the United States. Recipients of The Rosie mentor and encourage local women, ultimately building women and building hope in Lawrence.
To register for the Women Build Luncheon, visit LawrenceHabitat.org/Women-Build.