NON-PROFITS: OPENING DOORS WIDER
THAN EVER
November 2011
by Daisy Wakefield
photos by STEVEN HERTZOG
Nonprofits never have it easy, but these days, it seems like they have it pretty darn hard. As the economy continues to drag, charitable organizations that provide material assistance and resources to financially struggling populations are being especially stretched. Previously only accessed by those who hover at poverty income levels, nonprofits are now being tapped by a widening berth of people. The line between middle class and poverty becomes a slippery slope when factoring in rising food costs, unexpected medical bills, and unemployment or underemployment.
For three local organizations, these trends knock at their door on a daily basis. They meet the needs as they can, always with the long-term objective of helping their clients become self sufficient.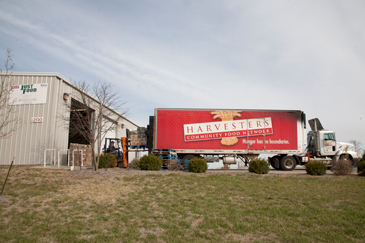 JUST FOOD
"The economy is in a weird spot," says Jeremy Farmer, executive director of Just Foods, "Our numbers of people we serve are increasing, even though we are seeing some families achieve self-sufficiency and graduating out of the system. But more new people are are coming in to receive help. Last year at this time, we directly served 1200 people a month. Now it's 2200 a month."
An outreach of the East Central Kansas Economic Opportunity Corporation (ECKAN), Just Food goes beyond typical food pantry services by providing both perishable and nonperishable food as well as extended hours of operation. It is the largest emergency food provider in Douglas County, acting as a distributor for Kansas City-based Harvester's Community Food Network to its local partner pantries.
With a bare bones annual budget of $139,000, Just Food keeps its overhead costs low by partnering with local farmers and grocers to provide food at free or discounted costs. A staff of one to two and a crew of volunteers keep the operations running smooth. Even so, the organization was on the brink of closing in February 2010 from lack of funding. Local contributions of $115,000 granted an 11th hour reprieve to the pantry.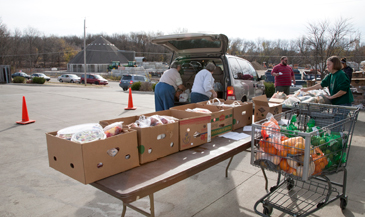 With the increasing needs and numbers, Farmer, who became director in July, is feeling the pressure of increasing their funding sources. He is applying for grants and planning fundraisers. ($60,000 in grant funds and $13,000 raised in a golf fundraiser adds a boon to the 2011 books.) With the support of local businesses, Just Foods was able to provide 300 Thanksgiving meals. Farmer says they are soliciting businesses to help provide 300 meals for Christmas as well.
BALLARD CENTER
Though its initiatives have broadened over the past 30 plus years, the core mission at the Ballard Community Center has remained the same: to provide quality early childhood care and preschool for low income families. The main site Ballard Center site in North Lawrence serves 58 kids in 5 classrooms, and another one at Brookcreek Learning Center serves 45 kids in 4 classrooms. A third, the Petey Cerf Early Childhood Center, is slated to open at the end of 2012 and will serve 88 infants and toddlers in a new and green sustainable building designed by Gould Evans.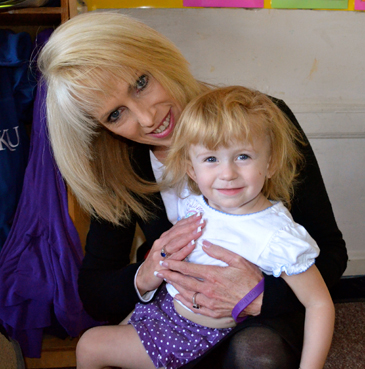 "Children tend to not learn as well when they are hungry or tired or worried about what's going to happen to their families," Dianne Ensminger, CEO Ballard Center, explains. The organization also provides wraparound services for families in need. These social services include food pantries at Ballard Center, a clothing closet at Penn House, emergency rent and utility assistance through the Douglas County Emergency Service Council, among others.
Ensminger echoes the trend of seeing a new class emerge, those who are between abject poverty and solid working class. "We are seeing families who never even thought this would happen, but now are facing foreclosure or job loss. These are hardworking people — but they are right above 'just making it.' It's a delicate balancing act for families to keep from falling over the edge."
To meet these increasing needs, Ballard raised their tuition in 2010, but even so, it is only half of what it costs to run the program. Funds from private donors and foundations have increased, as have funds from city and county sources. Ballard is also the largest recipient of the Douglas County United Way, receiving $250,000 in 2010. And for the past two Septembers, the Ballard B3 (Blues, Brews, and Barbeque) Fundraiser has helped to bridge the gap in meeting the overall operating budget of $1.4 million.
SALVATION ARMY
It's a familiar sight and maybe even more familiar sound — the bell ringers from Salvation Army in front of stores during the holiday season. A token of generosity goes into the kettles – but as with any global organization, one wonders how much influence a dollar actually has in the local area.
"Eighty three cents," replies Wesley Dalberg, director of the Lawrence chapter of the Salvation Army, "Some money flows up to our headquarters for administrative and overhead, but eighty three cents of every dollar stays here in our local community for our operational and outreach costs."
Those operational costs include the staff and overhead necessary to provide social services like emergency housing, utilities, and food assistance, a warming/cooling center each evening where people can come for snacks and drinks, community lunches three times a week, and special outreaches held throughout the year. A major component of Salvation Army's mission is the case management that they provide for the homeless or transient. Three case managers work with clients to receive transitional or permanent housing, with an emphasis on life skills training. Salvation Army is also a church denomination, holding religious services through the week and on Sundays that reach out to a population that may not feel comfortable in a traditional church setting.
Funded by the United Way, HUD, and private donations, the Lawrence Salvation Army has yearly operating budget of $1 million. (The Salvation Army thrift store is a separate entity that provides funds to the Kansas City chapter of the Salvation Army Adult Rehabilitation Center). The kettle program, which draws in funds from nineteen Lawrence locations, is hoped to bring in $95,000. Dalberg also plans to do a major gifts solicitation and a direct mail solicitation this holiday season to raise a total of $300,000 in holiday drive money.