TECHNOLOGY
Third Quarter 2012
story by AL BONNER
Mobile Websites For Your Business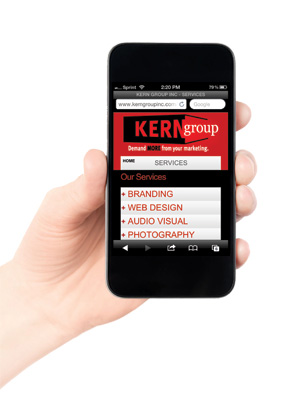 Are you among the 93% of businesses that do not have a mobile friendly version of their website? Have you viewed and tried to navigate your website on a smartphone? Mobile websites have quickly moved from something nice to have, to something you must have.
The number of consumers that visit website on their mobile devices is growing at a rapid pace. Today's smartphone users represent a major percentage of your current or potential customers. You may not even realize how much of your total website traffic is coming from smartphones.
What is a mobile website? It's a simpler and smaller version of a desktop website designed to be displayed on a mobile phone. Your current site is probably already viewable on a mobile phone – the exception being a flash site on iPhones. However, many consumers don't like pinching and zooming while trying to locate key information about your business. Sites vary in accessibility, but how does your site stack up? Nearly 2 out of 3 users are unlikely to return to a mobile site they had trouble viewing. Where do they go? 40% of consumers say they will visit a competitor's mobile site instead of trying to navigate through a non-optimized site.
Converting your desktop site to a mobile friendly version can put you in an ideal position to capture new customers and position you ahead of your competition. Remember, only 7% of businesses have a mobile website. But that number is expected to grow at a rapid pace. A well-designed mobile site will make it easy for consumers to both contact and locate your business. Mobile sites take advantage of features like click-to-call and click-to-map and make information about your products and services easy to find and read.
Still not convinced? Here are more additional reasons why a mobile site is mportant to your business.

MOBILE USAGE IS EXPLODING.
According to Nielsen, more than 50% of cell phone owners now use a smartphone. What's more surprising is how smartphone users are using their phones. Here are some key statistics that might surprise you.
• 51% of consumers are more likely to purchase from re-tailers with a mobile-friendly website. (Luth Research, November 2010)
• 87% of smartphone consumers use their phones while on the go (Source: Google)
• 93% of consumers use their smartphones at home. Take advantage of these new consumer habits to reach potential customers wherever they are.
Consumers are searching on their smartphones and taking action on mobile friendly sites.
• 30% of all Google searches come from smart phones.
• 90% of smartphone users are searching locally and 87% of those searches result in action being taken.
Mobile friendly sites benefit your customer and your business. A mobile screen is obviously much smaller than a desktop or even a tablet. It's important to keep your message and key information as simple and easy to find as possible. The smaller the screen, the simpler the message.
READY TO BUILD A MOBILE SITE NOW?
Here are 10 best practices according to Google.
1. Keep it quick.
2. Simplify navigation.
3. Be thumb friendly
4. Design for visibility.
5. Make it accessible.
6. Make it easy to convert.
7. Make it local.
8. Make it seamless.
9. Use mobile site redirects.
10. Listen and learn.
In an age where technology is changing rapidly and consumer habits are shifting at similar pace, users expect your website to deliver the information they are searching for in a fast, simple, easy find manner. Give them a clear path to what they want. Embracing mobile in the early stages will drive more traffic to your website and earn you immediate return on your investment.
BONNER OWNS AL BONNER CONSULTING; A LAWRENCE BASED DIGITAL CONSULTING COMPANY. HE ALSO WORKS WITH V3 INTEGRATED MARKETING IN KANSAS CITY. AL@V3IM.COM