Sarah Hill-Nelson
owner and operator, of Bowersock Power Plant
Third Quarter 2012
story by ANNE BROCKHOFF
photos by STEVEN HERTZOG
Sarah Hill-Nelson defies whatever electric power industry stereotype you care to imagine.
She's an environmentalist who enjoys fishing and hunting. A Truman Scholar and former high school history teacher. A 42-year-old who loves running, white water kayaking and skiing. A mom who often brings her two kids to work.
And a Lawrence native who is surprised and delighted to find herself managing Bowersock Mills & Power Company, a hydroelectric power plant on the Kansas River.
"I feel so passionate about my job," Hill-Nelson says. "I cannot believe I have this job. I feel so lucky."
Hill-Nelson's connection to the dam dates back to shortly after its construction in 1874, when her great-great-great-grandfather took over its operation. Her family continued its involvement even after selling the business in the 1930s. Hill-Nelson's father, Stephen Hill, bought the plant back in 1972 with the idea of generating electricity to fuel a recycled paper mill.
It wasn't easy. Hill-Nelson's parents both worked at Bowersock, but neither drew a paycheck. Watching them struggle to build a viable company left Hill-Nelson with a deep appreciation of their legacy.
"That had a really profound impact on me and my outlook," she says. "I recognize that I just happened to fall into this."
It certainly wasn't her plan. Hill-Nelson wanted to be a teacher, so, after graduating from Lawrence High School in 1988, she studied history and Spanish at Bowdoin College in Maine.
Hill-Nelson then worked in Chile as a bilingual secretary, taught in California and Washington, and earned a master degree in history. But she didn't relish teaching. So she quit, moved to Colorado with her now-husband and began doing research and writing for a non-profit.
Then, in 2001, Bowersock's manager left. Hill-Nelson's parents offered her husband the job, and the couple moved back to Lawrence. Soon, Hill-Nelson was paying the bills and negotiating power agreements.
She liked it. Her husband didn't. He returned to his teaching career, and Hill-Nelson became Bowersock's CEO.
A decade on, she remains enthusiastic about it all, from regulatory compliance and employee management to helping paint the new Obermeyer gates that will control the river's flow into the plant.
But the best part?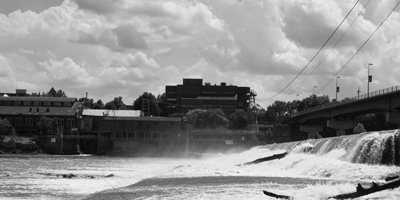 "I love working in teams, and I love our partnerships," Hill-Nelson says. "Every single thing we've done here is a result of a really good team."
That team still includes her father; her sister, Molly Hill Patten, also helps out. Together with five employees and numerous contractors, they've tackled a $25 million expansion on the river's north shore that's expected to triple its output of clean, renewable energy.
Hill-Nelson also wants to upgrade the south power plant and launch a new service refurbishing hydroelectric equipment. The idea is to create better and possibly more jobs in Lawrence while demystifying the electricity-making process. Bowersock will offer tours, and there will be a pedestrian walkway and fishing platform near the north plant.
"It's not just about energy," say Hill-Nelson. "It's about environment. It's bringing people down to the river."
And it's about building community. Hill-Nelson is on the city's Sustainability Advisory Board, serves on the board for Landmark Bancorp, Inc. and Landmark National Bank and is involved in her children's schools and other events. Engaging in that way is essential to creating the kind of city people want to live and invest in, she says.
"I feel so lucky to have a community I wanted to return to," Hill-Nelson says. "How great is it that we have a community that supports a business like this?"