NEWSMAKERS
June 2012
Stephens Real Estate Hire Marketing And Technology Coordinator
Stephens Real Estate is pleased to announce the recent addition of Ashlee Roll-Gregory as the Marketing and Technology Coordinator.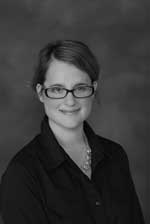 Ashlee brings to Stephens nearly 10 years of marketing experience. In this newly created position, she will coordinate print advertising, website content, and social media for Stephens Real Estate.
"We are excited to have Ashlee join our outstanding support staff at Stephens" said Doug Stephens, President. "Her tremendous experience and creativity will provide another great benefit to our clients and agents alike."
Ashlee comes to Stephens Real Estate from the Lawrence Convention and Visitors Bureau, where she served as the Assistant Marketing Manager for over six years. Prior to the Convention and Visitors Bureau, she managed the marketing and web presence at Hines Commercial Real Estate in Atlanta, Georgia.