Sue Hack
Executive Director of Leadership Lawrence
Third Quarter 2012
story by ANNE BROCKHOFF
photos by STEVEN HERTZOG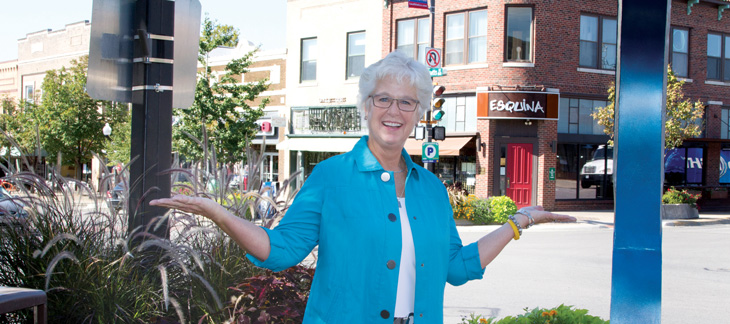 Meeting Sue Hack, with her easy manner and generous laugh, is like seeing your favorite teacher again. Which makes perfect sense—Hack taught for 31 years before swapping junior highhallways for city hall.
Hack is now executive director for the Chamber of Commerce's Leadership Lawrence program. But she still regularly draws on her classroom experience to build cohesiveness and shepherd the personal and professional development of each year's 35-member class.
Some 90 volunteers also contribute to the program, which has trained almost 700 civic leaders since its inception in 1982.
"It's such a joy to still be teaching," says Hack, 65. "It's been an absolute dream job for me."
Hack was born in Massachusetts, and her family of six moved to Ohio and Los Angeles before settling in St. Louis during her teenage years. Regular car trips to visit grandparents in Minnesota and Texas introduced her to much of the rest of America.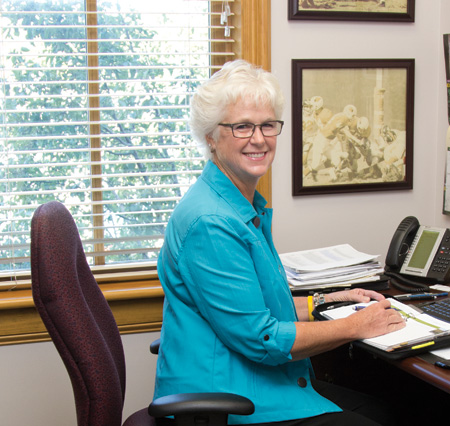 "We drove everywhere," says Hack. "Why my father didn't kick us out of the (Ford) Country Squire station wagon I'll never know."
Hack graduated from the University of Kansas with a degree in secondary education in 1970 and began teaching in Lawrence's public school system a year later. She'd initially hoped to teach high school, but junior high proved a perfect fit.
"That's where I needed to be, with the seventh, eighth and ninth graders," says Hack, who won numerous teaching awards throughout her career. "I just got the biggest kick out of them."
She also hadn't planned on staying in Lawrence. But it was her husband Al's hometown, and she quickly fell in love with it. Hack says her parents had always thrown themselves into community service wherever they'd lived, and she followed their lead.
Hack found role models among women such as former Lawrence mayor Shirley Martin-Smith and Judy Wright, the recently retired director of the University of Kansas Chancellors Club. She graduated from the Leadership Lawrence program, served two terms as city commissioner and retired from teaching in 2002 in what she calls a bittersweet moment. In 2007, Hack was elected mayor of Lawrence.
"I got off the bench. It was time to do some things," says Hack says of her jump from education to civic leadership.
Hack won Leadership Lawrence's 30th annual Don Volker Leadership Award in 2012. She also serves on the Lawrence-Douglas County Housing Authority board of commissioners, Lawrence's Sister City Advisory Board, KU Sesquicentennial committee, the Lawrence Police Foundation Board, Lawrence St. Patrick's Day Parade Committee and the Bert Nash Community Mental Health Center's governing board.
If Hack sounds busy, she is. But she works hard to keep her life balanced, fitting in walks with her husband, gardening, knitting, boating at Lake Clinton, regular trips to see her mother in central Missouri and visits with her son and daughter, who live in Austin and Denver.
Throughout it all, Hack has remained deeply committed to serving Lawrence.
"You don't have the right to live in this community and not give back to it," she says. "You have to do it—whether it's time, talent or treasure—it's what you have to do."