THE BUSINESS OF JOINTS: ORTHOKANSAS
March 2012
by DAISY WAKEFIELD
photos by STEVEN HERTZOG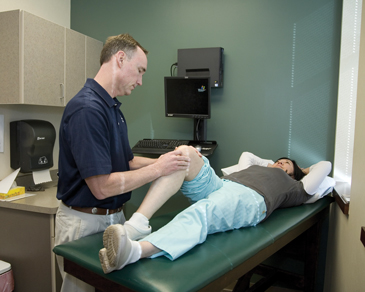 The joint business is booming. Year after year, musculoskeletal pain claims the number 2 spot for reasons to visit the doctor, beat out only by fatigue. It's a business that involves varying facets of causes — aging, trauma, sports injury, congenital disorders — as well as a complex process of medical intervention that spans diagnosis to rehab. For caterers in Lawrence, the holiday season is oneof the busiest, and most profitable, times
of the year. Three local companies describe how they handle the stress, expense and joys of helping others celebrate.
That bad knee of yours? The diagnosis and repair of it contributes toward to $850 billion annually in the US. But consider yourself in good company — more than one in four Americans suffers from a musculoskeletal impairment. And if you missed work because of it, then you've contributed to one or more of the 440 million days of missed work for musculoskeletal reasons. Judging by the waiting room at OrthoKansas, local trends mirror national statistics. A constant movement of patients, and not just elderly ones, stream through, either for physician visits or rehabilitation therapy. As the sole orthopedic practice in Lawrence, OrthoKansas receives the bulk of Lawrence patients.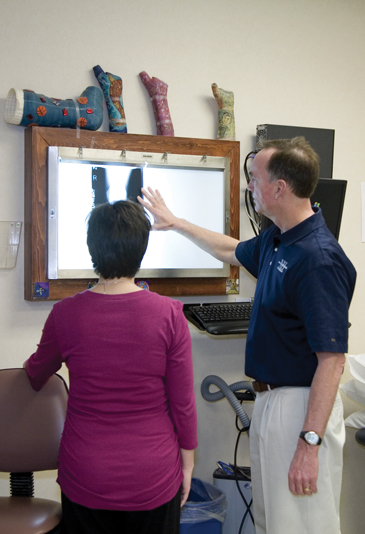 In order to retain Lawrence patients, OrthoKansas has made several big changes over the past several years. In 2008, they increased their space by 9000 square feet to a total of 22,000 square feet, acquiring space that had been occupied by Lawrence TherapyWorks. Within that acquisition was a gym with exercise and rehab equipment, a heated pool for aqua therapy, and
a larger magnetic resonance imaging machine. Over time, the practice hired 4 physical therapists,
2 occupational therapists and 4 physician assistants to expand the mid-level patient care
required in rehabilitation.
"The goal," says Dr. Jeffery Randall, one of the seven orthopedic practitioners at OrthoKansas, "is to give patients a one-stop-shop option to get all of their orthopedic and rehabilitation needs met right here in Lawrence. There is always going to be some amount of people going to Topeka or Kansas City, but we are also receiving out of town referrals to our practice."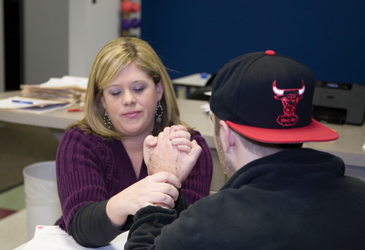 Trish Hilliard-Emmons, administrator for OrthoKansas, says that patients like the convenience and advantages that working on their rehab down the hall from their orthopedic surgeon offers. About 60% of surgery patients choose to do their rehabilitation at Ortho-Kansas. The gym and pool are also open to the public for memberships.
OrthoKansas continually recruits specialists to fill the spectrum of orthopedic needs. Dr. Neal Lintecum is a fellowship-trained doctor in hand surgery. Dr. Doug Stull, who specializes in shoulder and elbow, joined the practice in 2007. Dr. Ryan Stuckey joined earlier this year, ending a several year search for the practice to find a spine specialist. Another general orthopedic doctor is coming to the practice next summer. Next on the recruiting agenda is a foot and ankle specialist.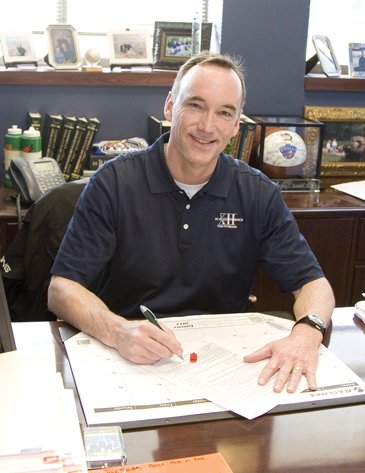 Both nationally and locally, the demand for orthopedic care has seen a steady and marked increase over the past decade. Two major studies presented at the 2009 annual meeting of the American Academy
of Orthopedic Surgeons projected total knee replacement surgeries to increase by 673% by 2030, and projected total hip replace-ment surgeries to increase by 174% in that same time.
With more than 25,000 patient visits in 2011, OrthoKansas
is currently the only orthopedic practice in Lawrence. Whether
they will continue to be able to meet the rising demands
of orthopedic care is the question that may pave the way for even further expansion of the facility or perhaps open the market to another practice.
"One of the goals of our facility is to meet the needs of the community," Hilliard-Emmons says. "We strive to accomplish that goal; however, it is an ever evolving goal and we will continue
to work to meet it. That is why we continue to recruit new physicians, in different sub-specialties, to work toward meeting the needs of the community."
OrthoKansas operates independently of Lawrence Memorial Hospital, but the two have a symbiotic relationship with most of the inpatient surgeries taking place at LMH. Outpatient surgeries are generally performed at Lawrence Surgery Center, which is half owned by the hospital, the other half by surgeons. Local patient retention and out-of-town referrals offer significant benefits to hospital's economy.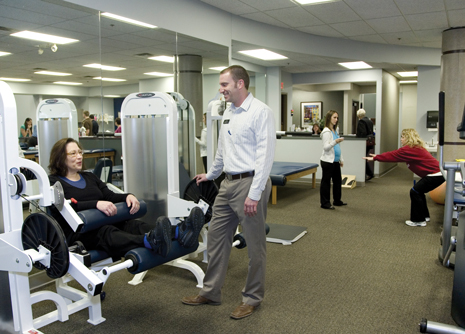 As to the reasons behind the massive increase in joint replacements, the brunt of the numbers fall on baby boomers and their desire to remain active. The fastest growing age group for total knee replacements is the 45-54 group, for whom the surgery is projected to grow 17 times by 2030. No longer for "old people," hip and knee replacements are providing active boomers a new lease on life.
"There have been studies that determined that hip surgery is the most cost-effective surgery to have," Dr. Randall says. "It helps people to remain active and contribute to the working economy for a longer period of time."
Besides general orthopedics, Dr. Randall specializes in sports medicine, volunteering as the head orthopedic surgeon for KU Athletics.Dr. Sean Cupp, also with OrthoKansas, volunteers as the head physician for KU and Baker University. As well, OrthoKansas is the sponsor for Kansas Center Athletic Medicine, which employs 6 full-time and 3 part-time athletic trainers for the benefit of the athletic teams of local and surrounding high schools. The trainers serve 13 high schools, traveling to their practices and games. OrthoKansas pays their salary and benefits.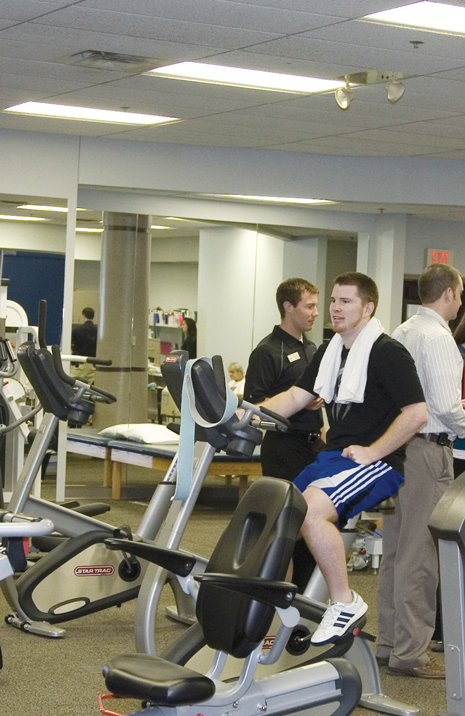 While time-consuming and costly, these relationships with the schools provide a broad base for future clientele and give a level of exposure to the practice that can be used to recruit other physicians.
"This is part of our community service," says Dr. Randall. "We want to make sure that the safety of student athletes isn't jeopardized even as school budgets are cut and things get tight."
Orthokansas