the business of: parks & recreation
Second Quarter 2012
story by ANN BROCKHOFF
photos by STEPHEN HERTZOG
If you want to figure out how any organization works, follow the money.
When it comes to the Lawrence Parks and Recreation Department (LPRD), following the money takes you not only to familiar parks, paths and pools, but also to tennis courts, a ballroom, dog parks, disc golf courses, classrooms, skateboard parks, basketball courts, softball fields, nature areas, major street intersections, cemeteries and more.
"Very few people know the scope of what we do," says Ernie Shaw, the LPRD's interim director.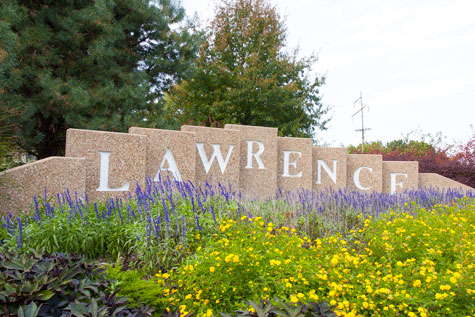 That scope has grown tremendously since the department was established in 1946. It now accounts for about 5 percent of the city's total $174.6 million budget. Given today's recessionary climate, is it worth the cost?
Absolutely, city officials say. The LPRD not only manages extensive outdoor and recreational resources, it improves Lawrence's quality of life, creates an attractive business climate and facilitates economic growth.
"Sometimes it looks like it's just kids playing," says Mark Hecker, the LPRD's assistant director. "But don't forget this is an essential service."
Perhaps the most visible aspect of that service is the LPRD's parks system. Its four divisions manage 54 parks encompassing more than 3,500 acres and nearly 70 miles of hiking, biking and walking trails. Some are well-known, like Centennial Park and South Park, while others are neighborhood favorites, such as the one-acre Robinson Park overlooking the Kansas River. Some seek to preserve a bit of nature in the city, like the 25-acre Naismith Valley Park and the Pat Dawson-Billings Nature Area, both south of 23rd Street.
Still others are surprising in their scope. Take Clinton Lake Park. The LPRD has leased 1,500 acres from the U.S. Army Corps of Engineers since 1995, making it home to sports fields, shelters, a sand volleyball court, model airplane field, the future Sesquicentennial Point and more.
The 994-acre Riverfront Park was once a landfill bordering the Kansas River. It now sports a 10-mile levy trail, off-leash dog park, disc golf course, boat ramps, 120 acres of native grassland, wild bird habitat and mountain bike trails.
Natural resource management doesn't stop at park boundaries, however. The LPRD also mows, tends trees (Lawrence has been designated a Tree City USA for 33 years) and landscapes major intersections, parking lots and streets throughout the city.
Attractive green spaces—especially downtown, which the LPRD refers to as a linear park—do more than create a pleasant ambiance, says Lawrence mayor Bob Schumm. They tell residents and visitors alike that Lawrence is an energetic city that cares about quality of life.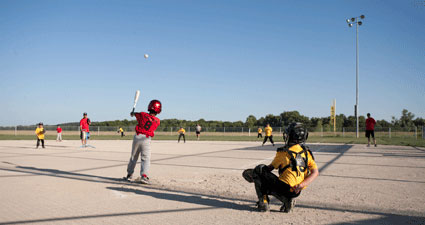 "That aesthetic quality speaks to who we are in Lawrence," Schumm says. "That's very important for business people to feel that and see that when they're looking at expanding or locating here."
When businesses do come to Lawrence, LPRD resources ensure their employees can enjoy healthy, active lifestyles. There are four swimming pools, including indoor and outdoor aquatic centers, the Carl Knox Natatorium and the South Park Wading Pool. The 80-acre Prairie Park Nature Center offers nature camps, birdwatching programs, nature trails and a live animal displays. There are three recreation centers and three community centers, hosting everything from tap dancing and prenatal yoga to bridge, drivers' safety and guitar lessons. Other resources include adult sports leagues, the Eagle Bend Golf Course, 43 athletic fields, 21 multi-use courts, 19 tennis courts, picnic areas, fishing spots, batting cages and three cemeteries. It adds up to as many as 50 activities and classes on any given day.
"We deal with people from birth to death," Shaw says. "In between, we want to give people every opportunity to be active."
The Wee Folks Scholarship Fund guarantees kids especially have access to those opportunities. Created in 1996, the fund annually awards more than $19,500 to youth participating in LPRD recreation programs. The scholarship fund is partly supported by the Annual Bill Self/LPRD Golf Classic. Individuals and businesses also contribute to the LPRD's mission through the Friends of the Park program, which has raised more than $500,000 since 2002. Other sponsorship opportunities include events such as the LPRD's two Easter egg hunts, sports field banners and even naming rights to the South Park Wading Pool.
"Our marketing division keeps doing more, and it's good for everyone," says Hecker.
The LPRD's total budget for 2012 is $9.46 million, according to Shaw, most of which comes from three main areas: the city's general operating, recreation and special recreation funds.
The general operating fund, which also pays for essentials like the fire and police departments, contributes $3.2 million toward LPRD expenses. That includes all administrative costs, as well as maintenance and development for city-owned parks, trails, cemeteries, recreation buildings, pools, athletic fields and other LPRD spaces.
Renovation of the skateboard park at Centennial Park? Development of the Burroughs Creek Park & Trail? Sandblasting, patching and painting the outdoor pool? It all comes out of the LPRD's share of the general fund.
"The general fund pays for a lot of things that don't produce revenue," Hecker says.
The department's biggest challenge going forward, according to the city's 2012 budget report, is absorbing rising fuel, utility and vehicle maintenance costs even as stagnant economic growth creates a "lack of flexibility" in the general fund operating budget.
The department has in recent years done more outsourcing, shifted resources from preventative to immediate maintenance needs and restructured responsibilities of its full-time staff after losing a handful of positions in recent years.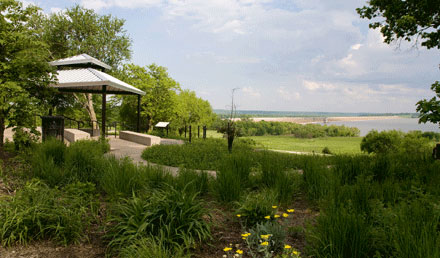 "We have become much, much more efficient the last few years," Hecker says.
The recreational fund contributes another $4.3 million to the LPRD's budget, generated largely through user fees and sales tax, including a portion of Lawrence's share of a county-wide one-cent sales tax implemented in 1994. As of 2012, the department's recreation fund receives no property tax revenue.
Staffing, scheduling and all operational aspects of recreational programming are paid for from the recreation fund. In return, fees, aquatic programs, building rental, concessions, field rent, class enrollment and other resources are expected to bring in $1.82 million in 2012, a 4 percent increase over 2011.
Part of that growth comes from the Carnegie Building, an historic structure at Ninth and Vermont streets that features a large ballroom and a number of smaller meeting rooms. Hecker says the LPRD has been "pleasantly surprised" by the strength of its bookings.
The city also renegotiated its concessions contract and continues adding more recreational classes. Still, it's not easy to meet the maintenance needs of aging facilities and equipment, or to manage rising fuel, chemical and utilities costs.
"We have to make money to operate," Hecker says. "It's very much a business-oriented portion of the department."
That's even more the case at Eagle Bend Golf Course, an 18-hole municipal course that opened near Clinton Lake Dam in 1998.
The course is expected to generate almost $900,000 in user fees in 2012, or the bulk of its $1.2 million budget. The funds not only keep the course open, but go towards upgrading the existing ryegrass turf with Zoysia and maintaining wildlife habitat.
"Whatever we make, we can spend," Hecker says of Eagle Bend. "If we don't make it, we can't spend it."
The third major component of the department's budget is the special recreation fund, which receives most of its $730,077 from liquor taxes. Some of that goes to outside agencies that provide arts services, such as the Lawrence Arts Center and the Arts Commission, but a portion of the funds are also used to upgrade parks, facilities, athletic fields and playgrounds.
So what does Lawrence get in return for its investment in parks and recreation? Employment, for one thing.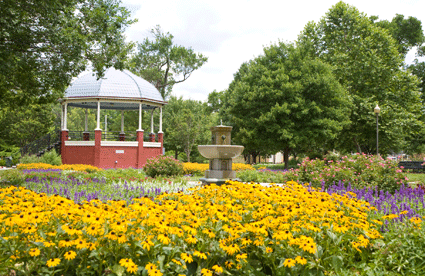 The LPRD employs 66 full-time staff and hundreds of part-time workers. The number fluctuates seasonally; by mid-April, there were 712 people on the department's payroll, Hecker says.
Not everyone gets paid—another 750 volunteers contribute some 35,000 hours annually, doing everything from coaching baseball and caring for wildlife at the Prairie Park Nature Center to planting flowers at the Lawrence Union Pacific Depot.
Of those on the payroll, many are young part-time employees, hired as summer lifeguards, camp counselors, sports umpires and the like. And, for many, it's their first experience learning basic work skills such as arriving on time and customer service, Hecker says.
"For a significant number of the people we hire, this is their first job out of high school," he says. "We're probably the biggest employer of youth in Lawrence."
The LPRD also employs dozens of hourly contractors, such as plumbers and electricians, and service companies like those that print t-shirts for sports teams or supply flowers for the downtown planters. The LPRD also contracts with seven mowing companies to maintain the city's parks, right-of-ways and other green spaces, thereby reducing its own equipment, fuel and other costs.
It's not just about cost-cutting, though. Since most of the LPRD's employees and contractors are Lawrence-based, it follows that their paychecks and taxes also stay local.
"Almost all the money that's budgeted and expended on parks and recreation stays in the community," Hecker says.
The LPRD also attracts outside revenue by hosting volleyball tournaments, swim meets, golf tournaments and other events that bring visitors to the community.
"All those people come here and spend money," Hecker says.
While it's difficult to quantify exactly how much money out-of-town participants in LPRD sporting events spend here, overall figures are available.
According to the Lawrence Convention and Visitors Bureau, 722,016 visitors spent $60.2 million on lodging, food and shopping in 2011, generating $1.5 million in local sales tax and $1.2 million in transient guest tax. Even more visitors, with a more powerful economic punch, may be on the horizon. The city is now in talks to create what's being called a "sports village" in west Lawrence that would generate additional local recreational opportunities while attracting regional or even national youth sports tournaments.
Such tournaments could bring as many as 50 or 60 teams to Lawrence at a time, generating several days' worth of hotel, restaurant and other spending for team members and the 2.5 persons youth competitors typically travel with, officials say.
The impact goes beyond economic, however.
"Just the notoriety for the city of being a major league amateur sports center helps us sell the quality of life here," Schumm says. "It's a big opportunity."
Negotiations are ongoing, but, as of mid-May, the Lawrence City Commission was considering annexation of 146 acres plus adjacent public right-of-way property on the northwest corner of West Sixth Street (Highway 40) and K-10 Highway. The facility itself would be located on 51 acres donated by Steve and Duane Schwada; development of hotels, restaurants, gas stations and other support services would likely take place on the surrounding acreage.
Two developers—the Schwadas and the Thomas Fritzel family—have submitted concepts for consideration, Schumm says. While no plan had been approved at press time, a news release issued by the city on March 8 outlined a fieldhouse-style facility with multiple basketball courts that could be converted into half courts or volleyball courts; a large arena; indoor track; indoor turf area; health and wellness center; fitness facility; concessions; trails and walking areas; parking and other amenities.
The University of Kansas is also in talks with developers to build an outdoor track and field facility and possibly relocate events to the site, Schumm says. There may also be an outdoor soccer stadium, he says.
A facility of that scale would not only meet Lawrence's own recreational needs, but make the city a draw for basketball, volleyball and other tournaments sanctioned by bodies such as the Amateur Athletic Union and United States Specialty Sports Association, says Bob Sanner, director of sports markets for the Lawrence Convention and Visitors Bureau.
"If you have an eight-court (basketball) facility that is possibly what people refer to as state-of-the-art, well, there are very few of those in the Midwest," Sanner says.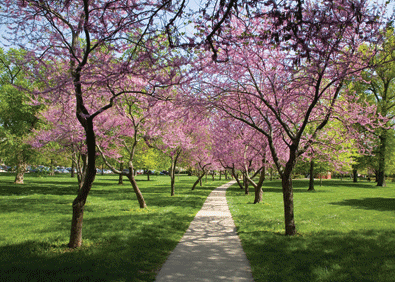 The facility's construction, development and management will likely be a public-private partnership between the city, Bill and Cindy Self's Assists Foundation and developers, according to the news release.
Schumm estimates the city can contribute $13 million to the project without raising taxes. Lawrence would own the 51 acre-site and lease the completed facility. After 20 years of lease payments, it would also own the building. The LPRD would manage all programming.
Once an agreement has been reached between the partners and the property has been annexed, the city will address zoning and other issues. Not in the least of these is hosting public meetings to ensure Lawrence residents have the opportunity to voice their concerns and opinions, Schumm says.
Developers may break ground this year and complete the facility in 2013, Schumm says.
"Everything's there, and there's the desire to make something happen quickly," he says.
And the LPRD? Its staff can't wait to have another top-quality resource to offer Lawrence residents.
"This is very exciting, not just for our department, but for the city as a whole," says Shaw.