KU ATHLETICS: DR. ZENGER
| Fourth Quarter 2012 | story by DEREK HELMS | photos by STEVEN HERTZOG |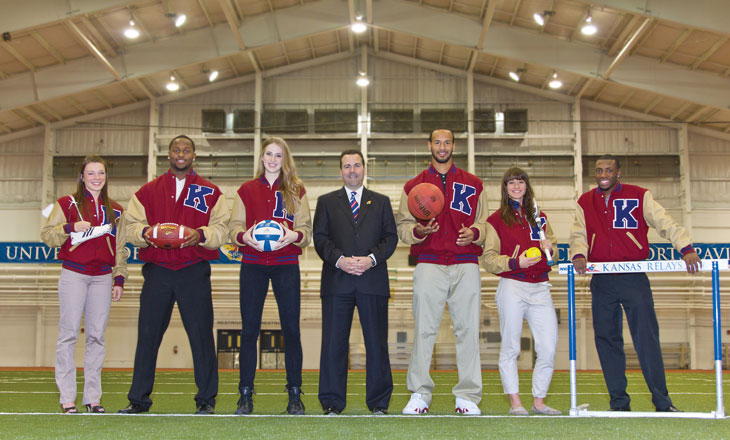 UNIVERSITY OF KANSAS ATHLETIC DIRECTORDR. SHEAHON ZENGER IS A PASSIONATE MAN.

"There are no shortcuts," Zenger says as he leans forward in his seat, making sure to maintain eye contact. "We must maintain a patient and methodical approach each and every day to be successful here at The University of Kansas. Too many people, not here necessarily, but too many people strive for a short cut or an easier way to find success. I know that there just isn't. There are no shortcuts."
As Zenger enters his second year on the job, he could boast a list of accomplishments that many athletic directors may consider an accomplished career. In a span of less than 24 months, Zenger accompanied KU's men's basketball program to the national championship game, fired one football coach and hired a hire-profile replacement, navigated the tumultuous landscape of conference realignment, negotiated a historic conference television contract and re-signed the nation's best college basketball coach to a long-term deal.
However, Sheahon Zenger doesn't like to use the words 'I' or 'me' when discussing his work. Instead of pounding his chest, he credits the work of his staff and the merits of the university and looks forward to new challenges with the quiet confidence of an accomplished man.
"I just don't believe in talking about myself," he says without any impression of irony.
Zenger came to the University of Kansas after a 5-year stint at Illinois State University. Prior to his time in Normal, Illinois, Zenger was a football coach, administrator and magazine publisher. After playing football at Fort Hays State and Mid- American Nazarene College, he finished his undergraduate and masters degree at Kansas State. In the early 1990's he worked on Bill Snyder's staff at KSU. While completing his doctorate at KU, Zenger and a friend founded American Football Quarterly, a magazine for coaches. Zenger served as publisher and then editor – until 1995, when he sold his share of the magazine.
Zenger cut his teeth during shift s as the recruiting coordinator at the University of South Florida, assistant coach at the University of Wyoming and as assistant athletics director for major gift s at KSU. In 2002 he was appointed KSU's associate athletics director for development, a position he held until 2005, when he was named Athletics Director at Illinois State.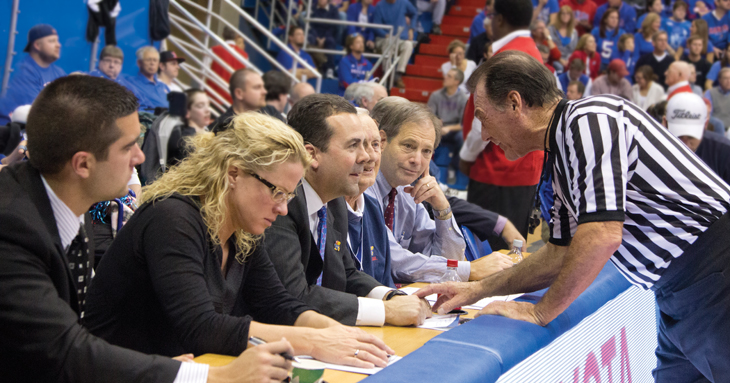 "We couldn't be any happier with Sheahon and what he's doing for KU," says Bernadette Gray-Little, Chancellor of the University of Kansas. "When you consider his experience, his character and his leadership skills, he's exactly who we need as our athletics director. Sheahon is committed to ensuring that every Jayhawk student-athlete can succeed on the field and in the classroom, and ensuring that our programs operate with integrity. And when you factor in his Kansas roots and his appreciation for KU's education mission, he's the perfect fit for us."

Zenger believes his responsibility, as the director of athletics, is simple.
"My role as athletic director is to forward and support the mission and the purpose of the University of Kansas," he says. "To put it in laymen's terms, to put our best foot forward for KU on a daily basis. Th e President at the university I came from used to say 'athletics is the front porch of the university.' I would then say, let's invite the faculty and the staff to put their furniture on the front porch. If you watch us on game day, there are activities surrounding football game day, other game days, wherein faculty and staff are able to celebrate their roles and missions here. They invite guests and use it as a public relations arm of the university. We try to do what we can do to celebrate their accomplishments. Th e tail here will never wag the dog. We are here to support the mission and the purpose of the University of Kansas." Zenger supports the mission of KU by overseeing the activities of the 206 employees and managing the nearly $75 million budget of the athletic department. If Zenger is the CEO, the 16 head coaches employed are his COOs.
"I view myself as a coach-centered athletic director," Zenger says. "I make sure you spend time with each of the coaches. That means both scheduled meetings and walking by and dropping in. I'm a coach at heart and also a fan."
Only football and men's basketball are profit-generating sports, but every sport is conscious of the bottom line. While budgeting varies for each sport, in Olympic sports, being competitive is always a top priority.
"This is where conferences are so important," Zenger says. "We share financial information across the conference. Everyone is striving to probably hit the median in the conference, which means we end up chasing each other. But you have to make choices as to which sports in your program are going to be near the medium, the top or below median in the conference."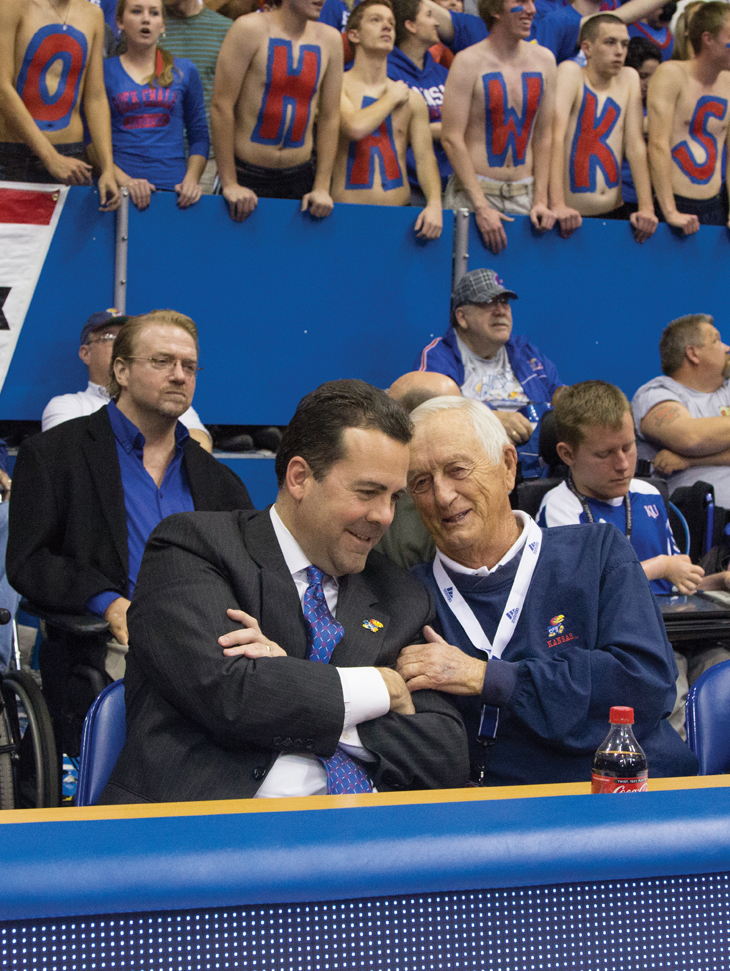 When there is no realistic opportunity for a sport to operate in a fiscally beneficial manner (i.e. rowing or golf), financial responsibility is still a consideration.
"If the sport isn't profit generating, we have to ask reasonable questions," Zenger says. "How do you measure in the conference? How close can you get turning a profit? Was your gap between profitability and non-profitability smaller this year?"
Monetary aspects aside, there are simple ways for non-profit generating sports to judge success.
"We have scoreboards and clocks and tape measures for a reason," Zenger says persuasively. "We keep score for a reason. We compete for a reason. I have made it clear to all coaches that we are here to compete at the highest levels of the Big XII conference. Our student-athletes are being trained to compete in the world, after they compete on the field. And the world is a competitive place."
Zenger is widely praised for the role he played in the chaos of conference realignment. Having been on the job for only a few months, he had to shake off any notion of easing into the position.
"The chancellor and I played our cards very close to our vest and didn't speak publicly about it," Zenger recalls. "I believe when those scenarios were playing out, the less said the better. Things were, literally changing on a daily basis, so if we were to come out publicly and make a statement it was quite possible that 24 hours later, that statement would be incorrect. It was changing that rapidly."
Since the dust from the realignment storm has settled, albeit briefly, Zenger is able to look back on the instability of the situation.
"I would say to you that it was the longest number of months of my life," he says. "It was literally phone calls beginning at 6:00 in the morning and ending at midnight. And when I told people I lived downstairs, I really did. I didn't actually put a bed down there, but I slept on a couch. I would have the iPad hooked up, 2 phones hooked up and have ESPN on. Th e kids would be coming and going and that was how you would function at that time. It wasn't just me, but also the other athletic directors in our conference."
Reports at the time questioned if Zenger's lack of longevity would damage KU's negotiating position. He is quick to dispel that notion. If anything, he says, it gave him an opportunity to prove himself.
"It was good for me in that my time as the new kid on the block was short lived," Zenger admits. "Th e University of Kansas had equal footing within those 10 or 12 schools as much as anyone. So whoever was the representative was at the time received that equal treatment. I didn't get treated like the new kid on the block. So, for me as an individual, it was good and bad. It was exhausting and overwhelming, but by the time it was done I felt very close to my peers and colleges in the league."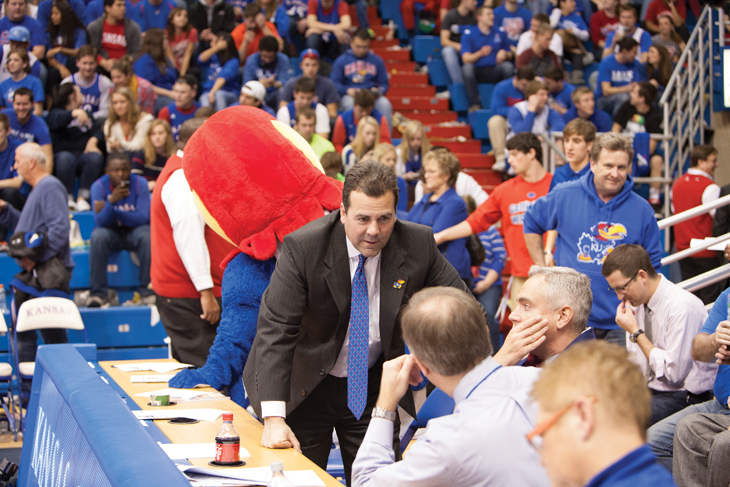 The results are, by now, well known. Missouri and Texas A&M left the league. TCU and West Virginia joined. Th e Big 12 signed a new television rights deal that will reportedly pay each school in the conference upwards of $22 million a year. Th e agreement is widely viewed as a tremendous win for the conference schools.
"I consider that not just a win, I consider that a national championship for everyone involved," Zenger says proudly. "To see where we are now, compared to where we where a year ago is just amazing. And I'm not taking credit for that. I'm giving credit to the chancellors and presidents in the league, particularly Chuck Neinas and Bob Bowlsby. Dan Bebe did a significant amount of work in the beginning as well, and people forget that. Th e associate commissioners and, rounding out that group, would be the directors of athletics. It was a group effort and those of us that hung together and the new ones that joined us have benefited greatly."
Though the 'new' Big 12 is widely regarded as a tremendous financial success for the member schools, . the true monetary benefits of that success may be much more than the $20 million originally reported.
According to Dennis Dodd of CBS Sports: "One industry source estimated Big 12 schools will be cashing checks for $30 million-plus in the first year of the playoff beginning in 2014. Th e total now stands at approximately $20 million per school. Beginning in 2014, the Big 12 will begin taking in $40 million per year from the alignment with the Sugar Bowl."

KU Athletics inc. has a lot of debt, about $40 million in fact. The number seems staggering, but Zenger doesn't think Jayhawk fans should be worried about it.
"Right now, in deference to those before me, while some may have seen that as a big negative, it's not," Zenger says with a casual demeanor. "We have to keep it all in perspective. For example, a $200,000 or $300,000 home loan sounds like a lot of money to a freshman in college. Now, granted, it is a lot of money, but in perspective to the budget of the athletic department, it really isn't an issue."
Pat Kaufman, Chief Financial Officer for KU Athletics, Inc., says that, despite the debt, the athletic department is financially sound.
"In the last 10 or so years we've funded in the neighborhood of $140 million in capital improvements," Kaufman says. "The fact that we only have $40 million of debt left on our books shows that the other 2/3 of that we were able to fund ourselves through fundraising and other means such as operating income."
The great majority of the operating debt comes from two bonds taken on to fund major renovations to Allen Fieldhouse and to build football practice fields, buildings and offices. Additional projects included renovating the baseball stadium. Th e projects did not begin under Zenger's regime, but he believes they were both needed expenses.
"The regime before me took great strides in what they did with the baseball stadium, Allen Fieldhouse,
football practice fields, football buildings, which wasn't just for football," Zenger explains. "It was also for Title IX. By moving all those offices and space over there, they were able to accommodate more sports in terms of offices for coaches, weight lift ing rooms for other teams, etc. Now we need to get those debts paid. At most universities, you don't fundraise for every dollar that pays for those facilities. Well how do you get the rest? You bond it. You take out loans, just like you do your house loan."
Kaufman explains that the debt associated with that construction and renovation does not impact the athletic department's ability to operate in an aggressive manner. Even if the Jayhawks experience catastrophic seasons on the fi eld, the fiscal stability of the department is sound.
"We are right on schedule to pay off bonds," Kaufman says. "Whenever we take on debt we don't take on more than we have the ability to repay. So much of our revenue has nothing to do with success on the field. A big chunk of money comes from the Big 12 and television contracts and will for the next 12 or 13 years. We have multiple marketing contracts that have a guaranteed source of income. Th e only chunk of our revenue that could be hurt by a bad year would be ticket revenue. It would take some catastrophic kinds of things for us to not be able to make our payments on our debt."
When Zenger speaks about the financial stability of the athletic department, it is clear he is confident the future is bright.

"Going forward, we will probably always have some debt and always manage that debt because we have more facilities to build," he says. "I'm not so naïve to think we are going to raise every last dollar to pay for the renovation of memorial stadium. We will raise as much as we can and probably end up bonding the rest. Our job as a staff is to protect that bond rating and to protect the remaining room that we have to bond going forward. That's why it is so incredibly important to fund raise as much as we can."
While the glamor of running a major athletic department is gained by success on the fields and courts of play, Zenger knows fundraising and public relations are how the athletic department grows. Some would argue that major donors are as important as winning coaches, and when the athletic department is mired in a scandal, the trust of major donors can be compromised.
After the ticket scandal that cost KU Athletics multiple millions of dollars in lost revenue and landed 4 former KU Athletics employees in prison, the department was at risk of loosing the trust of it's coveted major donors. It was Zenger's job to regain the trust of donors and restore the reputation of the athletic department.
"On the alumni trail this summer, every time I got a chance to speak I thanked the donor base and the alumni base," Zenger says. "There's something about the Jayhawk nation that is different than other places. It is a very kind and generous group of people, by large. I have met with very, very little negativity about anything in my two years at the University of Kansas. I've met with great hope from folks from throughout the state, region and the country. When I think back to that time period, which seems like 5 years ago, it feels like a lot of things we were worried about are well behind us. From where I sit, and from the way people interact with me, it feels like night and day."
Being new to the post, having no ties to the previous regime and having been praised for the way he conducted himself and represented KU during conference realignment all seemed to work in the favor of Zenger restoring trust in the department.
"It was somewhat of a perfect storm," he admits. "And I benefited from that just like I think anyone else in that role would have at that time."
With the Big 12 on solid ground, a new high-profile football coach on board and bill self signed to a long-term contract, Zenger is looking to the future. The short, mid and long-term goals for the athletic department are simple: improve facilities and win games.
Jim Marchiony, Associate Athletics Director for External Relations, said that donors appreciate stability of finances as much as stability in management. "Donors are looking for whether you're running your department in a financially responsible way," Marchiony says. "I can say that we are, without a doubt."
"The prior regime did an outstanding job of addressing some of the major upgrades to facilities that needed to be done," Zenger says. "Prior to that time, there were other facilities that needed to be addressed as well. Now it's incumbent on us as a team to get those done. Th at's why you hear the talk of a track, a soccer stadium and a soft ball stadium. Those need to be done for a number of reasons, but also so we can finish Allen Fieldhouse and we can attack what needs to be our long-term goal of renovating Memorial Stadium."
Zenger explains that the universities unwavering support of the proposed Rock Chalk Park in west Lawrence serves both financial and competitive interests.
"What Coach Redwine is doing right now with the track programs is incredible with the facilities we currently have," Zenger says. "It's incumbent on us to give the facilities what a national level program warrants. That's what we need to do for our student athletes. And it's not just for track, but also for our women's soccer and soft ball programs. They deserve better facilities."
Construction of Rock Chalk Park is the first step in what Zenger calls the most important projects the athletic department has: finish renovating Allen Fieldhouse and begin renovations to Memorial Stadium.
"Our crown jewel is basketball and we're never going to loose sight of that," Zenger says. "But we're also not going to make the mistake of not understanding the importance of college football and what that means financially to the world of college athletics."
While work on Allen Fieldhouse is nearly complete, it is completely funded. Plans for Memorial Stadium are in the works.
"We build a track," Zenger says. "We build a soft ball stadium. We build a soccer stadium. Th en we take the track out. Fund raise and make the stadium newer and more intimate to accommodates the modern day football fan."
Though focused on improving facilities for the Olympic sports, Zenger's eyes are clearly on the prize of turning the football program into a major financial asset.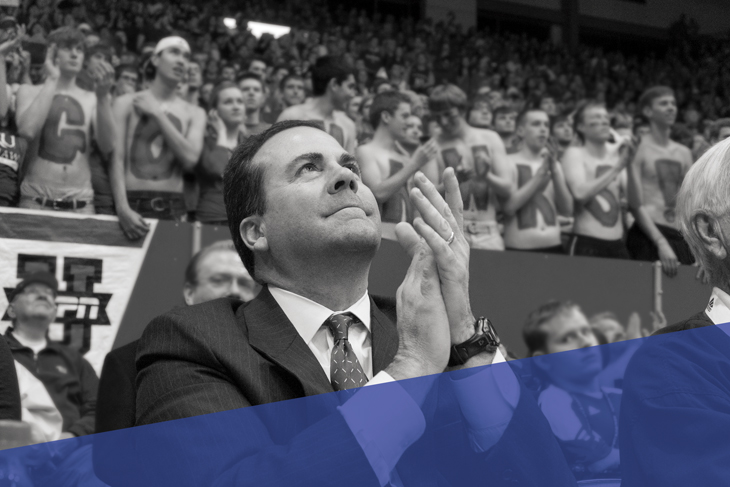 "More important on a financial side is what we do with that football stadium," Zenger says with a stern tone. "We've all learned the hard way just how important football is in the financial world of college athletics. As long as we leave a track around our field and don't renovate the stadium, we are sending a very loud and strong message to the rest of the BCS about where we stand. How we address that stadium is as critical as anything we do. We are planning, very quietly what we will do with Memorial Stadium."
The department is quietly putting together an aggressive plan to renovate, and fund renovations, to the dated football stadium. They have sent a survey to select season ticket holders and donors trying to ascertain what it is they want, and for what they will pay. Several architectural and engineering firms have been contacted to discuss the renovations.
The end goal is selling more tickets to KU football games. A winning football program makes life around the athletic department much easier.
"It's shear numbers," Zenger explains. "Th e Fieldhouse holds 16,300 people. Memorial Stadium holds 50,000. And it's not just selling tickets. It's the donations that come behind those tickets, so it's a multiple of anywhere from 10 to 100. We're already seeing the residual effects from television contracts."
Having a less-than-stellar football program may not prohibit the athletic department from moving forward with its projects, but maximizing profits on Saturdays in the fall sure would help.
"It's not a strain," Zenger says. "I view it as managing your accounts. We're fortunate to have a basketball program that is one of the 4 or 5 most profitable in the country. We don't take that for granted. We are 'managing our buckets.' One happens to be heavier than the other right now. If we can get football profits back to where they were around the Orange Bowl year, it's amazing how good things could be. Th at being said, if our athletic programs are our children, all of our children are being fed very well."
Entering his second year on the job, Zenger is confident the athletic department is moving in the right direction. if the first 24th months were a whirlwind of activity, he doesn't see things slowing down anytime.

"We are in the planning stages of what will be done with Memorial Stadium," he says with an excitement in his voice. "The university is in a capital campaign. We've been very quite about our part of the campaign. Right now we are trying to land the plane that is that track stadium, the soccer stadium and the soft ball stadium. That's a large project. Th at would be more than enough for most athletic departments in a 3 to 5-year window. We're just having to catch up faster than some."
While the department focuses on fundraising, improving athletic facilities and winning games, Zenger understands what the ultimate focus of their work is.
"As I said, we are here to support the mission and the purpose of the University of Kansas," he says. "I know we have a lot of work to do, and our staff knows we have a lot of work to do. Ultimately, that mission is to prepare our students, and student athletes, to compete and succeed after earning their degrees from the University."