NON PROFIT: MIDNIGHT FARM
| First Quarter 2013 | story by DAISY WAKEFIELD | photos by STEVEN HERTZOG |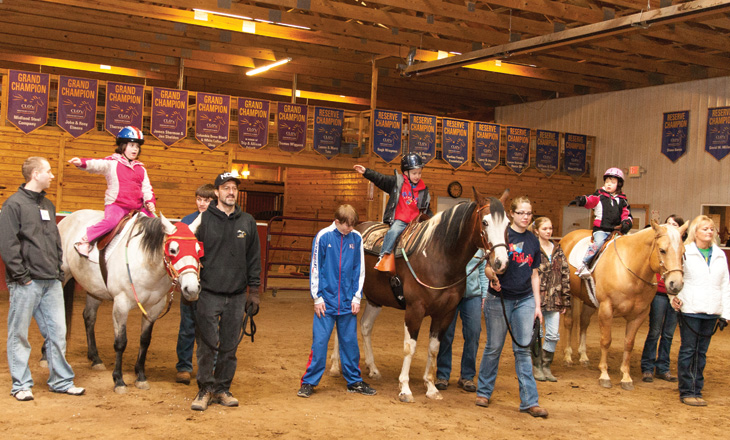 By most accounts, a 40-acre tract of land that sits between Eudora and Baldwin City shouldn't be seeing much traffic coming through its gates.
By most accounts, a 40-acre tract of land that sits between Eudora and Baldwin City shouldn't be seeing much traffic coming through its gates. But from morning till evening of most days, Midnight Farm is host to constantly revolving groups of people, some as near as the house just up the path, and some as far away as Japan.
Midnight Farm, an offspring of Community Living Opportunities (CLO), is a multi-purpose facility that serves the clients of CLO and individuals with developmental disabilities. Although there are numerous uses for the Farm, the therapeutic horse riding program for children and adults with special needs is the most visible, operating out of a stable and arena that is attached to the main facility.
The eight or so horses stabled at the barn are acquired through donation or purchase. The riding program is accredited by the Professional Association of Therapeutic Horsemanship International (PATH), and trainers and horses go through a continual regimen of training to be able to work with the special-needs population and equine. Horses that cannot be trained or who develop medical issues are re-homed, as Midnight Farm cannot maintain more than a few horses.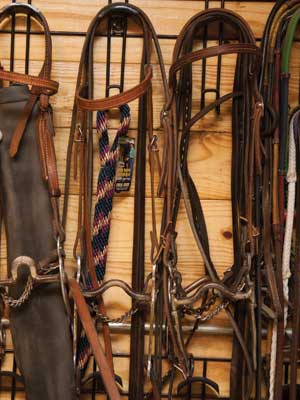 "Our animals must be very calm and unexcitable," says Colleen Baker, Director of Midnight Farm. "They must tolerate sporadic, uncoordinated movements, a rider's unequal balance, and careless excitement of riders in the walkways and stalls. For the safety of riders, the horses must be relatively shy-proof and indifferent towards objects moving nearby, overhead or touching them."
For the children and adults who ride the horses at Midnight Farm, the weekly outing is a delight. Some of the riders are non-ambulatory, spending most of their time looking up from a wheelchair. For them, the experience of being mounted on a horse allows them to see the world from an exhilarating angle. Other riders are non-verbal, but have been able to express their first speech when they command their horse to walk or to trot. Volunteers lead the horses, as well as walk along the sides, providing safety on three sides of each rider.
Midnight Farm was built from a desire to have a rural setting as an option for children and adults to live in, work in, or just experience. The dream of the Farm involved horses, so Michael Strouse, CLO CEO, toured numerous therapeutic riding facilities around the country in order to learn from their successes and challenges. What he learned was that therapeutic riding programs are often in the red, as it is difficult to sustain the cost of a standalone riding program.
When CLO purchased the 40 acres in 2005, Strouse and CLO's Board designed a plan for Midnight Farm that would layer multiple business plans together in order to make the Farm sustainable. Besides the riding program, the Farm is home to three, soon to be four, of CLO's residences. These house two to three adults with developmental disabilities, along with their extended family teaching caretakers. CLO has numerous of these residences in Douglas and Johnson Counties, but the ones on the Farm are always in high demand.
"A lot of Kansans grew up rurally," says Strouse, "And when they had kids with special needs, they ended up having to move to town to access services. Midnight Farm gives options to people who want to be in a rural setting. Some people want to live here, some want to work here, and some want to just have a piece of it every so often. We have a menagerie of options."
That menagerie of options includes day services, with daily classes and activities for adults with special needs. These, along with the residence services, are billable to Medicaid, providing much of the Farm's income. However, Kansas Medicaid pays average state costs, and costs in Douglas and Johnson Counties, where CLO serves, are consistently higher. Midnight Farm is also dependent on grants and donations, which they used to build the initial main facility and barn.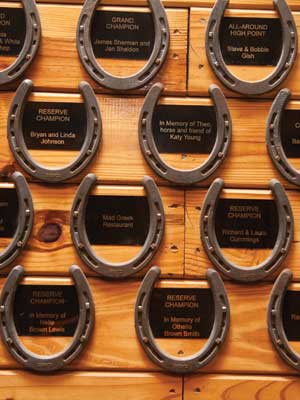 Other operations at the farm are being created or expanded in order to make them income contributors. Clients produce some plant products in a greenhouse, which are currently sold mainly at fundraising events on the Farm. While these provide activities for CLO clients, they do not generate much income. Strouse hopes this will change with the hiring of a consultant to identify product lines that can eventually be marketed at farmer's markets and to landscaping clients. A variety of vegetables will be sold at the town farmer's markets, and half-whiskey barrels filled with flowers will be sold to landscapers. Plans are in place to build high tunnels on the grounds, extending the growing season with less need for herbicides and pesticides. Besides a heftier income stream, developing the garden-to-market lines will also create supported jobs and activities for CLO clients.
Other activities that also add to the Farm's strata of incomes include field trips, fundraisers, summer horse camps, and special events, including Midnight Farm's first wedding.
Though Midnight Farm currently receives mostly planned visitors through clients, field trips, and fundraisers, Strouse envisions a day when it will serve as a common destination outing. People might see a play at the rustic amphitheater that is currently on the drawing board, and then browse the greenhouse and pottery barn, and then take a ride in the wagon pulled by Ricky, the massive Belgian draft horse. He wants people to recognize the connection between Midnight Farm, the products they produce, and the clients that produce them.
This makes for busy days and nights at an otherwise bucolic piece of property. But the multiple income streams make Midnight Farm sustainable, and enviable. Organizations in other states and other countries are coming to look at CLO and Midnight Farm as a model.
"What differentiates Midnight Farm as a model is that we have 40 acres of land and multiple activities that make it sustainable, versus having just a therapeutic riding program," Strouse says. "Midnight Farm is a hodge podge of funding strategies because that's what works. We visited a lot of therapeutic riding programs before building ours, and we found that if you do any one thing, it's not going to support it. But if you do six things, it's financially viable, and it's also fun."■