THE BUSINESS OF: FARMING
| First Quarter 2013 | story by ANNE BROCKHOFF | photos by STEVEN HERTZOG |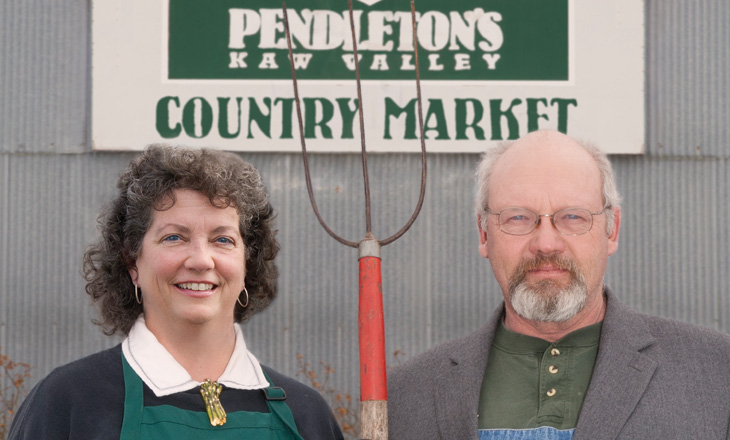 Change is the only constant in agriculture, and Karen and John Pendleton of Pendleton's Kaw Valley Country Market have seen plenty of it in their 34 years of farming.
From the farm crisis of the 1980s to calamitous weather and shifting consumer trends, they've thrived by adapting.
"We have a business plan, but things happen," Karen says. "There's a lot of variability in what we're doing, so staying flexible has been important."
The Pendletons' operation two miles east of Lawrence is among the 1,040 Douglas County farms that together generated $41.2 million in agricultural sales in 2007, according to the most recent USDA Census of Agriculture. Soybeans, corn and other commodity crops account for more than half that figure, just as they did when the Pendletons began farming.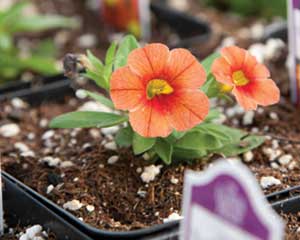 Theirs is a second-generation family farm, and the couple moved back after college to help John's parents manage a cattle feedlot and about 1,000 mostly rented acres of row crops. The timing seemed perfect.
"1979 had unbelievable crops, unbelievable weather and unbelievable prices," Karen says. "Farming was fantastic."
But the next decade wasn't. Drought shriveled grain yields, interest rates spiked and grain exports to the former Soviet Union were embargoed. Thousands of families across the U.S. lost their farms.
The Pendletons planted one-half acre of asparagus to diversify their income. It went so well that they added hydroponic tomatoes and rhubarb. When customers asked for bedding plants, they started growing those, too.
By the 1990s, they'd cut down on rented crop ground and closed the feedlot to grow more vegetables, bedding plants, flowers and perennials for their on-farm store and the Lawrence Farmers' Market.
Karen and John were gearing up for the season in March 2006 when a powerful microburst leveled two silos and destroyed or damaged almost every building, vehicle and piece of equipment.
They considered quitting, Karen admits, but then some 300 people arrived to help clean up. Neighbors brought casseroles, friends salvaged seedlings and garden centers sent supplies. School kids, churches, customers and strangers all pitched in.
"It was devastating, and we're still crawling out from it," Karen says. "But we had all these people come out. How could we tell them we were stopping? We couldn't."
The Pendletons rebuilt, and their farm now features a succession of edibles and ornamentals that changes every three to five weeks.
January, February and March are spent planting and transplanting seedlings in the greenhouse, digging asparagus crowns to sell and catching up on paperwork and maintenance.
Some of their 15 employees begin in March, others in April and most stay through Thanksgiving. Five volunteers each work one day a week during the season.
The farm store opens April 1, and it stays open seven days a week through April and May. Those two months generate about 35 percent of the farm's annual sales, John says.
Spinach is the first crop harvested, but ready-picked and pick-your-own asparagus becomes the main draw in mid-April. The Pendletons would like to expand their now 20 acres of asparagus to meet growing demand, but it's too labor-intensive.
"We need more asparagus, but I can't manage more asparagus," John says.
Spring is prime time for bedding and potted plants, as well as greenhouse-grown hydroponic tomatoes and other early crops. Peonies bloom in May, marking the start of flower and wedding season.
Cut flowers are a farm staple, and Karen has designed dried floral arrangements since the 1980s. Those skills transferred readily to wedding flowers, and the business has steadily grown through word-of-mouth. She now does three to five weddings a weekend during peak months, generating about half the farm's summer sales.
There are more budget-conscious brides these days, but Karen's as happy selling flowers to do-it-yourselfers as she is creating arrangements for pick-up or providing a complete floral design, delivery and set-up service.
"We're flexible," she says. "Because we're flower growers, I don't really have a problem selling them just flowers."
The Pendletons also sell bouquets at the store and the farmers' market. They even offer a punch card that allows customers to pay $60 in advance and then redeem that value in blooms whenever the mood strikes them.
The card's been so successful that the Pendletons included a similar option when they launched their Community Supported Agriculture (CSA) program in 2011 in partnership with the Douglas County Child Development Association.
About a third of their CSA members buy a $60 punch card that can be used at the Pendletons' store or farmers' market stall. The remaining CSA members buy a farm share in early spring, and then pick up a weekly bag of produce at one of several area childcare centers. The Pendletons plan to add a CSA for Douglas County employees this year.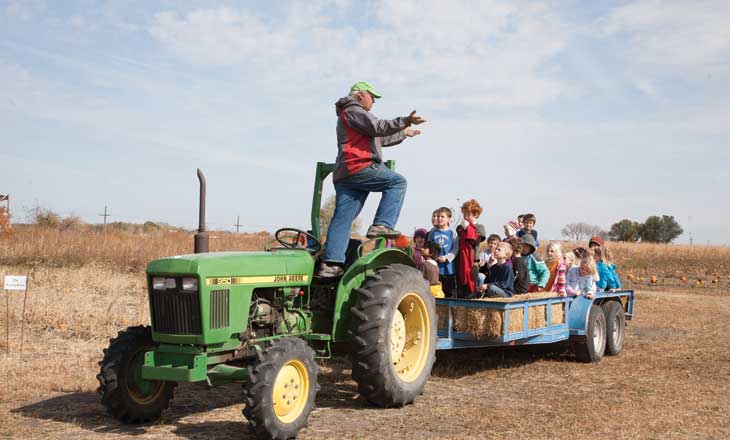 Strong CSA participation means they can now skip the Tuesday and Thursday farmers' markets, but the Saturday market remains an essential outlet. Sales have slipped slightly in recent years due to the weak economy and an influx of new market farmers, but it's still the best place to showcase the farm's harvest and reach new customers.
Surprisingly, there's little overlap between farm store and farmers' market shoppers, Karen says.
"Our farmers' market people are farmers' market people. Our people who come to the farm come to the farm. It's so segmented," says Karen, who communicates with them all via a 3,000-member email list, the farm's web site and Facebook.
About three-quarters of Pendletons' farm store customers drive over from Johnson County, often several times a week. John credits the trendiness of local produce, which is what most come to buy.
alt="hose" class="fltrtpad" />"The idea of locally grown food is big," he says. "That has been our biggest change the last three years, to get back into the vegetable business with both feet."
By the time the six-week asparagus run ends in May, there are peas, greens and radishes. Farm hours drop to six days a week in June as tomatoes from the high tunnel, potatoes and green beans ripen.
July brings corn, melons, and outdoor tomatoes. Heat lovers like melons, okra and eggplant come on in August. That's also when the butterfly bio-villa, which showcases native butterflies' role in pollinating local crops, opens.
Visitors and school groups can tour the bio-villa until mid-October, and there's a nearby play area. Customers pick pumpkins and dig sweet potatoes in the fall. The Pendletons host two open houses in November and December and participate in the Lawrence Farmers' Market's holiday market.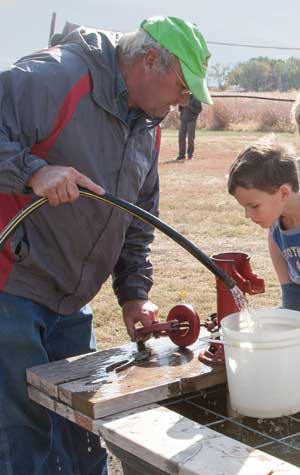 Then, Pendleton's closes for winter. It must, according to the terms of the seasonal use permit it operates under. The farm is within Lawrence's urban growth area, so it must also comply with city codes. Highway rules dictate what its roadside signs can say.
And then there are the licenses—a retail food store license, two live plant dealers licenses (one for the farm and one for the farmers' market) and a license to sell asparagus crowns across state lines. Paperwork and fees add up to countless hours and thousands of dollars, Karen says.
Market scales must also be certified annually by the Kansas Department of Agriculture, so area farmers host a "scale party" to share the cost—an example of what Karen calls "coopetition."
Kaw Valley farmers are unique, she says, in their willingness to share resources, network through organizations like Growing Lawrence (www.growinglawrence.org), volunteer on farmers' market committees and support events like the Kaw Valley Farm Tour.
The result? A stronger local farm economy that benefits everyone.
"What other communities wish they had is what we have—the camaraderie between growers," Karen says. "We're all working so hard, let's at least help each other. Nobody's working any harder than anybody else."■
Pendleton's Kaw Valley Country Market
1446 E. 1850 Rd.
Lawrence, KS 66046
(785) 843-1409
www.pendletons.com