TREANOR DOWNTOWN ARCHITECTS
| First Quarter 2013 | story by EMILY MULLIGAN | photos by STEVEN HERTZOG |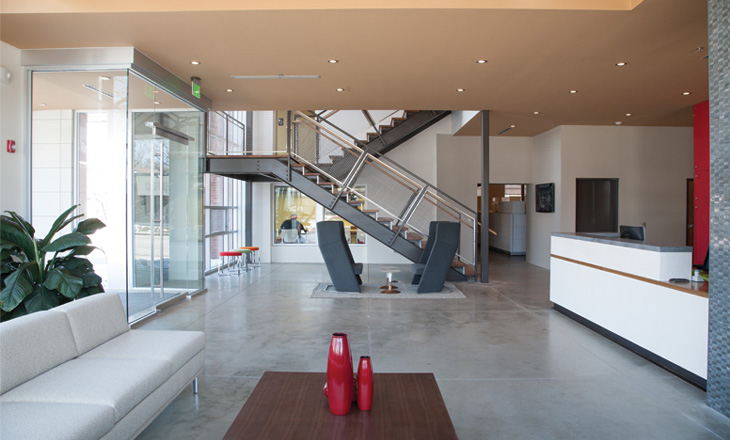 Treanor Architects' newly renovated building at 1040 Vermont St. makes the firm more visible downtown and consolidates its 47 Lawrence employees under one roof.
From East Hills Business Park and the Douglas County Jail to Corpus Christi Catholic Church and Free State High School, the fruits of Treanor Architects' labor are everywhere in Lawrence. Or, Lawrence is everywhere in the fruits of Treanor Architects' labor.
Either way, it is difficult to disentangle the 64-person, 32-year-old firm's presence from the city it always has called home. But who would want to? Treanor's renovation and restoration of the former Buick dealership on Vermont St. into an 18,000-square-foot tracking LEED Gold sustainable office building marks the first time that all of the firm's Lawrence employees are under the same roof, since Treanor acquired Lawrence-based GLPM Architects in 2008. Although the company has been settled in its new digs since last fall, the building's two-story glass-and-brick façade surrounded by new concrete sidewalks still reflects a fresh vision on Vermont St. – and that is no accident.
"Each time we do a project, it makes the fabric of the community better," says founder and Chairman of the Board Mike Treanor. "Buildings are important – you have to live in and around them. That's a responsibility we have."

Though based in Lawrence, Treanor Architects, which has an ownership group of 16 people, including Mike Treanor, and a board of directors, is far from just a local firm: It designs buildings all over the United States and overseas in places like Qatar.
The firm's projects center on five market sectors, which it has developed through a concentrated strategic planning effort: Justice – courthouses, jails, juvenile crime centers Student life – at KU and many other colleges and universities, residence halls, classroom buildings, student unions Science and technology – laboratories, teaching facilities, animal health Historic preservation – renovations, restorations of buildings and landmarks that are at least 50 years old
Development – planning and community architecture "We wouldn't have been as successful through the recession and be in the place we are today if we wouldn't have been so focused," Treanor says. "We're really fortunate and grateful for the opportunities we've been given." When Mike Treanor started working out of his house in Lawrence custom designing large homes during the recession of 1981, he was not calculating the long-term future of the firm. He was just trying to stay afloat among ballooning interest rates. "Then the economy started picking up, and pretty quickly I had more work than I could do on my own, so I hired some others," Treanor says.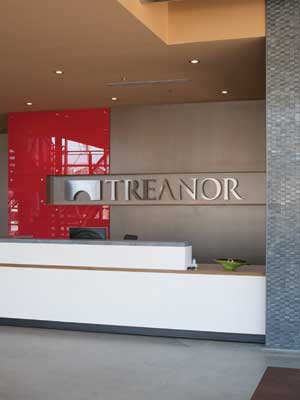 As the firm grew, Treanor says he began developing relationships with contractors and developers, thinking more strategically about the types of projects that would continue to be successful. Treanor Architects continued to design large homes and developments, and then, as the economy strengthened, expanded to different types of clients, particularly from the public sector, including schools and the state.
By the time the company began strategic planning sessions in 1997, arriving at the company's laser-like focus on its key market sectors was no easy feat.
"We got it down to about 15 specialties and thought we were doing well. But that wasn't focused enough. We had to get focused and get everyone on board," says Deb Renick, Director of Marketing. Justice and student life emerged most strongly from the initial strategic planning and have continued to be important business drivers for Treanor. Most of the justice projects have been regional, including jails and county courthouses all over Kansas and Missouri. Treanor continues to be a national leader in the student life sector, from local projects like renovating KU's Hashinger Hall and Delta Chi fraternity house to the Emporia State University student union and forthcoming Texas A&M University student union.
Being located in Lawrence was instrumental in catapulting the firm's expertise in student life beyond the immediate area – and eventually internationally. Partnering with KU led to relationships with schools like the University of Missouri and Benedictine College, where Treanor Architects has done many student life projects, and now Treanor Architects is considered one of the nation's "thought leaders" in the student life sector.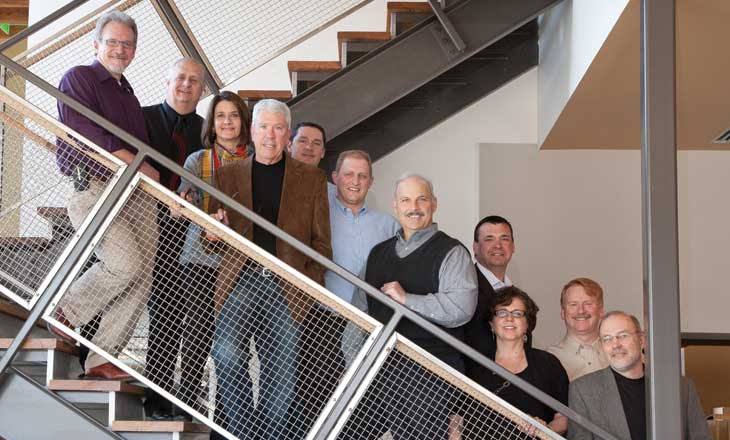 In recent years, science and technology have become important industries in the region, with the emphasis on bioscience and the cultivation of the animal health corridor around I-70 between Kansas State University and St. Louis. According to the Kansas City Area Life Sciences Institute, the number of life science companies in the region has grown by 17 percent since 2009.
"For that market sector to grow during a time that the balance of the economy was shrinking is a testament to the strength of the industry," says Eric Danielson, Business Development Director.
The passage of time and aging of infrastructure have given rise to Treanor Architects' success and the demand for its services for historic preservation and community architecture. The significant renovation of the Kansas Statehouse stands out as a recent example of that team's work. "The most sustainable construction is maintaining and restoring, as opposed to building something new," says Danielson. "Many of the 60s-era buildings coming of age to be considered 'historic' right now are on campuses or are courthouses."
As distinct as these market sectors seem, it's how they overlap that really has given Treanor an advantage. Often, renovations and additions to courthouses involve historic preservation, or classroom buildings need to incorporate laboratories with either scientific or technological capabilities.
As distinct as these market sectors seem, it's how they overlap that really has given Treanor an advantage. Often, renovations and additions to courthouses involve historic preservation, or classroom buildings need to incorporate laboratories with either scientific or technological capabilities.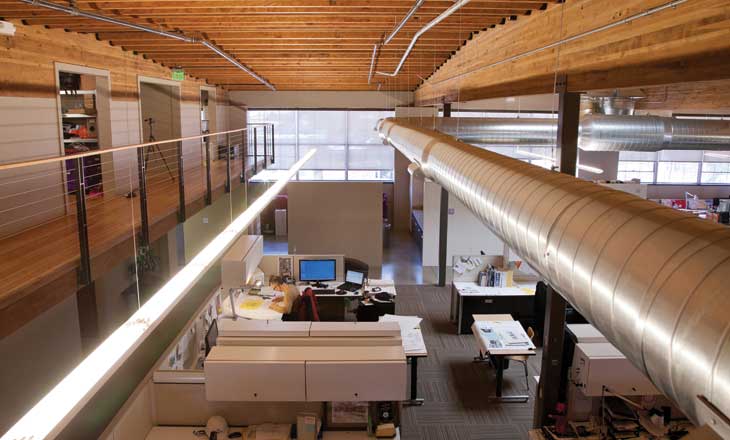 "The new space is comparable to the way we do business with our clients: We collaborate. The way that we work is being reflected in our space, with a team effort and constant meetings in our conference rooms and breakout rooms," Danielson says.
Sean Johnson, the Lawrence Chamber of Commerce's Economic Development Projects Manager, says Treanor Architects' move to downtown helps many local businesses in the community. But most importantly, the move communicates the commitment the firm has to Lawrence.
"We are thankful that as they have grown, they have continued to be dedicated to Lawrence. They have an international reach but have stayed here – that is something special for us," Johnson says. The firm and its employees also stay active in the community with causes such as Big Brothers-Big Sisters of Lawrence and have designed and built houses for Habitat for Humanity. Many employees serve on local boards of directors, often lending professional expertise to building committees.
What are the blueprints for the future of Treanor Architects? Mike Treanor says that he foresees more mixed-use opportunities in college towns like the new 901 New Hampshire building and proposed hotel, retail and residential district at 9th and New Hampshire on which the firm is now working.
Also, the firm opened a Dallas office two years ago, in addition to its Kansas City, Topeka and St. Louis offices, and plans to establish itself further in Texas, where its student life and science and technology market sectors both are flourishing. But everyone at Treanor agrees that there is no place like home. "Lawrence is special. It's a fun place to go to school, raise a family
and grow a firm," says Mike Treanor. "I do step back once in a while and think about the growth we've had, because it has gone quickly. It's been exciting." ■