Booth's Boomer Business In Perspective
| 2013 Summer | story by HANK BOOTH | photo by STEVEN HERTZOG of HANK BOOTH, TRUMAN & SCOUT MEYERS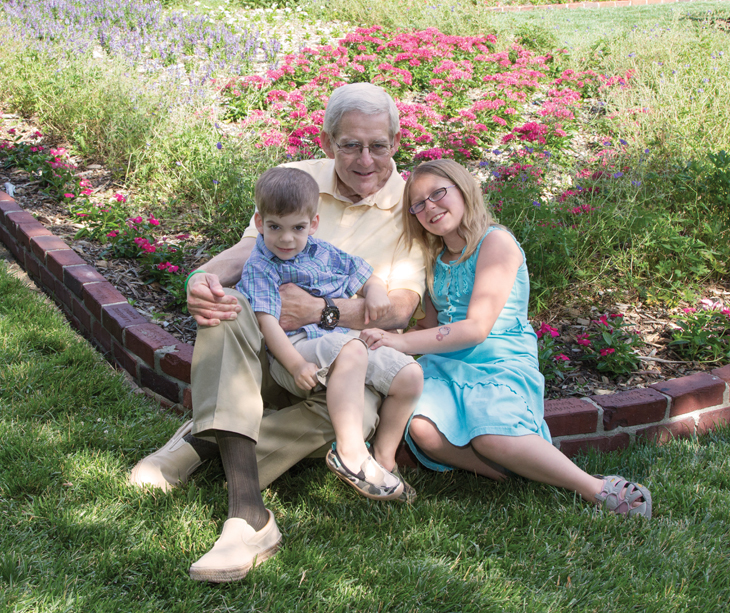 Welcome to the Boomer Generation. We're that group of Americans born after our parents and grandparents endured World War II and currently represent the largest group of consumers in the U.S

I will contend that Boomers are the most underserved measurable demographic on the consumer charts. Some communities in our wonderful country have started to recognize that fact and are making positive efforts to improve their basic services and attract Boomers to join them for the rest of our lives. I'm proud to say Lawrence and Douglas County have joined together in such an effort.
Lawrence has some built-in naturals like the University of Kansas and all it offers in sports, the arts and educational opportunities. Add in Baker and Haskell, and the picture here is bright. Lawrence is still a community (that includes our county residents and towns) and has not grown into a big city. Studies show most of us Boomers like that kind of place to live. Lawrence is very close to a large city and Kansas City offers an international airport within an hours drive. Other amenities in Kansas City like the Chiefs and Royals, while they haven't been winning since we were much younger, offer sports fans many options. The Zoo, large amusement parks and museums are great places to take grandkids and family when needed for entertainment.
There are, however, parts of our wonderful county and communities that need improvement and plans are underway to get to work on those. Transportation services, information communication for and about Boomer issues, neighborhood sidewalks and recreation centers with senior friendly programs are four areas that have been identified. While there is room for improvement, Lawrence Memorial Hospital, city and county parks, our vibrant Downtown Lawrence and a vast array of local eateries are all doing a good job catering to our new generation of older residents.
Housing is an area that needs a new perspective for local Boomers. Simply put, my wife and I don't need 6,000 sq. ft or even 3,000 sq. ft of living space. But we're not ready to downsize to 500 sq. ft. either. We enjoy company and need some room for sleep overs by our grandkids and relatives visiting from out of town.
Boomers don't want all the stairs found in four levels of living space that is popular among younger families. Single-level living would be ideal and it should include an internal "safe room." That space could serve other needs such as storage for our seasonal clothing changes and things were just not ready to toss. Boomers need bathrooms with an easily accessible bathtub, a walk-in shower and toilet units that are safe to use. Kitchen areas should accommodate a stove, sink and shelving that can be reached while seated. Wide doorways that can accommodate a wheel chair or walker unit are a must. Most Boomers enjoy outdoor living, so we need a patio or deck to enjoy a pleasant evening. Also, homes need to be easily accessible to our friends and us, so no stairways or multi-levels please.
There are a number of local builders and real estate folks who have shown a real interest in working with Boomers on design and construction of a new style of living. Remodeling plans on older homes should also consider potential Boomer occupants and visitors while adding in ramps at entry ways, eliminating old fashioned 10'x12' bedrooms, and other single level living amenities.
Stay tuned Boomers, there's much to discuss. We are a different generation than any that's come before. Many of us still like to work and get paid. Many like to volunteer and help others when their experiences in life can provide service. Yes, we grew up with Mickey Mouse and Disney, but we also grew up with astronauts pushing the limits of space. We have much to enjoy in our last chapters of life. Let's create a commitment to build a community that fits our lifestyle and that will fit right in with the younger generations with whom we love to share our lives. ■