LAWRENCE:BIG CITY QUALITY, SMALL TOWN VALUE
| 2013 Summer | story by MEGAN GILLILAND, COMMUNICATIONS MANAGER |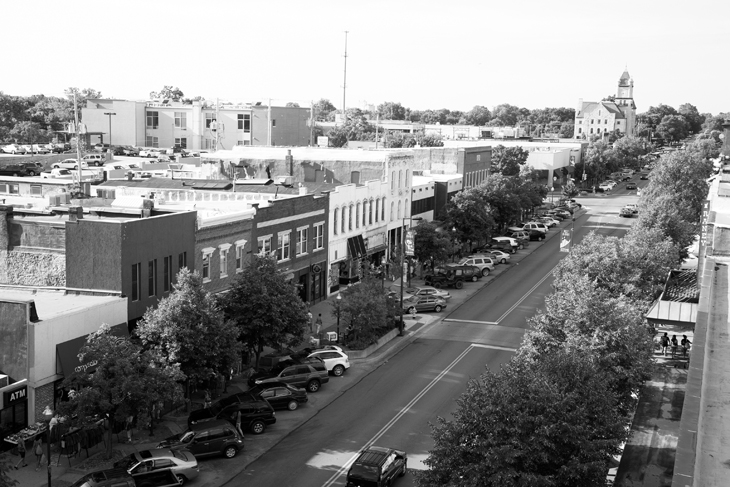 Why is Lawrence, Kansas a great community to live and work? Ask our local residents and you'll find out that Lawrence is a diverse and multifaceted city that provides many of the amenities of a large metropolitan area, while still maintaining a strong sense of community.
Lawrence offers a rich and fascinating history, a wide range of exciting cultural experiences, nationally recognized educational institutions, and some of the most unique and enjoyable shopping opportunities in the Midwest. We have a long tradition of excellence in education – from primary school to graduate school.
As home to the University of Kansas, Lawrence is a true "college town" and, on many occasions, has been ranked a top college town based on the community's commitment to its educational facilities and the extensive opportunities for activities off-campus. With an influx of over 25,000 students each fall, Lawrence is a vibrant, bustling community that has activities for every age group and nearly every interest.
Lawrence possesses all of the aspects of a friendly, active and culturally diverse community. With the perfect combination of small-town hospitality and big-city attractions, Lawrence is unique in the fact that residents have access to national touring acts, world-class political and educational speakers and worldrenowned artists who frequent the University of Kansas campus. Lawrence is known nationally for its dedication to the arts and artistic expression. In 2005, the city was named one of the best small communities in the country for art and the National Endowment for the Arts has ranked the city high on the list when it comes to the number of professional artists living and working in Lawrence.
In 2010, Lawrence's Massachusetts Street, 'Mass. Street' to locals, was named a "Top 10 Great Place" by the American Planning Association. There is no question that Lawrence boasts one of the most vibrant downtown shopping, dining and entertainment districts in the Midwest. Many have called Massachusetts Street
one of the most beautiful main streets in America. Dozens of locally-owned venues offer nightly opportunities for live music in downtown Lawrence.
Lawrence is also an affordable community. In 2012, Lawrence was named a "Best Place to Retire" by CNN and Money Magazine. Additionally, in 2011, Lawrence was named a best small metro for military retirement according to USAA and Military.com. The publications cited Lawrence's high quality of life, employment and education opportunities and culture and recreational opportunities as reasons for the recognition.
According to the Lawrence Board of Realtors, Lawrence's 2013 median home price is $167,000 and the median family income is $67,326 (2011 data from the U.S. Census American FactFinder). When compared to other local communities, Lawrence's city property tax rates are very competitive. For example, on a residential property valued at $167,000, the city property tax is $567.20 per year. The city's 2013 mill levy is 29.534 mills.
What do you get for your city tax dollars in Lawrence? As a resident of our community, your tax dollars are put to work every year in hundreds of ways. In 2012, the city used your taxes, service charges, fines, and fees to accomplish the following:
Maintained over 820 lane-miles of roadway – including street maintenance, snow removal, curb and gutter replacement, and major construction projects
Produced and distributed 4.3 billion gallons of water
Treat an average of 8.9 million gallons of wastewater per day
Maintain 53 parks, 70 miles of hiking and biking trails, and 2 off leash dog parks
Operate 3 recreation centers, 4 aquatic facilities, 11 tennis courts, and 3 outdoor sport complexes
Provide 1,252,000 one way trips on the Public Transit System
Respond to more than 9,900 calls for fire and medical service
Respond to almost 115,000 calls for police service
Process over 35,000 Municipal Court citations
Provide more than $800,000 in aid to social service agencies in the community
Provide $648,929 in direct support for the operation of the Health Department
Provide maintenance of the levee and flood control gates on the Kansas River
Support operations of the Lawrence Convention and Visitors Bureau
Provide $3.24 million to support the operation of the Lawrence Public Library
Provide $90,000 in operational support for the Lawrence Arts Center
Provide solid waste services to approximately 31,000 residential and multi-family accounts as well as 1,400 commercial and industrial accounts every week
Recycle over 14,000 tons of material through city programs
For more information on the City of Lawrence and the services and programs provided to our community, visit www.lawrenceks.org.