Kim Richey | KGA EXECUTIVE DIRECTOR
| 2013 Summer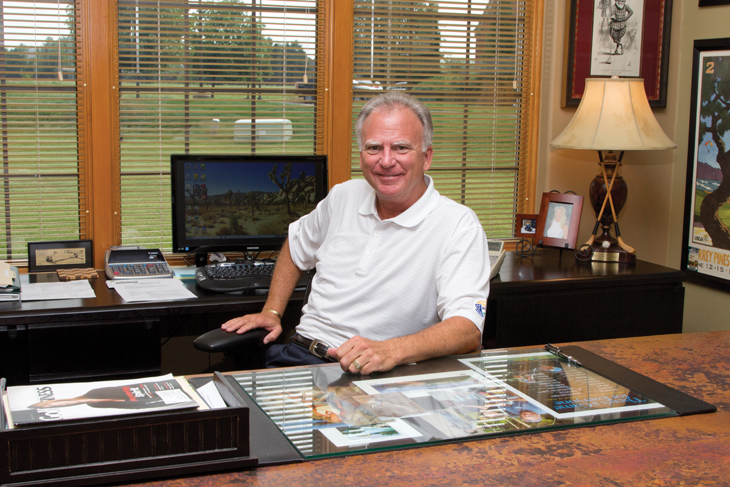 What is your organization's most important commodity or service?
The Kansas Golf Association is a service organization. Comprised of over 150 member golf clubs in Kansas, the KGA performs a variety of golf-related services for approximately 18,000 avid Kansas golfers. Relatively speaking, the KGA is a small association but we try to "perform big" for our members by providing the best computerized Internet-based golf handicap computation service available and one of the nation's most comprehensive golf competition programs.
Other than monetary, what is your company's most important priority?
Golf, like most recreational and competitive sports, is ever evolving. Technology, research and design are always changing the game from a performance standpoint. Clubs hit balls farther and golf courses are revised to accommodate a longer game, while the turf playing surfaces are becoming more difficult and better groomed. The Kansas Golf Association and others like it along with the United States Golf Association are the "guardians of the game". Our mission priority is to protect and preserve the traditions and rules of golf.
What has been some of the most important aspects of your success?

Our success is due entirely to providing services that our clubs and member golfers want and need in a way that is consistent, fair, affordable and professional. Volunteers are a key element in that success!
How many people does your business employ?

The KGA has three full-time staffers along with four seasonal personnel.
How many of those live in Lawrence?

Five of those live in Lawrence or rural Douglas County.
Does your company encourage people to live in Lawrence?

Living in Lawrence is not a requirement. In fact, I commuted from Overland Park for the first nine of my now twenty years as Executive Director. Other staff members live in nearby cities or counties, but at the present time all but two of our personnel live in Lawrence or Douglas County.
What is the benefit?

The benefit to living close to the office headquarters is time saving. We work some long hours in the golf season and a shorter drive home at the end of the day is always welcomed! Being based in Lawrence gives us a more "centralized" location to the most golfers and golf clubs in Kansas.
How does your business make a positive impact on the Lawrence community?
While the KGA is a statewide association, it does have a great relationship with the three golf venues in Lawrence. Our mutual "good neighbor" relationship gives the KGA access to four top courses for our events and the clubs and their golfers get personal service when it is needed.
What is your company's responsibility to the community?
To be a good "corporate citizen". Like any business, even though the KGA may be a non-profit, we contribute to the economy of Lawrence and when possible to charitable or scholastic needs of the city.
What would you change about doing business in Lawrence?
Nothing significant comes to mind. The only thing not currently available that would help us is a South Lawrence Trafficway! As an association you operate within a competitive industry.
How have you managed to remain relevant and profitable?
Just like any other industry, we have used technology to provide broader and faster services while keeping costs under control. The KGA has evolved from the pencil and paper office of the 60s to a modern office with computers, a website, digital printers, automated telecommunications and paperless communications.
How do you manage your day-to-day stress of business?
I am tempted to say "I have no stress"! But, no one would believe that. Actually, working in the golf business is almost always very congenial and cooperative. After 18 years practicing law and now 20 years as a golf administrator I have learned that paying attention to the details, planning and preparation, and treating people with respect and fairness will eliminate a lot of stress from your day.
How do you reward excellent work performance?
For staff, excellent performance (which is the norm for the KGA) results in the ability to manage your own time each day without constraints of a "time clock" or supervision. For our volunteers, expressed appreciation of service tends to be all that they need. The work itself is the reward. Many golfers feel the need to "give back" to the game and volunteering for a state golf association is one way to do that.
How do you manage poor performance?
Fortunately, that is not a common occurrence. When it does happen, typically the remedy is simply better instruction or training. Sometimes it involves establishing expectations.
What is the biggest challenge you feel your company faces?
As long as golf is "healthy", the KGA will thrive. Over the last few years the game of golf has felt the sting of a poor economy. When the game takes many hours to play and the cost for equipment and access are high it makes it less attractive to many people who would otherwise enjoy and benefit from playing golf. In short, golf fights for its share of the discretionary dollar. Lately, for all age groups golf has been losing to less expensive and less time consuming activities. The golf industry is united in looking for and implementing programs, products and services to make the game more affordable and enjoyable.
Over the course of your career, what has been the single largest change in the Lawrence business environment?
Over the last 20 years, I would have to say "growth". Downtown is an attractive retail and entertainment area. Lawrence residents don't always have to travel to Topeka or Kansas City to get what they need with the retail centers south and west. Lawrence has become a place to live with quality housing and services.
What do you foresee as being the biggest challenge to the golfing business? On a local level? On a national level?
The answer is the same for both local and national. Golf 's biggest challenge is to become affordable and enjoyable for more people of all ages. As I said before, the game has become too expensive for some and takes too big of a time commitment for many more. There are many reasons or causes for this, and the industry leaders are always implementing and working on solutions.