The Business of Golf
| 2013 Summer | story by DEREK HELMS | photos by STEVEN HERTZOG |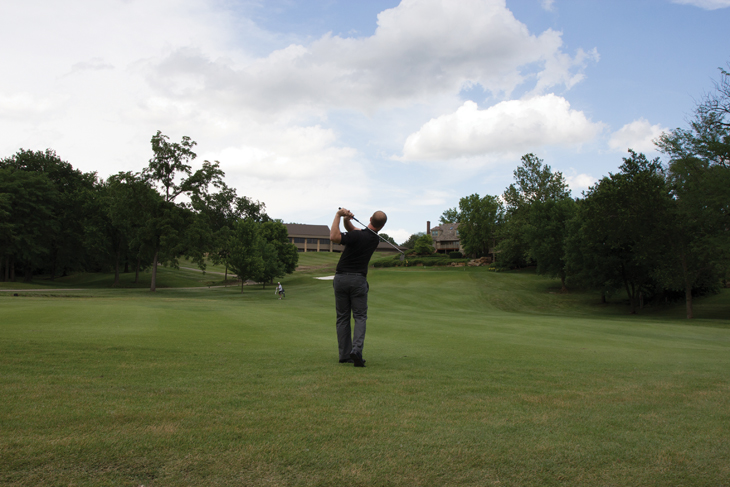 In Lawrence there are 72 hole of regulation, USGA approved golf and 9 holes for 'executive' play. The 81 holes support more than 120,000 rounds of golf in any given year. From open, long holes to tight doglegs that require perfect shot making, the options for Lawrence golfers are numerous. In recent years, the national business of golf has suffered declines in rounds played and country club memberships. However, in Lawrence, the tradition and quality of options has helped the industry remain stable. With the worst behind them, the golf industry in Lawrence looks to expand.
Lawrence Country Club (LCC) is, by far, the oldest golf course in town. Opened in 1914 as a 9-hole course, LCC sets on the hills just north of 6th street in central Lawrence. The course expanded to 18 holes in 1935 when renowned course architect Perry Maxwell designed the additional holes.
For 70 years the course remained unchanged, says John Zylstra, PGA Professional at LCC. In the early 2000's club stockholders began discussing a radical idea. Why not tear up the ground and, literally, build a new golf course?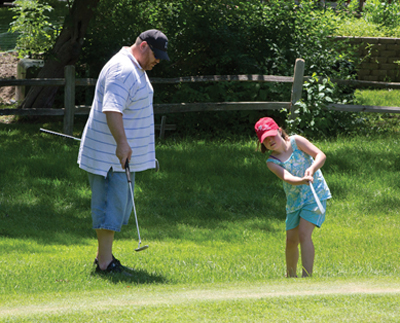 "We knew we need to replace our irrigation system, which is incredibly expensive and hard a course," Zylstra explains. "At one point, someone just said 'Well, why don't we just redo the entire course?' When we really thought about it, it made sense."
Stockholders voted to close the club and rebuild the golf course. In July of 2005, LCC suspended operations and began moving dirt.
"It was really something," Zylstra says with a smile and a headshake. "The course was tore up from one tee box to the green. Then they moved to the next hole and did the same thing."
Complete renovation of the course was planed for 9 months, but took nearly 15.
"We didn't rush it," Zylstra says. "We knew we had to get this done right, in order to best serve our members who continued to pay dues while we were shut down."
The course reopened as a par 70 that utilizes the contours of the hills and features bent grass from tee to green. Zylstra says the course is fantastic, and membership response was overwhelmingly positive.
"We knew our members were expecting a lot. They paid their dues the entire time our course was closed," Zylstra says.
LCC is a full-service golf and social club. Membership opportunities range from stockholders to social members. In total, the club counts 515 members – a number that has remained consistent through the recent economic downturn. The club is funded solely through membership dues and employs around 120 during the summer months and 60 in the winter.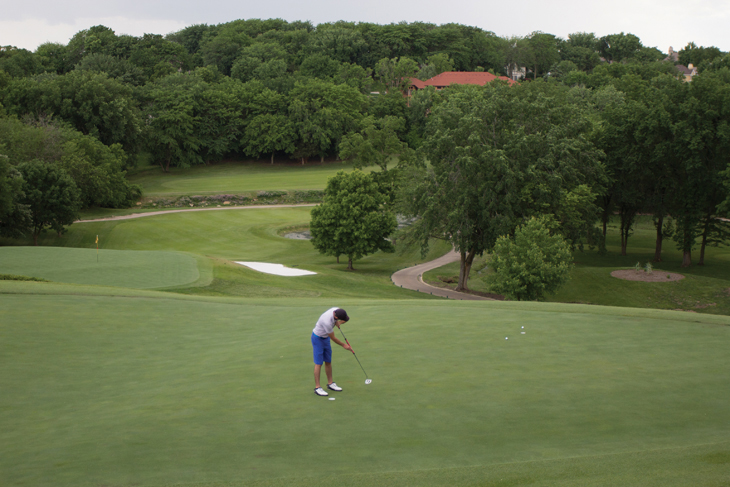 "We cut our initiation fee significantly in order to attract new members," Zylstra explains. "When the club reopened in 2006, we had an $8,000 initiation fee with about $500 monthly fees and sold one new membership. Now new full members can join with a $500 initiation and monthly dues of around $300."
In recent years the course has reduced the number of outside tournaments hosted. Zylstra says it has been a decision the club made to keep the course and amenities available for their members. The Stockholder Board of Directors makes major course decisions. Members of the board are elected and serve a 3-year term.
Despite the national trend of under-funded, under-played country clubs, Zylstra says LCC is healthy. Future plans being considered are adding a fitness area and revamping the dinning options.
"Every decision we make has our members in mind," he says. "They pay for this course, clubhouse and pool. It is just good business to keep them happy. By doing that we will remain financially solid."
Few businesses have as much of an impact on Lawrence as Alvamar. The club boosts 36 holes, a swimming pool and countless real estate holdings. The 36-hole facility covers most of the land from the intersection of Bob Billings Ave and Kasold to the intersection of Clinton Parkway and Wakarusa.
"It's hard to argue the impact of Alvamar," says J. Taylor, Director of Memberships at Alvamar Country Club. "West Lawrence was literally built around the golf courses."
Built in 1968, Alvamar Hills Golf Course was the first public golf course in Lawrence. The course, now known as the Championship Course (still public), was the first in the world constructed with zoysia grass fairways. In 1970, work began on the second course; now know as the Member's Course. Alvamar is now one of two thirty-six-hole facilities in the state of Kansas.
"We really are known across the country as a fantastic golf destination," says Bryan Minnis, Director of Operations. "What Bob Billings and Mel Anderson built is a lasting testament to their vision and passion for Lawrence."
Alvamar has nearly 800 members; about 450 of those are golfing members and employs almost 100 people in season. While the Championship Course remains open to the public, golfing members have access to both courses, a private driving range, short-game facilities and can use the University of Kansas hitting bays. Minnis says between the two courses, they'll host around 60,000 rounds of golf in 2013.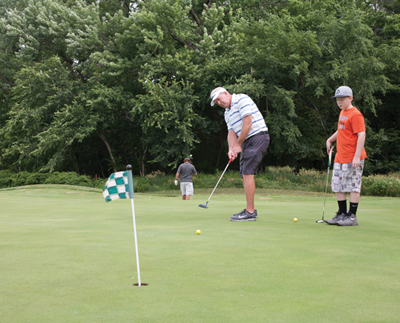 While the Member's course is maintained almost exclusively for the club members, the Championship course is one of the most played golf courses in the region. Neither Taylor nor Minnis knows the exact number of tournaments held on the course per year, the both estimate the total to be "a lot."
"We put a high emphasis on hosting tournaments," Minnis says. "It's two-fold for us. First, it's guaranteed income and rounds on that particular day. In golf course management, guaranteed income is always a good thing. Second, we view it as giving back to Lawrence. It's a way we can help support the charitable, commercial and economic partners we have in our community. Also, if we host a tournament on a week day, our members still have the opportunity to play on the Member's Course, so they don't miss the chance to golf."
The club has a yearly cap of 200 swimming memberships, which Taylor says nearly always sell out. The club swimming pool is located adjacent to Bishop Seabury Academy, but Minnis says that will change soon.
"I'm comfortable saying, in the next 24 to 36 months we will have a brand new aquatic center next to our clubhouse," Minnis says. "We have multiple architectural renderings and we are set to move forward."
Erecting an aquatic center is one of three major construction projects Alvamar has planned for the next 36 months. What is now the member's golf cart area will be renovated into a large fitness facility for club members. Minnis says the change is part of what he hopes will be a new era for Alvamar.
"I really want this club to feel like a 12-month vacation," he says. "Year-round we need to give our members a reason to be here. When they are here, we must do all we can to make sure they are enjoying themselves."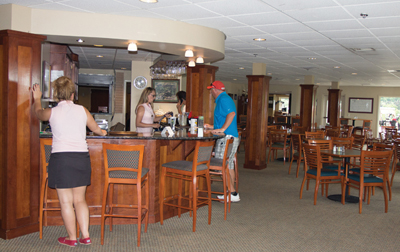 Both projects will be funded directly by Alvamar.
"Our membership has grown steadily the past few years," Minnis explains. "Our members are very loyal to the club, and we don't take that for granted. We are in a position to fund these project through operating income and not raise rates for members in any significant way."
The University of Kansas will soon begin building an 8,000 square foot addition to their hitting bays. The addition will house locker rooms, coach's offices and a player's lounge for the KU men's and women's golf team. Though the project will not directly benefit Alvamar members, Minnis believes growing the club's relationship with the university will only bring positive attention.
Memberships at Alvamar range from dining memberships, to all-inclusive memberships and include a $300 initiation fee. Taylor said people unfamiliar with the club might not realize how expansive it is.
"We have 36 holes of great golf, the biggest private pool in town, a full social calendar and a really great community," Taylor says. "Being a member of Alvamar is fun."
Eagle Bend is the first golf course owned and operated by the City of Lawrence Parks and Recreation Department. The course sits in the shadow of the Clinton Lake damn and opened in 1997. The first six holes on the course are open with no trees.The remaining holes are heavily wooded and play alongside the Wakarusa River.
Darin Pearson, Supervisor of Park District #1 (which means he's in charge of Eagle Bend and the playing fields at YSC), has been working hard to change the perception of the course. Though the course supports almost 27,000 rounds of golf a year, Pearson thinks it can do much, much more for local golfers.
"You can play Eagle Bend, with a cart, for $26," Pearson says. "That is a crazy deal, and that isn't some sort of twilight rate or early morning price. That's what it costs to play the course with a cart Monday through Friday."
When Pearson took over course operations in 2011, he knew the challenge of managing a public course would be different. He spent the previous 14 years at Alvamar working on course maintenance and has brought much of what he learned at Alvamar to Eagle Bend.
One of the largest changes is in the grass, literally. Pearson is overseeing the implementation of zoysia fairways. The crew use 18-inch strips of zoysia grass pulled from the 4-acre tract of grass and lay in rows on the fairways. Through time and diligent watering, the zoysia spreads together.
"It's a great playing surface because the grass holds the ball on the tops of the blades," Pearson explains. "But the benefits are much more than that. I estimate we've saved almost $20,000 because of the new grass. By combining the lower demand for water and the less frequent rate of mowing, the financial benefits are really substantial."
Income to the course is almost solely derived from walk-up play, so Eagle Bend is dependent on good weather. Pearson is working hard to bring more tournaments to the course as a way to guarantee income and attract new golfers.
"I hear from people that have never played Eagle Bend that come out for a fundraising tournament," Pearson explains. "They'll tell me how great the course is and how much fun they had. That's great, because we can get them back out here."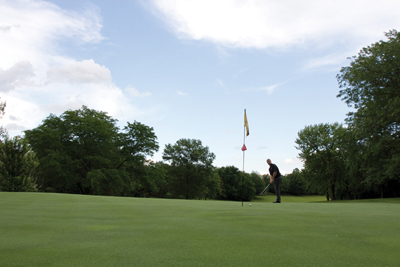 Pearson says Eagle Bend isn't in the business of stealing golfer. He wants to create golfers."This course is really fun to play, and I know we're making it a challenge for all levels of players," Pearson says. "We don't try to take members from Alvamar or LCC. Sure, I think it's great when their members come out for a round, but we're really trying to get families and people just picking up the game."
Richard McGhee had retired from Blue Cross Blue Shield in Topeka and began working on a Master's in Physical Education at the University of Kansas. He commuted from Topeka and would drive by the Orchards golf course every day. As he neared completion of his degree, something occurred to him.
"I thought, well, I'm almost done with this, what am I going to do now?" he says. "So I saw the course was for sale. I pulled into the lot, called the number and met with a realtor about 15 minutes later. I always thought it looked like a great piece of land in a really good location. I didn't research potential cash flow or market analysis. I know this will work. I know Lawrence loves this golf course."
About 10 years ago, landowners with property bordering the course purchased the development rights from the former owner. The land must remain a golf course or be converted to green space. McGhee doesn't plan any major changes to the course, but is working hard to improve the clubhouse and grounds.
"There's a great golf course out there," he says while motioning over his shoulder. "I'm not a golfer, but I know how much fun it is to just go play. That's why we're here: to give folks of any ability the opportunity to play."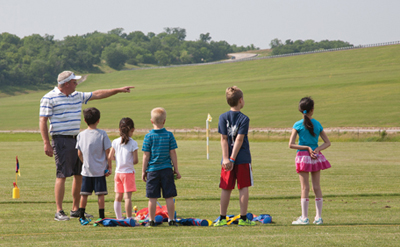 In an effort to distant the course from the past, Richard renamed the course Cobblestone Golf Course at The Orchards. McGhee has a small staff of part-time mowers and maintenance men and he mans the clubhouse himself. They are working hard to improve the fairways and greens before the summer heat sets in.
"We pay the bills by walk-up golfers," McGhee says. "I'm going to try to get some more tournaments to play here, and I'm confident those will come, but right now income occurs 9-holes at a time." ■