BUSINESS STRIVING FOR FRIENDLINESS TO THE ENVIRONMENT AND BENEFITS TO THEIR CUSTOMERS
| 2013 Fall | story by DAISY WAKEFIELD | photos by STEVEN HERTZOG |
There are businesses that recycle paper and call themselves green, and then there are businesses that really have eco-friendliness woven into the fabric of their daily processes. The following local businesses are standouts in sustainability.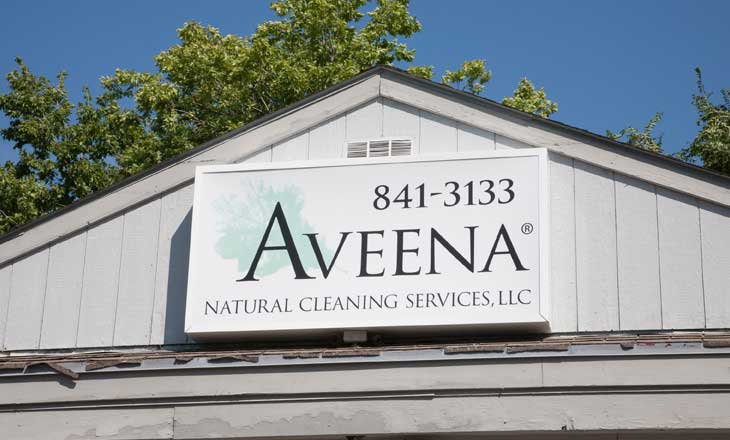 AVEENA NATURAL CLEANING SERVICES, OWNER LAURIE WILSON
The cleaners at Aveena Natural Cleaning Services are tired of the myths, especially the one about having to use chemicals to really get the dirt out. They wager that they can clean anything just as well with vinegar and baking soda as any chemical on the market — the secret is in knowing the surface. The five to ten cleaners at Aveena clean for about 50 Lawrence households, many of whom have allergies or sensitivities to chemicals. They use vinegar, baking soda, essential oils, and lemon, among other natural cleaners that are friendly to the environment.
(785) 841-3133 721 E. 9th St.
BASIC CARPET CARE, OWNER MIKE BRUMMETT
Heavy soap use in carpet cleaning is not only bad for the environment, it actually makes the carpet more susceptible to soils and stains afterwards because of the sticky factor. Basic Carpet Care uses the steam extraction method of cleaning, which cleans carpets through high temperature water misting without the use of chemicals. It shakes the dirt and grime loose and then pulls it out. And instead of draining the dirty water into the sewage system, owner Mike Brummett has a special holding tank on his property that the water is dumped into and eventually seeps into the ground.
basiccarpetcare.com
ECO LOGIC CLEANERS, OWNER SANTA BERLIOZ
While conventional dry cleaners use petroleum based solvents to clean clothes, Eco Logic Cleaners uses liquid silicone from Green Earth Cleaning, made out of sand, heat and water. There's no cleanup, no emissions, and no VOCs. The price is competitive with other cleaners, the clothes leave behind no chemical smell and the entire process is easier on fabrics. Founded in 2009, Eco Logic is a family run business that opened a second store last October in response to demand.
601 Kasold Dr. 2540 S. Iowa
LAWRENCE AUTOMOTIVE DIAGNOSTICS, OWNERS DANNY & BETH FOX
Sure, you get your oil changed, or your antifreeze drained, or your tires replaced — and then you drive away without a thought to the used chemicals and materials left behind. That's for Lawrence Auto Diagnostics to take care of – and they do. They discard the leftover oil and chemicals through various companies that come to pick up and recycle the materials, including one that takes used tires and breaks them down to use in park benches and playground turfs.
lawrenceautodiag.com
2858 Four Wheel Dr.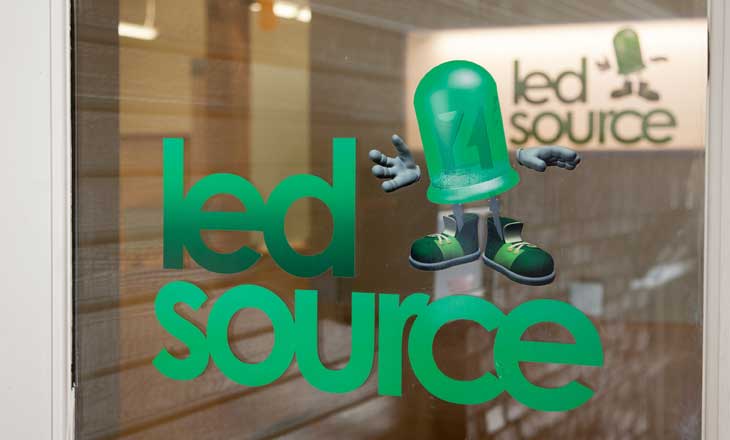 LED SOURCE, OWNER ADAM RITCHIE
There are three kinds of bulbs used for creating light – an incandescent bulb, a compact fluorescent light bulb (CFL), and a light emitting diode (LED). Only one has a computer chip and a semiconductor inside. While LEDs are more expensive than the other two, they last longer (40 times longer than an incandescent and 5 times longer than a CFL), and are by far the most environmentally friendly of the three, from manufacturing to disposal. LED Source has been retrofitting Lawrence businesses with the LEDs, saving them up to 85% in lighting electricity costs.
Ledsource.com/lawrence004
10 E. 9th Street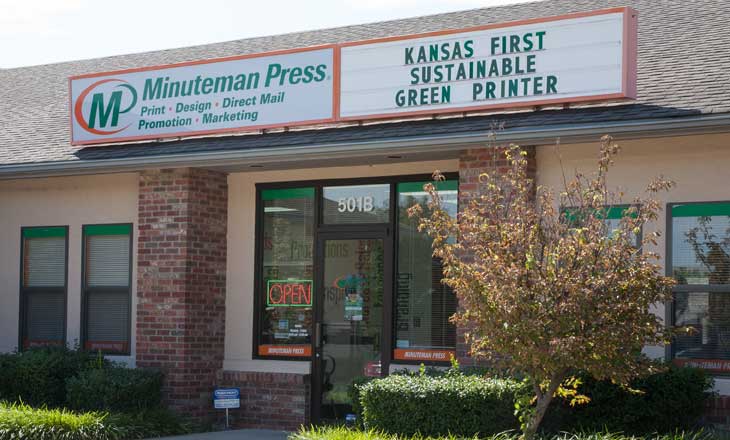 MINUTE MAN PRESS, OWNER DEE BISEL
Dee Bisel, owner of Minute Man Press, is clear – she is not trying to be green; she is being green. The proof is in the independent third party audit that occurs every other year to evaluate her status as a certified Sustainable Green Printer (SGP). The audit challenges every facet of the business, including materials in the inks, air and sound quality, cleaners for the building, types of fertilizer and ice melt used, and safety procedures. There are no petroleum-based products in the building and they recycle 87% of all products used. The SGP status has grown the business by 15%, Bisel says, and some companies are keen to have the green printer logo printed on their pieces.
minutemanlawrence.com
501 Gateway Dr.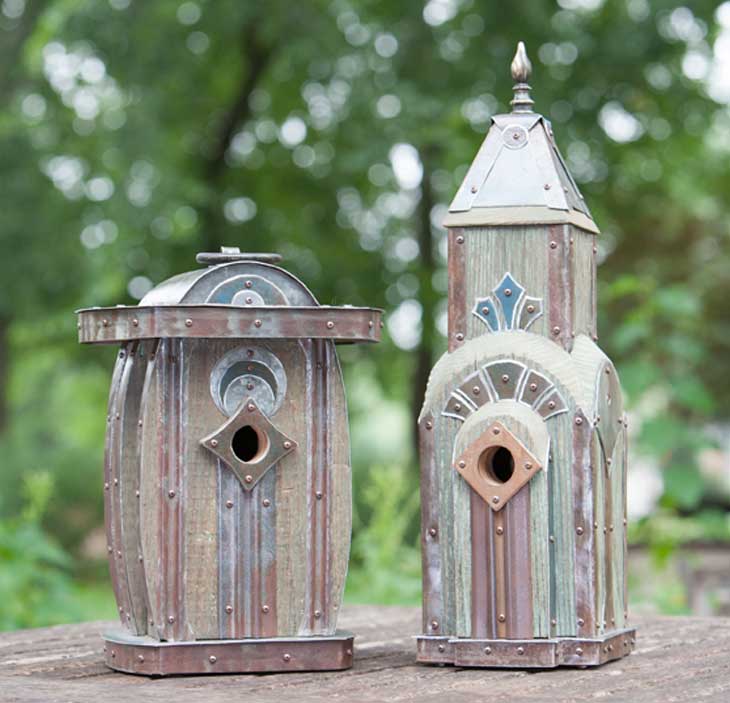 ROUNDHOUSE WORKS, OWNER TED FREEMAN
xsTed Freeman's handmade birdhouses are pieces of poetry hanging all over Lawrence and beyond. Made of reclaimed wood and tin, the birdhouses are a blend of rustic charm and sophisticated design. Freeman started the business two years ago as a second career and has sold about 140 houses through his website or at art shows. He scours Craigslist for wood and tin of barns that are being torn down and also uses eBay to find metal. Last year at Lawrence's Art in the Park, Freeman's birdhouses won Best in Show.
http://www.etsy.com/shop/Roundhouseworks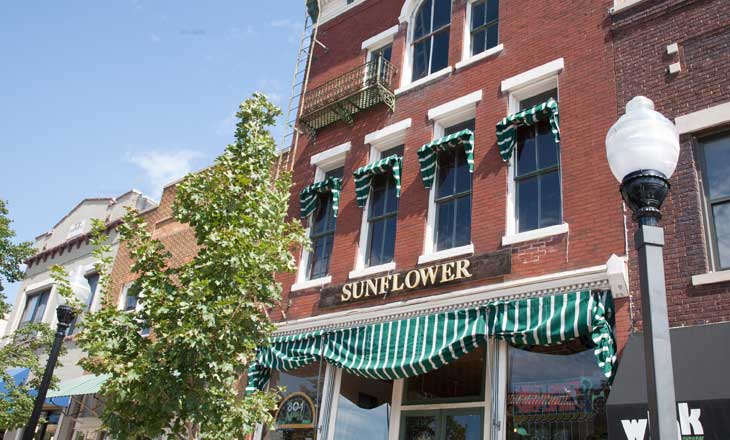 SUNFLOWER OUTDOOR AND BIKE, OWNER DAN HUGHES
In the time that Dan Hughes has been at Sunflower Outdoor and Bike, first as an employee, and eventually as an owner, he's biked to work. Since 1989, through inclement weather, less-than-friendly motorists, and spotty biking infrastructure, he's biked. And the employees and clients of the shop – they bike too. Some do it just for recreation, but some are diehards who actively eschew petroleum-based transportation. And when they need new parts or repairs for their ride, or just someone that speaks bike-talk, they know where to go.
sunfloweroutdoorandbike.com
804 Massachusetts St.
VINELAND VALLEY NURSERY, OWNERS DOUG DAVIDSON & AMY ALBRIGHT
Vinland Valley Nursery are aiming to make the world a better place by growing plants. Using organic potting mixes, fertilizers, and pest control, their goal is to build a balanced ecosystem that is friendly to people and animals. The nursery abounds in native plants that thrive in local conditions, reducing the amount of resources needed while providing necessary shelter and food to local wildlife. They also partner with local non-profits and schools to build garden habitats, as well as offset propane and energy use with the purchase of green tags.
vinlandvalleynursery.com
1606 N 600 Rd., Baldwin City, KS
WARREN-MCELWAIN MORTUARY & CREMATION SERVICES, OWNER LARRY MCELWAIN
The City of Lawrence approved the first Natural Burial Cemetery in the state in 2008, located in Oak Hill Cemetery. Since then, Warren-McElwain Mortuary has done 4 or 5 natural burials at the site. The body is not preserved or embalmed in any way and is lowered to the ground in only a shroud or in a casket made of biodegradable material, such as bamboo. Eventually, the body and casket are broken down and returned to the earth.
warrenmcelwain.com 120 West 13th St., 120 West 13th St.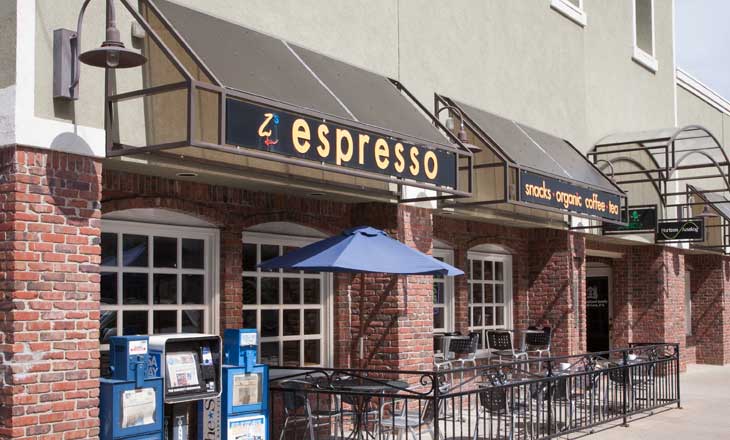 Z'S COFFEE OWNER SHERRY BOWDEN
The people at Z's Coffee aren't content just to make customers happy through their certified organic coffees that have been roasted in small batches. They want the happiness to extend to people's gardens by using the leftover grounds as soil amendments or compost nutrients. Coffee grounds add phosphorus, potassium, magnesium and copper to the soil, and they are slightly acidic – a good thing to balance out the slightly alkaline soils around here. Between the two locations, ten to fifteen pounds of coffee grounds a day are giving gardens all over Lawrence a good cup of joe.
zsdivine.com
10 East 9th St., 1800 East 23rd St.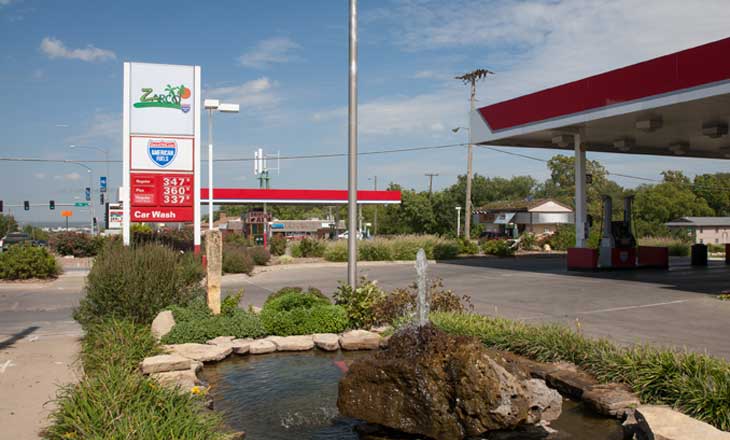 ZARCO USA, OWNER SCOTT ZAREMBA
Zarco USA owner Scott Zaremba asserts that crude oil, as a single transportation energy source, is volatile and unsustainable. That is why he opened the first Lawrence Zarco seven years ago, with three others following – to provide alternative and renewable fuels to the marketplace, using different blends of ethanol and biodiesel. These fuels burn cleaner, don't leave behind the pollutants that crude oil does, and in newer cars, get equal or higher gas mileage than pure gasoline. And as new vehicles are built for the EPA's 2022 CO2 reduction standards, these alternative fuels are going to be the new normal.
Zarco66.com
2005 W. 9th, 900 S. Iowa St., 1500 E. 23rd St., 1415 W. 6th St. ■