SPORTS RETAIL
| 2013 Winter | story by EMILY MULLIGAN | photos by STEVEN HERTZOG |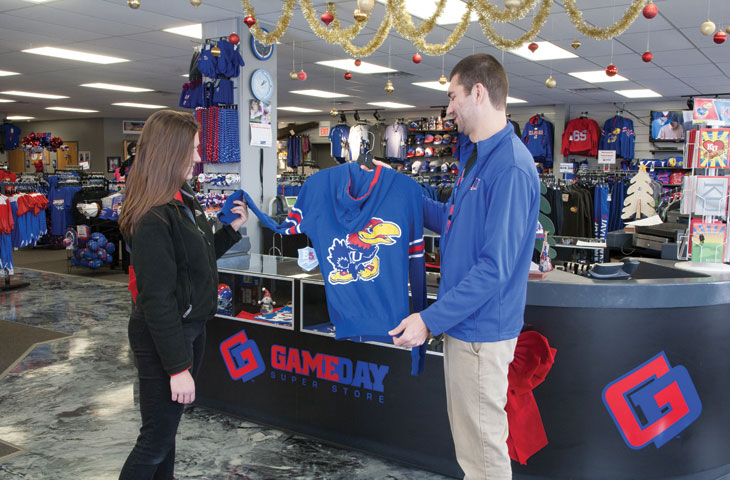 It is near impossible to find a retail outlet in Lawrence that doesn't have some sort of KU memorabilia or sports-related items available for sale. Just as the University is part of the town, so is the KU sports culture part of the retail shopping experience.
KU memorabilia and sports retailers not only depend on the demand for KU-related purchases, but they also feel the effects of the KU athletes' performances on the field.
"As goes KU, so goes Lawrence. If all those teams do well, it creates excitement and, in turn, a lot of income," said commercial realtor Doug Brown.
Those wins are especially lucrative for anyone who sells crimson-and-blue items.
"All you have to do is look around town in gas stations, grocery stores, you name it. Everyone wants to put a Jayhawk on something and sell it," said Ryan Owens, manager of Jock's Nitch downtown.
When KU basketball teams, in particular, do not have the best seasons, that has a direct effect on retailers.
"If KU loses early, once they lose, the atmosphere of downtown changes," said John Francis, owner of Francis Sporting Goods. "It takes people awhile to recover – there is not a lot of shopping to do after the end of the season. It's like turning off a faucet."
KU Memorabilia
Rarely do visitors come to Lawrence and leave without purchasing some type of KU memento.
"The number-one shopping experience for customers in Lawrence is going to be looking for KU merchandise. Game days are the biggest days, and it's non-stop people from all over the country coming in," Owens said.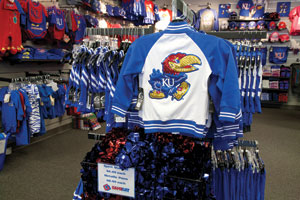 Although, as Owens says, KU shirts and hats are available in stores throughout the city, many out-of-towners and fans seek out KU specialty shops like Jock's Nitch for their selection. Aside from the KU Bookstore, Jock's Nitch is one of the most established KU specialty shops for licensed merchandise in Lawrence, having been in the same downtown location since 1991.
If an item is licensed, that means the design incorporates marks or insignias owned by KU, such as the Jayhawk or the "KU" in Trajan font that is used as a logo. Licensees must pay a royalty fee to KU, usually 10 percent, on the wholesale price of each item. Jock's Nitch is different than many retailers that sell licensed KU merchandise, because it does not buy exclusively from other vendors.
"We pride ourselves that we're licensed with KU, so we work with KU to develop our own designs and products that are only available in our store," Owens said. "The market is always changing, but over the past several years, we've stayed consistent."
For more than a decade, Jock's Nitch offered shoes and other sporting goods in addition to the KU merchandise, but then space became an issue, and they needed to make a choice.
"Licensed goods have really exploded over the past 10 to 12 years, and our KU stuff started doing better and better, so we got rid of the shoes," Owens said.
Jock's Nitch does its printing in Lawrence and owns a print shop at its headquarters in Pittsburg, Kan., so it works to keep local vendors as much as possible.
"It's important for us to stay local," Owens said with a smile. "We went to KU, KU students work here, and we have regular customers around here. Everybody who walks in our store is a friend. If they're wearing something from another Big 12 school, we let them know about it."
GameDay Super Store on 23rd Street is newer to the KU merchandise scene. The store, which also sells non-KU customizable recreational sports uniforms under the GTM brand name, opened in 2009.
"As far as KU merchandise, we definitely have a big advantage because there are not a bunch of KU stores on 23rd Street. People can have front row parking and pop in quickly," said Kyra Dreiling, director of retail. "We manufacture our own products, so we cut out the middle man and provide a custom KU collection at a variety of price points that is only available at that location."
GameDay produces most of its products at its factory in Manhattan, Kan., and also has a "brother" factory in Guatemala for its largest orders.
"We are locally owned and independently operated, and customers appreciate that. We are not a big box store," Dreiling said. "We hire KU students and graduates."
KU sportswear designers are continually coming up with new looks for their shirts and hats. Owens and Dreiling highlighted a couple of trends ahead for their customers.
"For quite a few years, it was hoodie, hoodie, hoodie," Owens said. "Now, it's much more about ¼ zips and crew sweatshirts. Shirts are going baggier, to be paired with leggings or running tights.
The old-school Jayhawk logos are really popular on everything."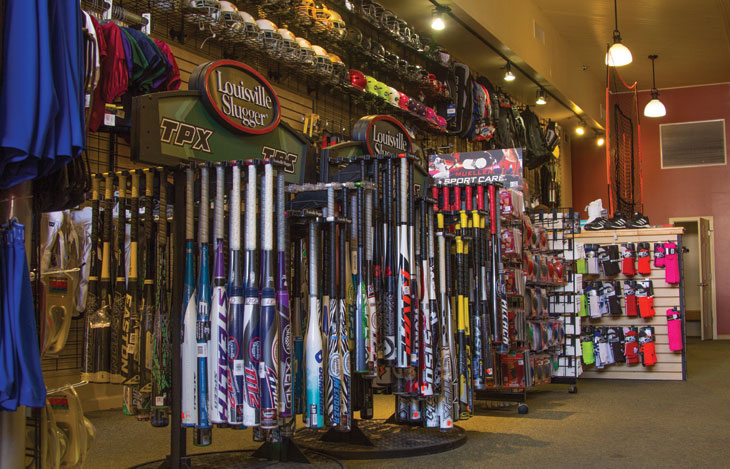 Owens said the fabrics themselves were changing as well, going away from cotton and more toward blends that look vintage and feel softer.
"A trend in sportswear and KU merchandise is the sublimated product: instead of printing or embroidering the logo, they are fusing the ink design into the fabric. It lasts longer – it's not going to crinkle or crackle over time," Dreiling said.
Owens said the alternative uniforms that Adidas created for college basketball last year will be created again this year, which adidas also creates for fans. Dreiling said that neon pink, orange and yellow-colored KU gear will be back in the spring, as well.
"We have a loyal and enthusiastic fan base; they're the ones that drive this business," said Paul Vander Tuig, trademark licensing director for KU Athletics. "The fans keep the licensed product train rolling by asking for what they want – and the retailers work hard to get it."
Sporting Goods
Not only do KU athletes inspire shoppers to outfit themselves in KU clothing, but they also inspire kids and adults to participate in sports.
"With Rock Chalk Park developing, I see the possibility for even more leagues and better, more organized activities for not only children but adults," Brown said. "We could become an even more active place than we are."
Even without Rock Chalk Park, sports activities for kids are rarely relegated to one season.
"More and more families are participating in sporting events all year 'round. Now, they are doing two sports per season or doing both the school team and the club team. I don't see that that's going to be changing anytime soon," said Dreiling of GameDay.
More participation means more of a need to purchase uniforms, warm-ups, socks and gym bags – all of which are available at local sporting goods stores.
Of course, to the dismay of local sporting goods stores, big-box store Dick's Sporting Goods is slated to open in 2014 in the former Sears building at 28th and Iowa. So, the sporting goods marketplace will be expanding in line with Rock Chalk Park, as well.
Francis Sporting Goods has been in business in Lawrence since 1947 and has a retail store downtown and a custom team apparel and equipment business.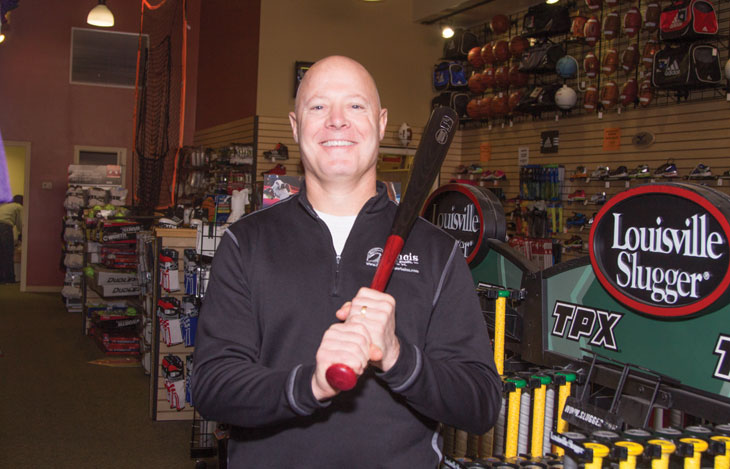 "Being in a college town helps us keep up-to-date. Most mom-and-pop stores in our business are smaller and not as progressive as we are," Francis said. "When you have a town that embraces sports as Lawrence does, that definitely helps us out."
Francis says that Francis Sporting Goods is going to consolidate its team business, which offices in a warehouse away from downtown, into its downtown location in anticipation of the effects of Dick's coming to town.
"We're not naïve; we know it's going to affect us. We have to be realistic, but we have our niches and our core customers, so hopefully they'll continue to shop local," Francis said.
Francis has developed a more interactive web presence in the past two years, and the downtown store staff fulfills those orders, which come from across the U.S.
"We are strong with Adidas," Francis said.
Francis Sporting Goods used to carry KU merchandise, but decided to fill its space with sporting goods and equipment – exactly the opposite of what Jock's Nitch has done.
Although GTM Sportswear has been in the sportswear business for more than 20 years, it is a newer addition to the Lawrence sporting goods scene. The store, which also houses KU specialty store, GameDay, specializes in custom embellishment on team uniforms and warm-ups.
"Customers that are shopping at our Lawrence showroom will get to work with a rep who will work with them start to finish choosing products and creating the design, then following up with other options," Dreiling said.
Dreiling says that because GameDay and GTM share the space, their customers can purchase a KU shirt alongside their team uniform or a set of warm-ups alongside their fan gear.
"Dick's will be more a competitor for GameDay than GTM. Hopefully enough customers like shopping with the small businesses of the world and will continue to do so," she said.
GameDay Super Store has a website for those farther-away customers seeking KU gear, but Dreiling said that their focus was on the brick-and-mortar presence in Lawrence and working for repeat customers.
Both Francis and GTM say that their busiest time of year is back-to-school time and the beginning of fall sports. Although they do see a spike in activity around the holidays and at the beginning of the summer, they spend most of the year preparing for August and September.
No matter what the date on the calendar, these retailers are always tuned in during KU basketball season, hoping for wins well into March.
"Business correlates directly with how well KU is doing in basketball. Final Fours and championships make our business for years," Owens said. ■