ROOM TO GROW: LAWRENCE VENTURE PARK
| 2014 Spring | story by MEGAN GILLiLAND, communications manager, City of Lawrence|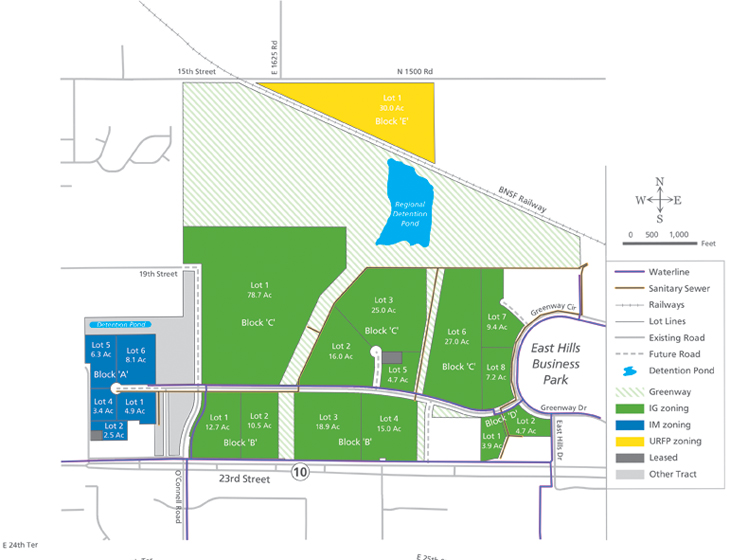 The City of Lawrence began efforts to redevelop a former fertilizer plant on the eastern outskirts of town in 2010. The site is now ready for development and offers businesses new opportunities to expand in an area that prime for development. Welcome to Lawrence Venture Park.
Lawrence VenturePark is a new business park located in Lawrence, Kansas. VenturePark is located on more than 200 acres and is adjacent to the existing East Hills Business Park. Lawrence is an exciting and vibrant community with an excellent business climate, exceptional schools, outstanding recreational amenities, a thriving downtown shopping and entertainment environment, and numerous arts and cultural opportunities. Lawrence is consistently named a best college town in national publications and websites and was named a "Best Small Place for Business and Careers" by Forbes in 2013. As home to the University of Kansas and Haskell Indian Nations University, Lawrence's population is approximately 90,000 and is located 30 minutes west of Kansas City. Lawrence has an excellent regional workforce with 80% of the available labor pool having at least some college experience and 99.4% of the workforce having at least a high school diploma.
Transportation Access
Lawrence VenturePark is conveniently located on K-10, a fourlane divided state highway providing direct access to the Kansas City metropolitan area. Lawrence also enjoys three exits on I-70, providing quick access to the Kansas City metro to the east and Topeka to the west. In 2016, the State of Kansas will complete a loop of K-10 that provides a direct connection to I-70 from VenturePark. The completion of K-10 will also provide convenient access to US-59, which connects to I-35.
Utilities
VenturePark is development ready. City water and sewer infrastructure is available. The site is also served by shared stormwater facilities that incorporate leadi