EDUCATION TOOLS FOR A DATA WORLD
| 2014 Spring | story by LIZ WESLANDER | photos by STEVEN HERTZOG |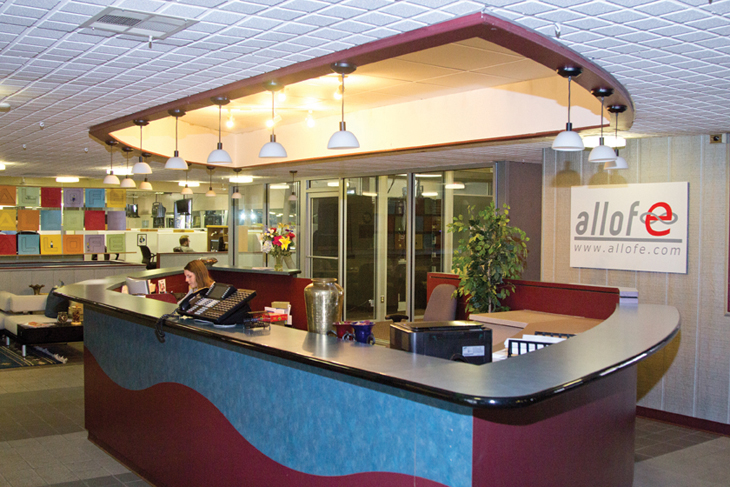 AllofE Solutions, a Lawrence-based software development company, operates on the philosophy that the road to student success is paved with data — accessible, well-organized data.
AllofE specializes in creating web-based systems that help educational institutions manage and effectively utilize the abundance of information they accumulate. For example, every student in a school comes with myriad standardized assessment scores, class grades, behavior and attendance records, demographic data, and health information. Educational institutions are tasked with meeting the academic needs of these individual students, while also meeting state and national academic standards. Throw in the social and emotional needs of students, and things quickly become complicated.
"What we have is information overload. We have so much data, but most people don't know how to make sense out of it," says AllofE CEO Amit Guha. "In order to improve student performance, we need to be able to organize data in ways that it can be useful."
In response to this problem, AllofE has developed a data management system for K-12 institutions called Matrix. When a student enrolls in a school district, Matrix collates all of the student's disparate information and organizes it in a way that allows administrators, principals and teachers to access the information
on one dashboard. Having clear and relevant data at their fingertips allows administrators to better assess where teachers are excelling and struggling, and allows teachers to more easily determine individualized education needs for students.
Easy access to well-organized data is something that has the potential to make teachers and administrators more effective, which ultimately improves the educational experience for students, says Guha.
For example, using Matrix, school districts could not only easily identify that a certain school in a district is struggling to meet state standards, they might also be able to see that students in a specific demographic who are using a new curriculum are struggling with one or two specific skills. School principals and teachers can use this sort of specific data within their schools to modify the way they are organize classrooms and present material, which will ideally improve individual student performance.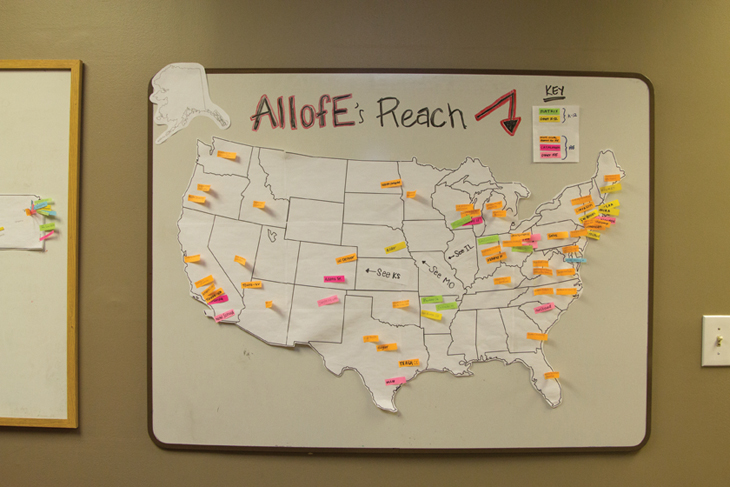 "In the past teachers were not able to use student data on a daily basis to drive instruction," says AllofE team member Tracey Kemp. "The overall goal with Matrix is to get teachers to that point where they have performance data of students so that they can use it on a more frequent basis."
Matrix is part of a larger software suite that covers the entire umbrella of what a K-12 district could possibly need to track, says Tracey. This includes things like curriculum mapping, testing results, grade reporting, student management and professional development.
AllofE has also developed a software management system for Health Science programs at secondary institutions called eCLAS. Guha describes eCLAS as a broad system that administers every aspect of a Health Science program student experience by mapping curriculum, scheduling and tracking clinical work, and organizing assessment information.
AllofE serves clients in 35 states with their education management systems, including school districts in Arkansas, Missouri, Wisconsin and Indiana.
Guha, a former KU professor who founded AllofE in 1998, says that he did not set out with the specific intention for AllofE to focus on education. The company has a successful sports branding and sponsorship data management system called Brandbase that is used internationally by television networks and major sports leagues to make decisions related to marketing and sponsorship. AllofE's education specialization has evolved simply because there are a number of challenging problems in the education sector that call for innovation. The company's team also believes that education is the ideal arena for creating positive impacts through technology.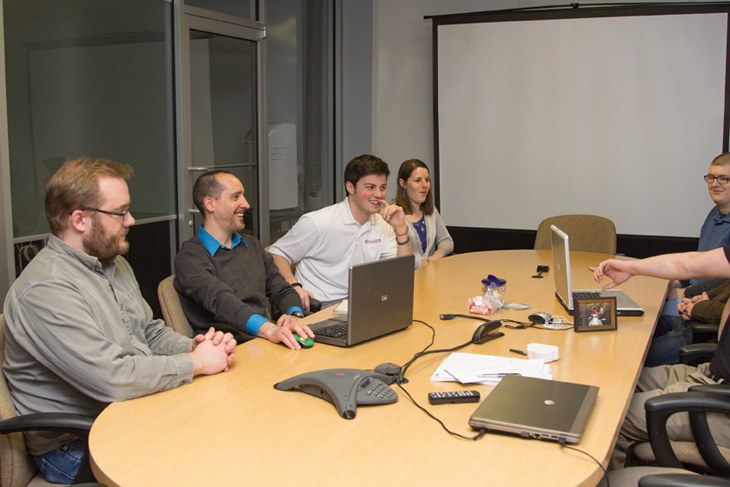 "With a background in education, an interest in the education sector came somewhat naturally," says Guha. "But education is a field that drives everything else, and education is a field which can potentially be transformed by technology. When you think about making a mark, there is no better way than making it a little better for the next generation."
AllofE is housed in an unassuming building tucked among apartment complexes on West 6th Street and has a staff that fluctuates between 15 and 25 people. Guha says that the company tends to recruit engineering, business and journalism majors from the University of Kansas and Kansas State University. No one at AllofE has a title andthere is no official hierarchy, says Guha.
"Our focus has always been to have a smaller group of very dedicated professionals," says Guha. "We are very selective about the people we hire, and finding the right person is key. What we do requires a certain amount of knowledge, but it is more about attitude – we want a passion and commitment."
Guha says that despite the high demand for technology professionals in other parts of the country, AllofE is able to attract qualified candidates because the work they do is fun, creative and has the potential to make a major impact. However, he does concede that there is a pervasive belief in the technology field that forward thinking innovation only happens on the coast. Guha says he would like to think that AllofE plays a small part in putting the Midwest on the map as a place where people are making a difference in the technology field.
"The university, especially the engineering school, graduates a lot of smart people and a lot that talent goes out of this community, when some of them might actually want to stay back if they had the opportunity," says Guha. "Hopefully we can attract similar sorts of businesses here that allow that talent to stay back in Lawrence rather than graduate and move out."