KU SCHOOL OF BUSINESS
BUILDING BLOCKS FOR THE FUTURE
| 2014 Spring | story by ANNE BROCKHOFF |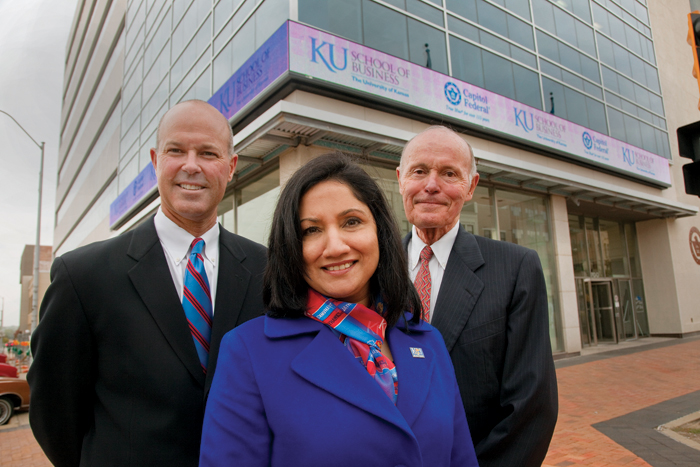 John and jack Dicus with Dean Neeli Bendapudi
Most basketball fans streaming into Allen Fieldhouse don't even glance east across Naismith Drive, to the corner lot where the University of Kansas' outdoor tennis and volleyball courts now are.
That will change in 2016, when the School of Business moves into a state-of-the-art, four-story structure that will change how the world sees business at KU.
"This is bigger than the School of Business," says Austin Falley, the school's communications director. "It's going to be of huge benefit to the university and the state at large."
The yet-to-be-named building is expected to add resources, boost recruitment and facilitate relationships with corporate partners that will benefit both teaching and research. Such opportunities are harder to come by in the school's current home, the 54-year-old Summerfield Hall, faculty say.
For one thing, while 25 percent of incoming KU freshmen express an interest in business, there simply isn't enough physical space to accommodate them all, Falley says. Classrooms are static, research facilities limited and the overall impression is of a space nobody wants to linger in for long. Not that any of that is news.
Planning for a new building began about a decade ago, but the economic recession sidelined discussions. When Neeli Bendapudi took over as the H.D. Price Dean and Professor of Business in 2011, the effort regained momentum.
"We have to make it a great place to learn for students, we need to make it a great place to work for faculty, and we need people to look at it and see it's a great place to invest," says Bendapudi, who is also co-chair of the building committee. "People only invest if they think it's a great place to learn."
Certainly alumni, businesses and other KU supporters are convinced. The $65.7 million price tag will be funded entirely by donors. As of mid-February, KU was just $4 million shy of that total, thanks to support from the likes of the Capitol Federal Foundation of Topeka, which donated $20 million to kick off the fundraising campaign in October 2012.
"We call that a market test," says Bob DeYoung, the Capitol Federal Professor in Financial Markets and Institutions. "Folks are willing to put up money for a new building because they all feel that facilities matter."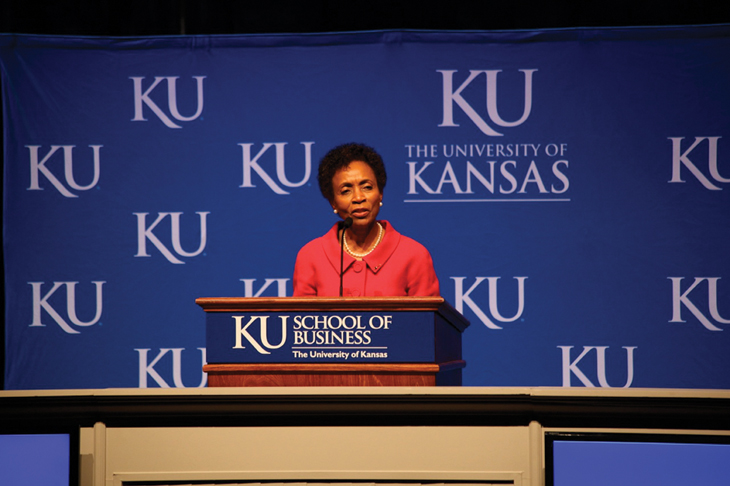 KU is contributing about $10 million toward required infrastructure, including demolition of the existing courts and maintenance, Falley says. Construction on the building will begin this spring, as soon as those courts are relocated elsewhere on campus, allowing the classes that take place on them to continue uninterrupted.
The building will be completed by 2016, and some faculty, staff and activities will move in immediately. The school will operate fully from the building beginning with the 2016-17 academic year, says Doug Houston, who is a professor and Associate Dean for Academic Affairs.
Although the final floor plan and architectural renderings hadn't been released as of press time, one thing is clear—the design embodies the school's dual priorities.
There are two sides to the building, which was conceived by Gensler, a Chicago-based architecture and design firm, and Kansas City's Gastinger Walker Harden + Bee Triplett Buck. Administrative, faculty, classroom and other academic facilities are grouped on one side. The school's research, entrepreneurial and similar resources are on the other. The two sections are bridged by a spacious, welcoming atrium.
"One of the prime goals was to construct a place which is in fact a building people want to come to, stay in and spend time in," says James Guthrie, the William and Judy Docking Professor of Business and co-chair of the building committee.
That committee—comprised of Guthrie, Bendapudi, Houston, chief of staff Kelly Watson Muther and Mark Strand, the director of facilities management, academic and administrative services—has spent untold hours figuring out how to do just that. Where did they begin?
"It starts with the students," Guthrie says.
And students mean classrooms. Most will be more flexible than the traditional sort, allowing for the experiential type of learning that's now second nature for business majors. Furniture that can be moved to accommodate team-based problem solving, extra monitors and interactive technical capabilities and plenty of plug-ins are all essential.
Additionally, there will be a communications center where students can work on projects and presentations and dozens of other spots where they can gather, collaborate and socialize— something they don't currently have.
Now, if students want to do homework between classes without leaving Summerfield, they sit on hallway floors, squeeze into the building's single study room or scramble for one of the few tables.
That makes working on group projects especially challenging, says Maggie Zehren, a senior with a double major in business administration and psychology.
"If we're not able to snag something, we make the walk up the hill to one of the libraries," says Zehren, who last year won a $10,000 scholarship from the American Business Women's Association.
The new building will have meeting rooms, seating in the atrium, a coffee shop and other informal areas. These so-called "sticky spaces" create a comfortable atmosphere for both scheduled meetings and impromptu interaction.
"The architects call it planned serendipity," Bendapudi says. "You want faculty, students and industry folks to casually run into each other. Who knows what's sparked by that?"
With a 350-seat auditorium, 125-seat classroom and a "consortium room" facing Allen Fieldhouse that has a capacity of 100, there will also be ample facilities for research workshops, small conferences and other events.
Research will be furthered by expanded laboratory space, including one lab dedicated to financial markets and another for the kind of behavioral research that benefits marketers and managers.
"All this will help fulfill the research mission of the school of business," Guthrie says.
That's important for KU, which is considered a Tier One research university and is one of the Association of American Universities' 62 members.
The school carries its weight through five research centers. They include the Center for Business Analytics Research, which was created in 2012 to examine the skills, technologies, applications and practices businesses use to understand information and make decisions. It in December announced a three-year partnership
with Kansas City's DST Systems to help the company better manage what's known as "big data."
The Center for Applied Economics is charged with advancing economic development in Kansas and throughout the region and has produced white papers on topics ranging from airfares and broadband service to the state's oil and gas industry and charter schools.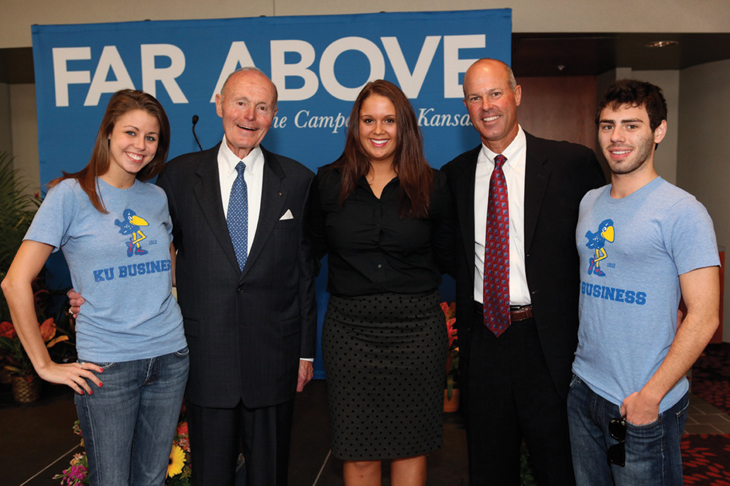 The Center for Banking Excellence focuses on that industry's performance, practices and regulation, as well as helping bankers network with students and graduates. Individual and corporate integrity is the focus of the International Center for Ethics in Business, while the Center for Auditing Research and Advanced Technology conducts research in auditing practices and develops auditing technology.
The school will soon launch a sixth research center focusing on strategic leadership for management and executives, Falley says.
Besides a more productive research environment, the new building will provide a home for the school's entrepreneurial programs. Those include the Center for Entrepreneurship and its programs: Redefining Retirement (RedTire), which matches graduates with retiring business owners in rural communities, and small business focused Jayhawk Consulting.
It will also house the recently created KU Catalyst, a student business accelerator overseen jointly by the School of Business and the Bioscience and Technology Business Center. Students admitted to the program get a place to work on their start-up ideas and access to mentoring and capital.
The energy generated by all that activity will aid in recruiting and retaining faculty and staff and boost student numbers, Bendapudi says. The school now offers seven undergraduate majors, plus a minor in business and other special programs and five graduate degrees.
The new building is projected to increase undergraduate enrollment from 1,125 to 1,650 in the first five years, according to the 2013 Dean's Report. It will boost graduates from 500 to 750 in the undergraduate programs; for graduate degrees, that number is set to jump from 280 to 350, the report says. Interaction with the wider campus, KU alumni and the business community is also expected to grow. Everyone's welcome, Houston says.
"We want businesses to come in and feel comfortable in the building," he says. "We want them to engage actively with our students. The whole primary mission of the school of business is to get our kids out into productive jobs, and we want to do that through engagement at every level."
"We have to make it a great place to learn for students, we need to make it a great place to work for faculty, and we need people to look at it and see it's a great place to invest," says Neeli Bendapudi, the H.D. Price Dean and Professor of Business.
"The whole primary mission of the school of business is to get our kids out into productive jobs, and we want to do that through engagement at every level," says Doug Houston, who is a professor and Associate Dean for Academic Affairs.