KU SCHOOL OF ENGINEERING
GROWING MINDS, BUILDING A FUTURE
| 2014 Spring | story by EMILY MULLIGAN | photos by STEVEN HERTZOG |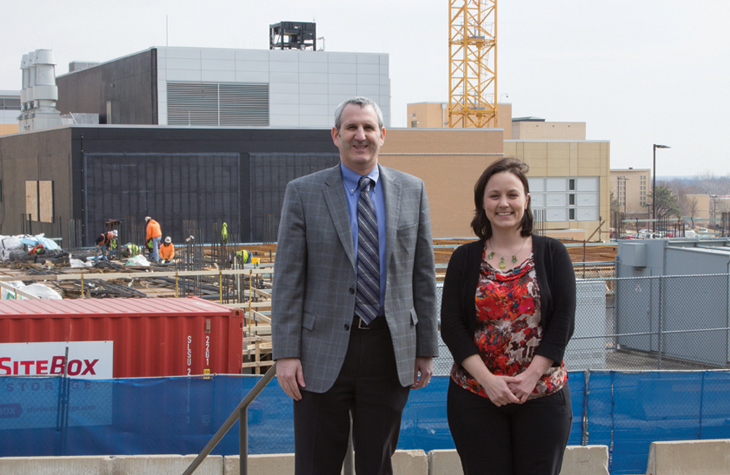 Dean Michael Branicky & Professor Belinda Strum
These days, the University of Kansas School of Engineering is most recognizable by the giant crane adjacent to the School's buildings on main campus.
The crane is but one representation of the changes and expansions that are happening at the School. Inside the buildings and on West Campus, more students have more opportunities than ever to both specialize their coursework and do research projects. The School is building new relationships with the business community and the community at large every day, to make sure those opportunities continue to abound – and that the students keep coming to KU.
The School of Engineering offers 12 undergraduate degree programs and 15 graduate degree programs. There were more than 2,900 students enrolled in the School in
the fall, about 650 of them graduate students. The most popular majors are in chemical and petroleum engineering and civil, environmental and architectural engineering – with mechanical engineering a close third.
The School's outreach efforts range from local children to international assistance. The annual Engineering Expo for students in elementary and middle school brought more than 2,000 students to KU in February. The student chapter of Engineers Without Borders has traveled to Latin America and installed water filters for local residents there.
All of the School of Engineering's goals seem to have one word in common: "more." School of Engineering Dean Michael Branicky, who began his position in July 2013, lists these as some of the short- and long-term goals: generating more graduates; recruiting more diverse students, both in gender and race/ethnicity; hiring more faculty; helping more people understand what engineers do; and creating more partnerships between classes and business and industry for projects.
Between now and 2015, another "more" on the list is buildings. That is where the crane comes in. Since 2013, work is underway on the $80 million, 135,000-square foot project, known as the Learned Engineering Expansion Phase 2 (LEEP 2), which consists of two separate buildings, one at the engineering complex, which should be ready for fall 2015, and another on KU's West Campus, which is slated to open this fall.
The learning and experiences that will take place inside the buildings are what is most important to the long-term success of the School. Branicky credits the late Steve Jobs for helping people to understand the range of things that engineers can study and do.
"A lot of technology is sort of under the hood and so seamlessly integrated into our lives, that we don't see the hard work, design and testing that goes into it," he said.
All of those happen at the School every day, and will expand with the new facilities. Branicky hopes that more businesses will bring their projects and problems to the School, so classes can have the real-world opportunity to solve them.
"We want to have culminating design and problem-solving projects, industry-sponsored projects that we can give to our students. The Mechanical Engineering Department has more than 10 going on this semester, for example, and they're looking for more for next semester," he said.
Of course, research projects are not the only things the School is seeking from local companies; it is also continually seeking jobs for its graduates. More than a dozen companies in Douglas County, including DARcorporation, Berry Plastics and Schlumberger, recruit and hire School of Engineering graduates.
"The other way our graduates are finding jobs is that people are becoming entrepreneurs and part of start-ups. This generation's culture is to want to do different things in their careers or to take big risks," Branicky said.
But in order to make those leaps into the professional world, either with a firm or on their own, students must first focus on what will get them there: engineering skills.
Much of the faculty at the School of Engineering are working hard at making connections for their students with the community and local businesses, to give the students learning opportunities that will prepare them for their road ahead.
Research in city facilities
Assistant Professor of Engineering Belinda Sturm has connected with the Lawrence community in quite an intimate way: She has been up close and personal with the city's wastewater.
Sturm and her students have worked for the past three years at the city's wastewater treatment plant, testing the wastewater and diverting it to pilot reactors for testing. The researchers grow algae to add to the wastewater, with hopes of removing nutrients – specifically, nitrogen and phosphorus. Once the nutrients are removed, a biomass is created that can be turned into a fuel.
"I approached the city my first week here, because you can't do meaningful research without someone as a collaborator," Sturm said. "We get to use actual wastewater with all of its complexity and changes – that's how to test in a meaningful way."
The research won a 2012 Excellence in Environmental Engineering Award from the Academy of Environmental Engineers, even though the full scope of the research will not be completed until later this year.
In this fourth year of the four-year study, students will work, as they have for the past three years, from spring break to fall break at the Lawrence wastewater treatment plant, testing and experimenting almost every day.
"This summer, we hope to harvest enough algae to produce biocrude oil," Sturm said.
The research not only has prompted ideas for future research about the calcium content of hard water and its potential results, but it also has applicable results for wastewater treatment plants in Lawrence and across Kansas.
"Ninety percent of treatment plants in Kansas are based in lagoons. We might be able to optimize algal growth for the lagoon systems to achieve nutrient removal – and beyond that, can we produce fuel from the solids we make?" she said.
It is because of research like Sturm's that nationwide the term "wastewater treatment plants" is beginning to be replaced with "resource recovery facilities." What used to be an end product may now become the beginning of many sustainable fuels and products.
Sustainable building for sustainable research
Another place for engineering students to do hands-on work in the name of the environment has opened in the past year on West Campus. The Hill Engineering Research and Development Center, also known as the EcoHawks building, was completed on Becker Drive on West Campus in late spring 2013. The facility houses engineering research programs for transportation and sustainability, including indoor space where students can create and repair battery-powered and electric vehicles, as well as outdoor space for mechanical engineering projects with solar and wind energy.
The building was designed and constructed by architecture students in KU's Studio 804, which wove the façade out of surplus aircraft aluminum and installed glass from a failed building project in Kansas City.
"I could've never dreamed this, never even thought of this," said Christopher Depcik, associate professor of mechanical engineering, who is in his sixth year at KU. "I try and stress with my class the practical application of theory. This year is the most projects we've ever had. Everything here is for the students."
This spring, three electric vehicles occupy the garage floor on the first floor of the building: a 1974 Volkswagen Beetle that is roadlicensed and runs on low-lead acid batteries; a GMC Jimmy that runs on lithium-ion batteries and boasts amenities like power steering and heated seats; and a General Electric neighborhood electric vehicle, which looks like a large golf cart, that is having its acid batteries replaced with lithium-ion batteries and eventually will carry replacement batteries so it can "refuel" away from a charging station.
"I try to teach my students basic things to apply to their engineering work. One, keep it simple – the simplest design usually works best. Two, make decisions – don't hem and haw. Three, go!" Depcik said. "They do things that I can't do. It's just amazing to see what they can do. When you're in an academic environment, there's nothing like learning every single day."
Depcik's students are collaborating with a variety of businesses, and he encourages his students to seek out local resources and sponsors for their projects. "It gets the students to talk about their project," he said.
Depcik echoes Dean Branicky's desire to seek out projects from local businesses.
"We're always looking for projects in energy and transportation. We like to have industrial partners instead of just me," he said. "Companies that are interested can do it."
Depcik hopes the EcoHawks building and its potential will help KU Engineering's recruitment efforts and galvanize enthusiasm for engineering among school-age students. He recently taught a sixth-grade class about mechanical engineering and taught eighth through 12th graders at Science City in Kansas City, Mo.
Engineering in the everyday
Depcik is not the only KU engineering professor seeking out the next generation of engineers.
Assistant Professor of Chemical and Petroleum Engineering Prajna Dhar founded KU's Occidental Discovery Lab program, which provides hands-on demonstrations of engineering for elementary students, particularly girls, to learn what engineers do.
"Our generation doesn't think differently about women in science, but a lot of women don't go into science and engineering because they think it's geeky or they just can't – that is not true," she said. "Women are scared about going into engineering, and that shouldn't be the case – but there aren't enough role models."
A combination of her own experience as a female in engineering and her innate desire to be an educator led Dhar, in her fourth year at KU, to begin the Discovery Lab. The lab is open to any groups of students – male and female, from elementary through high school – who would like to learn more about engineering through applications of everyday materials.
"Early on as an educator, I've learned you can relate to the everyday, you can de-mystify science and engineering. We do things like melt chocolate – different products melt differently because they have different things in them," Dhar said. "We also simulate purifying water by separate food coloring. Every day you're using a water filter. Scientists set it up, but who and how?"
Dhar staffs the Discovery Lab with undergraduate students who put her ideas into practice. She says the students are motivated like she is and, male and female, all see the value in providing the early exposure of engineering to young girls, in particular.
"Based on my very limited research in the area, I think a lot of people think that girls means dolls. Girls are not encouraged to build stuff. They are supposed to like make-up – but no one told them that make-up is made of something by chemical engineers and scientists for a particular reason. It's a problem of perception," she said.
Dhar's other research includes a collaborative project with faculty in chemistry and pharmaceutical chemistry to understand how vaccines interact with cell membranes. She also has worked on research to develop an artificial surfactant for premature babies' lungs, to help them breathe until their lungs allow them to breathe on their own.
"We all want to make sure the research we do has an impact on society," she said.
Her research about how the lipid system inside the lungs interacts with the nanoparticles of secondhand smoke in adults garnered her laboratory an interesting honor in 2013, when an image of damaged lung surfactants was one of 10 finalists in the national Biophysical Society's Art of Science Image Contest.
Sturm, Depcik and Dhar agree that growth and change at School of Engineering are not just represented by the construction projects at their buildings.
"There is a definitely a sense that big things are going to happen, and there is excitement about that," Sturm said