2015 FOUNDATION AWARDS
| 2015 Q1 | story by KATHERINE DIAZ    | photos by PATRICK CONNOR |
---
"When thinking about our local economy, success is often attributed to the largest players — frequently, these are the resident industry leaders who provide a variety of services and act as job creators as a whole," said Mark Kern, Lawrence Business Magazine Publisher. 
Equally important, however, are the contributions made by local small businesses. A market full of diverse small businesses plays a critical role in the positive economic growth of a community; when considered collectively, their impact cannot be ignored. Maintaining a diverse body of employment is similar to any other sound investment; a community can mitigate economic risk by spreading its employment base across multiple industries instead of relying on the success of one. With our highly educated workforce, innovative spirit and strong small business growth base, Lawrence and Douglas County have strategic advantages in the professional and business services sector, Kern says.
"CadreLawrence is a group of individuals who desire to be active in the promotion and support of economic development in Lawrence and Douglas County," said Heidi Simon, Chair of Board of CadreLawrence. "Our ultimate goal is job creation, shifting the tax base burden off of city and county residents while not increasing the business tax mill levy, and providing balanced and factual feedback to our elected officials on these matters."
The Foundation Awards honors businesses that are locally owned or locally franchised for-profit and have been in business for at least three years. Each business must show a growth in jobs by adding 20 percent more employees or a total of at least 20 new jobs within the year.
"A key fact is that 80 percent of local job growth is done by existing businesses in a community, not new businesses," said Ann Frame Hertzog, editor-in-chief of Lawrence Business Magazine and partner at KERN Marketing Group. "And the Lawrence Business Magazine and CadreLawrence want to honor those established companies, and celebrate their contributions to our local community."
It's not only about adding jobs and opportunities within the community; it's also about making a commitment to stay local by collaborating with other businesses and buying locally. The Footprint Impact Award recognizes a business that has made a significant community impact by making a conscious business decision to work and interact locally. Such business not only focuses on the growth and success of its company, but also focuses on giving back to the community. This year, Cromwell Environmental & Cromwell Solar was recognized for its dedication to the Lawrence community. The company showed its commitment to help maintain a clean environment and provide alternative solutions for energy sources.
"We think it is important to not only think about what a business does, but how they do business," Hertzog said. "Our local businesses, supporting our local businesses – keeping it local."
Doug Gaumer, Regional Market President for INTRUST Bank, helped introduce the featured speaker of the night Dr. Lynne Murray, President of Baker University, who discussed the importance of Baker's role in the community. Murray stated that it is important for Baker to reach out to local businesses in order to create and build relationships between students and local business owners.
---
Long-time business owners Larry McElwain and Lawrence Mayor Mike Amyx presented the awards to each recipient. McElwain has been an active member of the Lawrence community since 1966, and now serves as CEO of the Lawrence Chamber. As a lifelong Lawrence resident, Amyx understands the challenges of operating and maintaining a successful local business, being owner of Amyx Barber Shop, Inc., Amyx took over the family business since 1975.
"Congratulations to all the 2015 Foundation Award recipients. This year, we recognized the growth of 12 small businesses in Lawrence. In 2014, we inaugurated the Foundation Awards by celebrating 14 businesses," Kern said. "In two short years, the Foundation Awards has recognized 26 local businesses and celebrated more than 166 jobs they have added to Lawrence and Douglas County. Their work and dedication are examples of the strength and importance of our small business sector. Thank you to Intrust Bank and all of the other business sponsors that made this event possible. A special thank you to CadreLawrence for creating a strong partnership with Lawrence Business Magazine."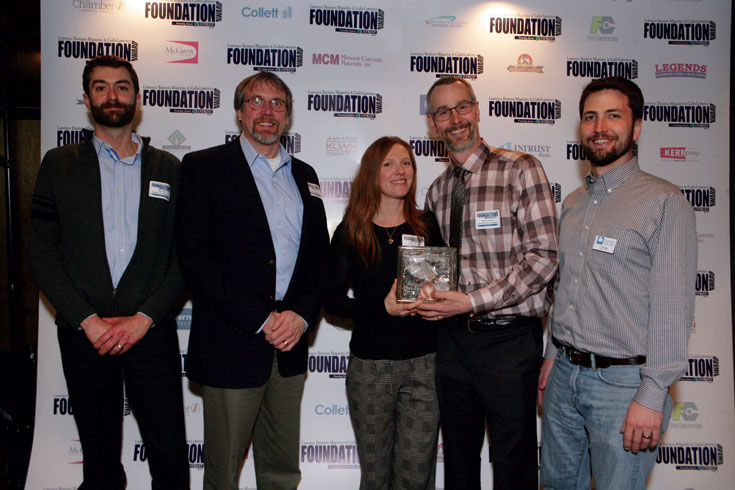 Cromwell Environmental, in addition to being a Foundation Award Recipient, was awarded the Footprint Impact Award.
Cromwell Environmental specializes in testing and cleaning environmental and indoor air quality problems to help create a safe and healthy environment for everyone. The company works both locally for homeowners and businesses, as well as working nationally with large corporations, banks and relocation firms. Cromwell Environmental has become a national leader in the past 33 years in environmental testing on foreclosed homes. It has also proudly worked in all 50 states and beyond.
In addition to Cromwell Environmental in 1982, Cromwell Solar was founded to provide individuals with the opportunity to choose an affordable and sustainable electricity source. Using their engineering and science background, they design and install solar energy systems and extend its services to Kansas and Missouri. They approach solar energy from an engineering perspective, and using the variables of sunlight/shade/sun direction to custom design solutions to each customer's unique needs.
As solar technology has developed and improved, Cromwell Solar has integrated the new technologies and worked with a local bank to help make solar affordable and protect our environment by reducing Co2 emissions.
Aron Cromwell has overseen the growing success of the business for the past 15 years, and in 2014 added 8 full time employees.
Foundation Award Winners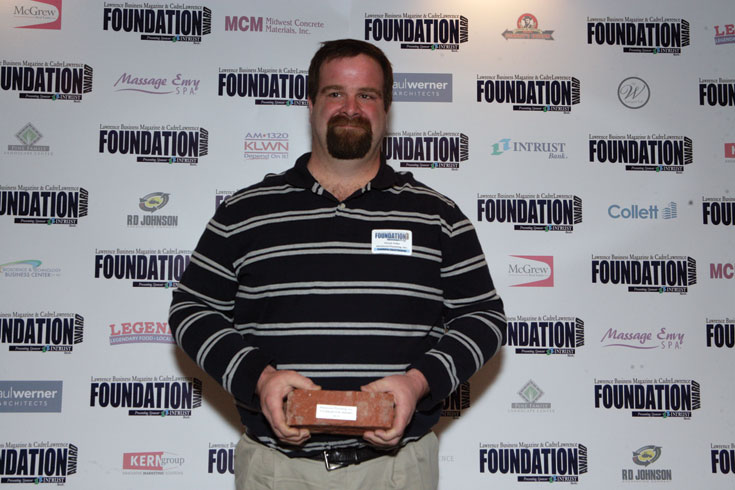 Advanced Plumbing, Inc.
Advanced Plumbing, Inc. is a full-service plumbing company that was established in 2008 by Lifetime Douglas County resident, Chuck Folks. After spending many years working his way up from apprentice to operations manager of a large construction company in Shawnee, Chuck started his own company. In 2012, Advanced Plumbing, Inc. moved into its first office and shop at 545 Minnesota. In 2014, one new employee was added, making a total of four members in the Advanced Plumbing team.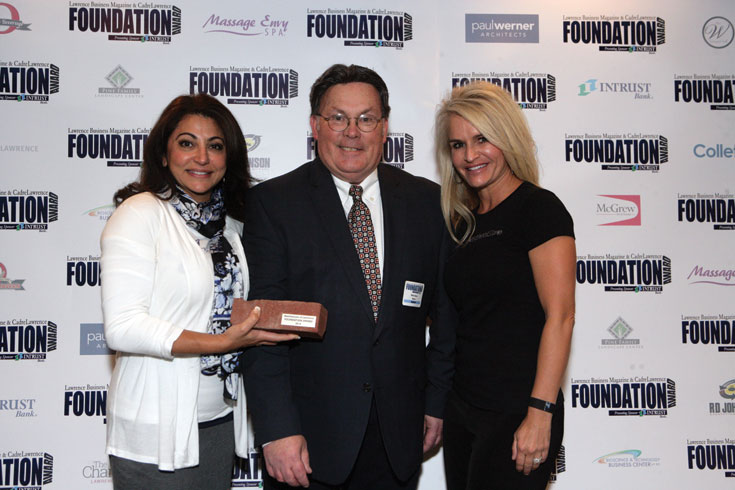 AesthetiCare of Lawrence
AesthetiCare has been a Midwest leader in aesthetics since 2011 and is the only Medical Spa in Lawrence. They invest in the most advanced equipment available in the U.S. and own 5 FDA-approved devices. Its staff consists of three RN's who have more than 15 years combined experience and the medical director is Board-certified in OB/GYN. AesthetiCare added six new employees in 2014.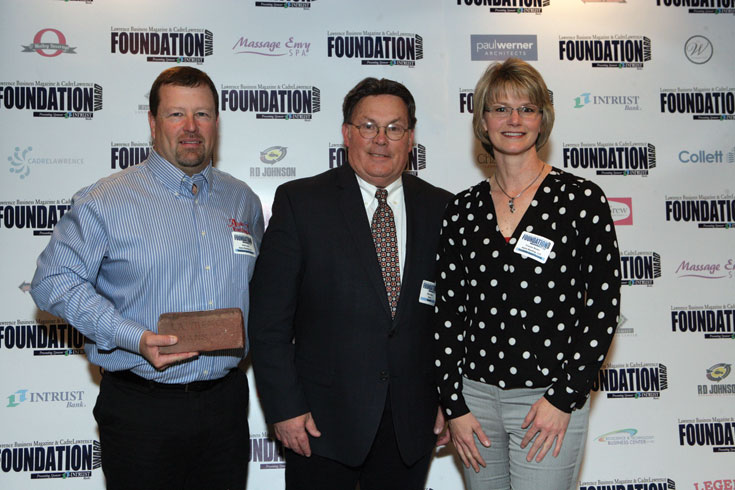 Alpha Roofing, LLC
Alpha Roofing started in 2004 providing roofing services to the Lawrence community and surrounding areas. Their main focus through the years has been their commitment to customer satisfaction. Alpha Roofing's success has allowed them to sustain slow, incremental growth. In the past year, Alpha Roofing added two new jobs to the Lawrence community.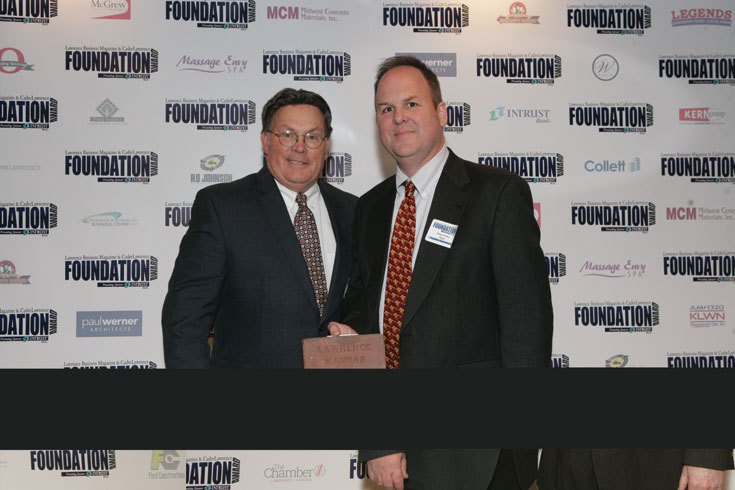 Bigg's
Doug Holiday opened Bigg's, a full-service, casual theme restaurant in September 2004. Bigg's specializes in slow smoked meats that are rubbed in a special homemade dry rub. The food is made in-house from scratch using Holiday's own recipes. As owner and operator, Holiday expanded Bigg's growing success and added 20 new employees in 2014 to the Bigg's family.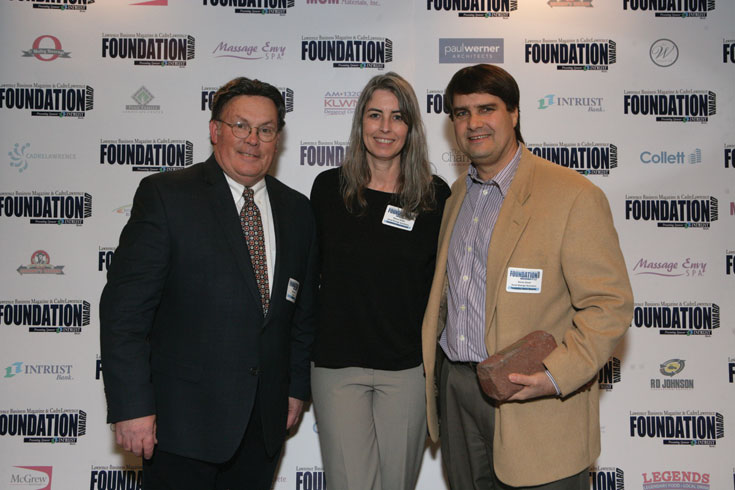 Good Energy Solutions, Inc.
Good Energy Solutions, Inc. is a full service energy partner that provides comprehensive consulting and services in electrical, renewable energy, energy efficiency and energy management in the central U.S. region. Founded in 2007, the company has earned a reputation of reliable service, expertise, and quality through commercial and residential installations of solar and wind. Good Energy Solutions added nine renewable energy jobs within the community.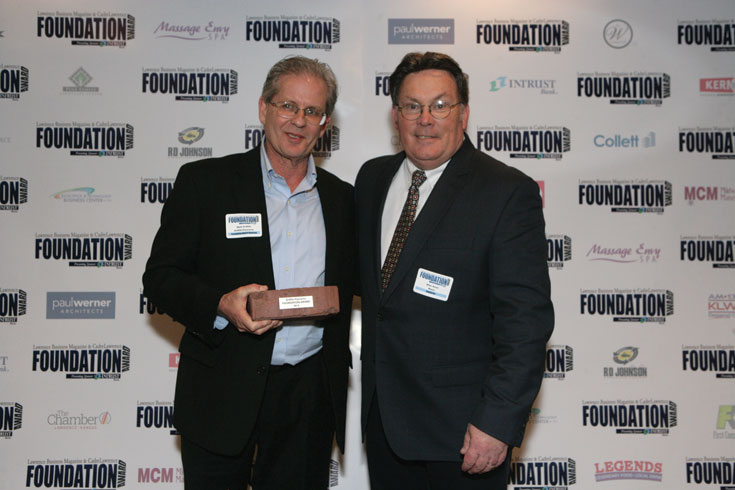 Griffith Payments
With 42 years of strong and dedicated business expertise in Lawrence, Griffith Payments continues to provide Lawrence business owners the tools and connections necessary to run a successful company. Griffith Payments specializes in helping local small businesses get paid by developing individualized solutions to meet the payment needs of their clients for start-up ideas, expansions and those with multiple locations.They added one new sales agent to the team in 2014.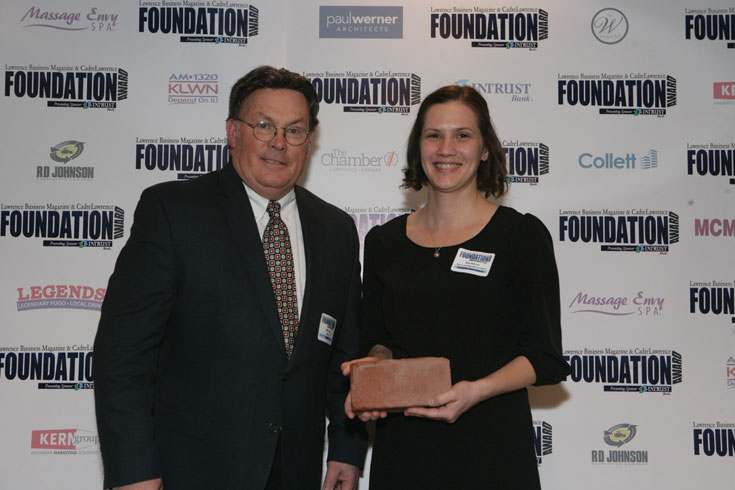 Next Level Baseball Academy
Matt Duncan has owned and operated Next Level Baseball Academy in Lawrence for the past 10 years. The company mentors and instructs children and teenagers of eight to 18 years old. It also trains more than one thousand youth and adults at the high school, collegiate and professional level. In 2014, four new members were added to the staff.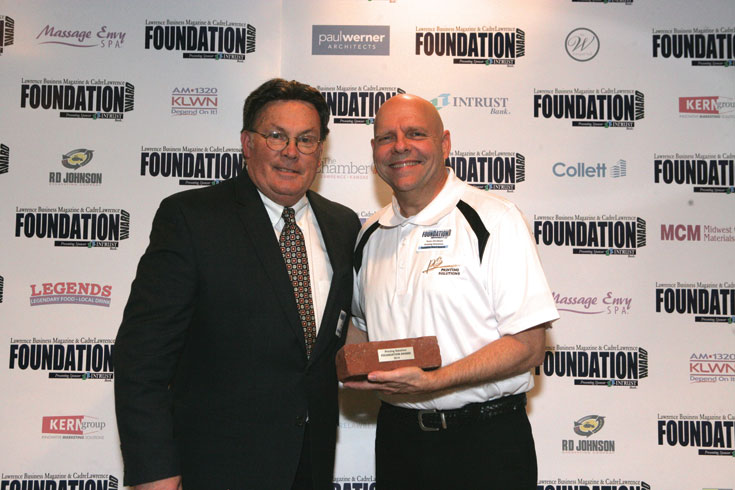 Printing Solutions
Printing Solutions is a full service commercial printer that has been in business for 14 years. It started in the garage of owners, John Hutton and Terry Jacobsen, with just three pieces of equipment. Printing Solutions now occupies a 30,000 square foot factory, does business nationwide, and has 60 employees. The company has invested heavily in modern equipment both in the digital world and traditional offset printing. This past year, Printing Solutions added 10 new employees to its ever-growing business.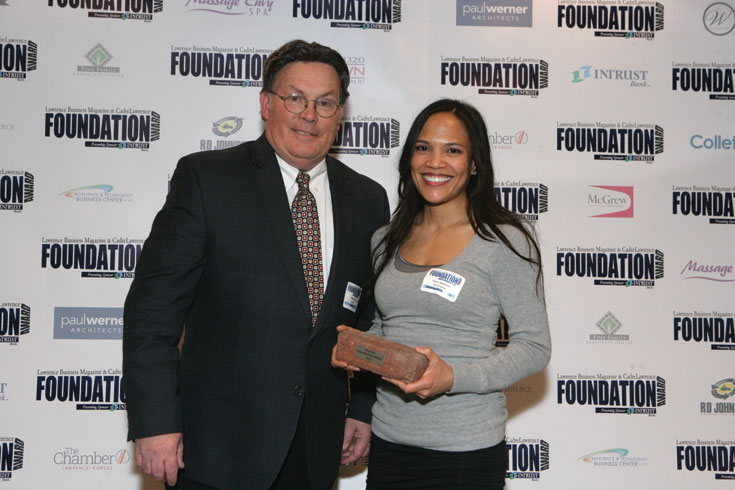 Silverback Enterprises
Silverback Enterprises was founded in 2012 by Lawrence native Ryan Robinson and Kyle Meyers of Minneapolis, Minnesota. Silverback is a full-service worldwide event production company that is proud to be headquartered in Lawrence with additional offices in Atlantic City, N.J. and soon to be San Francisco, Calif. With three years in business, Silverback has now produced more than 225 sporting events worldwide in 135 different cities for clients such as The Color Run, Ironman and The Wipeout Run. This past year, the company added five new members to the Silverback team in Lawrence.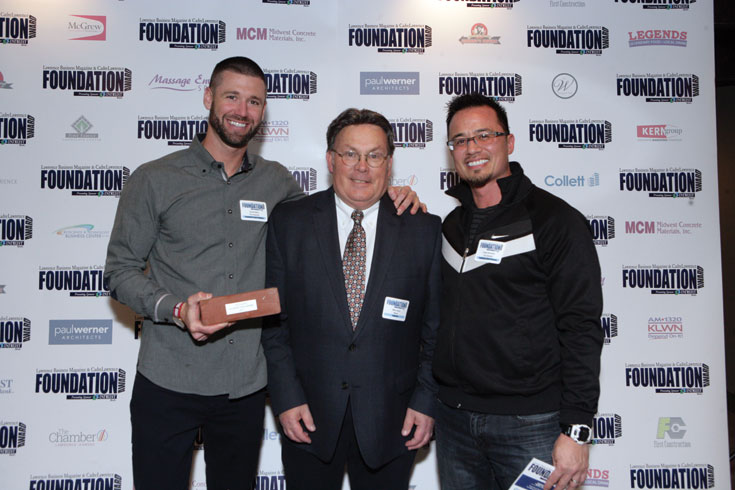 The Summit
The Summit is a full service fitness facility located in downtown Lawrence at the intersection of 9th and New Hampshire. In 2014, The Summit expanded its customer base by more than 50 % and now has more than 1,000 members and personal training clients. As a facility, what sets The Summit apart is the friendly environment and emphasis in the community, which staff members believe is incredibly important in creating a place where people want to be. From 23 staff members to 28, The Summit contributed in adding five new jobs in the Lawrence community.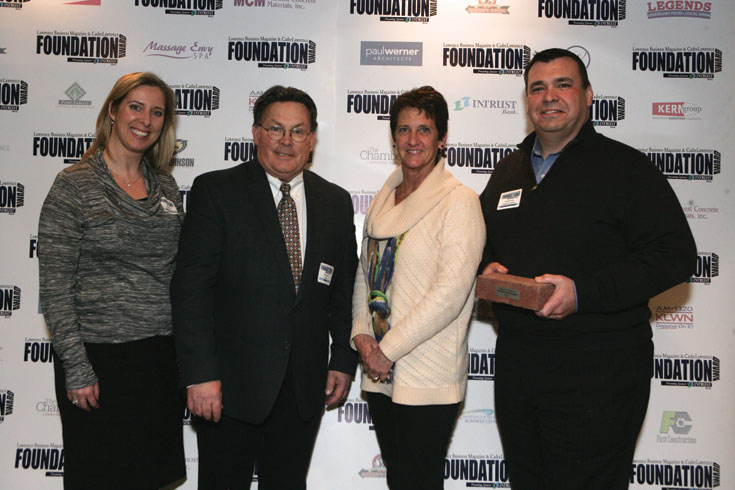 Treanor Architects
Treanor Architects, P.A. is a professional architecture firm with four additional offices located in Topeka; Kansas City; Mo.; St. Louis, Mo. and Dallas, Texas. Treanor Architects has been proud to serve the people of the community for the last 34 years. Their work has also allowed them to work in 30 states and internationally. Treanor looks forward to continuing to do the things that they have successfully done in Lawrence and hopes to continue doing them for the next thirty-four years and beyond. In 2014, Treanor added 13 new jobs in the Lawrence community.