ALMOST HOME
| 2015 Q1 | story by KATHERINE DIAZ    | photos by STEVEN HERTZOG |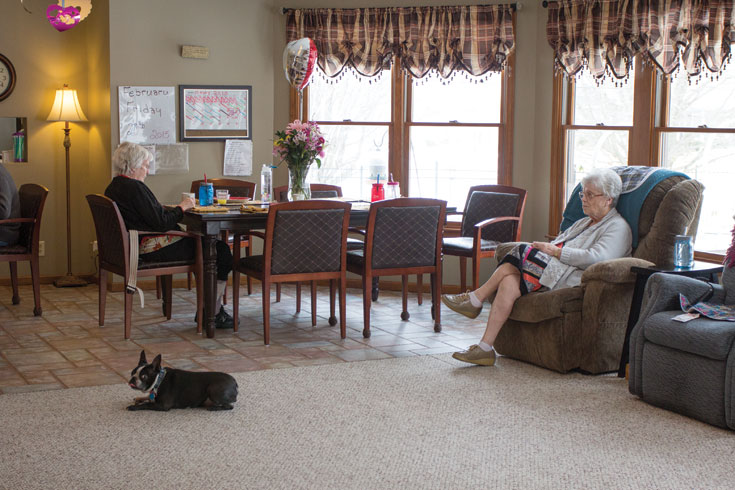 ---
Mack is usually the first to greet you – that's usually after someone opens the security locked door though. On his four small paws, he roams about visiting every resident in the home. He might also stop by the kitchen with the caregivers to see if they'll be generous enough to give him another treat. At ComfortCare, Mack and the residents are as close to home as they could possibly be.
ComfortCare Homes in Baldwin City is an assisted living facility for individuals who suffer from Alzheimer's and other forms of dementia-related illnesses. What makes this facility distinct is that residents are not patients living in yet another living facility or institution, rather they are true residents living in a real home among the Baldwin community.
"You typically see anxiety and confusion in the mind of the resident who lives in these larger facilities and institutions because they don't have the capability to have new memories, so to speak, so they can't necessarily remember where their room is, where the bathroom is, or who the help is because there's so many faces," said President of ComfortCare Homes in Baldwin City and Ottawa Scott Shultz.
When cognitively impaired individuals are placed in smaller environments with familiar surroundings, and are able to bring personal items with them, they start seeing these small facilities as a home, Shultz explains. At ComfortCare, the maximum capacity of residents accepted in the home is 11, and residents may either share a room with another individual or have one to themselves. ComfortCare's kind and compassionate caregivers tend to its residents with upmost importance.
"Our ratio of caregivers to residents is quite a bit higher than facilities employ because it's personalized, individualized care," Shultz said. "There isn't a one size fits all type of care and so we tailor everything we do to each individual person and that's what makes us different and allows for people to live here more successfully than they do in large facilities for the cognitively impaired."
Shultz began his own ComfortCare facility four years ago, and opened a second home just this year in Ottawa. However, Shultz needed professional medical help to care for the individuals, and for the past year and a half, Susan Gray, certified dementia nurse practitioner joined Shultz and together have provided quality service and care for all residents.
"It's kind of a trial and error with each person sometimes as far as what works for one doesn't work for another, and on the same hand or opposite hand, what works for a person today may not work for them tomorrow, so you constantly have to be very creative in how you deal with them," Gray said.
An important factor to emphasize when addressing the needs of memory care patients is understanding that they're usually not in reality, and so, one must go to where their reality is, Gray explains. An example is when a daughter visits her mother in the home, which in the resident's mind could be her mother, her sister or her aunt, but not her daughter.
"Reality is just something you cannot impose on them, or else it won't make sense to them at all," Gray said.
What Gray and the caregivers do is to try to stimulate their senses through various activities that residents enjoy. Some activities include coloring, word searches and painting, essentially these pastimes attempt to help keep the residents active.
"The caregivers are really good at knowing what their interests are," Gray said.
Caregivers are key in helping maintain residents healthy. During the morning, there are three caregivers when residents are getting up, two throughout the day and three once again in the evening to help get everyone ready for bed.
"Our caregivers are universal. They do everything," Gray said. "They clean the house, they do the laundry and they care for the residents, so you don't have different people doing all these different jobs."
Although each caregiver is either CNA or CMA-certified, it is required that they receive dementia training by Gray throughout the year. This may include reading articles and signing off on them, but there are many ways Gray educates caregivers on how to deal with situations with cognitively-impaired individuals.
It's no easy task to care for someone with a dementia-related illness, and Shultz understands that taking personal care of such individual in one's own is extremely challenging – and potentially dangerous.
"Typically, when someone brings their loved one to us it's a result of getting into a crisis situation," Shultz said. "Their person has fallen or they've learned that their loved ones are unsafe with cooking and they've been taking care of these loved ones themselves, working 80 or 90 hours a week, and they just hit a breaking point."
In February, the Baldwin Chamber of Commerce, at its annual banquet, recognized ComfortCare as the Business of the Year. Shultz is grateful that the business community recognizes their efforts to provide great care to the elderly. As Shultz said, this award, coupled with last year's Foundation Award from CadreLawrence and the Lawrence Business Magazine are very encouraging to everyone at ComfortCare.
"Our business requires capital to expand. With the favorable demographics in senior care that we enjoy, a debt or equity investment in our business provides security as well as an attractive return," Shultz said. "We hope the recognition of the small care home as a solid business model aids us in obtaining the capital we need to rapidly scale the business. Frankly, the health and welfare of our seniors depends on it."