Learning Jobs: Van Go & Cottonwood
| 2015 Q2 | story by BOB LUDER   | photos by STEVEN HERTZOG |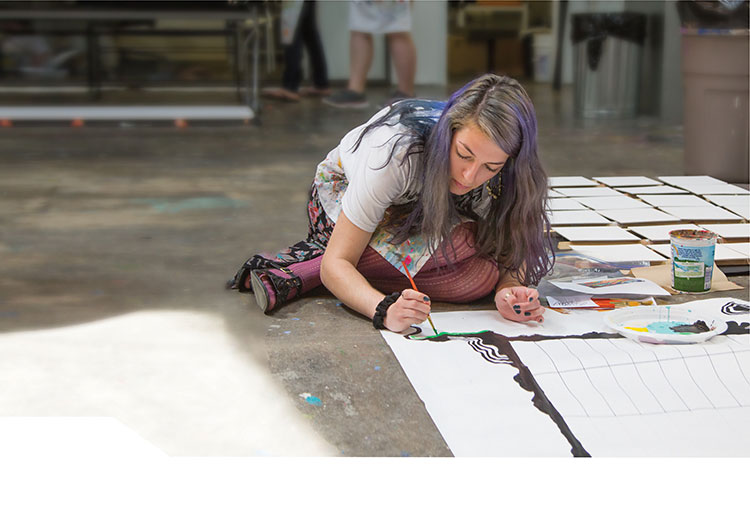 ---
It's a beautiful spring day, and bodies hustle and bustle about with abundant and infectious energy and enthusiasm as two of Lawrence's prominent social service agencies go about the daily business of changing challenged lives for the better.
At Cottonwood Incorporated, a sprawling office and warehouse campus on the city's south side where individuals with disabilities are supported with a vast array of life skills and jobs training, employees remove labels from canned goods, bag, box and seal any variety of other goods and manufacture straps to hold cargo in place during shipping. Most, if not all of the couple hundred employees wear ear-to-ear smiles, eager to offer greetings to visitors.
Things are quieter but just as active across town at Van Go Inc., an organization tucked into the northeastern corner near downtown Lawrence, just across the street from the railroad depot. A group of about 10 youths are learning about video production and, in fact, are making their own documentary about Van Go itself. It's the latest project in the agency's ongoing mission of using art to change the lives for the better of at-risk youths – those suffering from living in poverty, as part of dysfunctional families, dealing with mental and behavioral health issues or any combination thereof.
For those lucky enough to find their way to one of these agencies, Cottonwood and Van Go are lifelines to lives they might never have imagined.
"I've learned that I have a future, and I'm learning what I want to do with that future," says Annastasia Payne, who came to Van Go more than a year ago as a troubled 16-year-old struggling from social anxiety and depression. "When I started working here, I was having trouble making friends and meeting new people. Getting this job helped me out of my shell. It taught me how to be a better employee. I recently had my first solo art show, and I would never have had that opportunity if not for Van Go."
A wall pieced together by a row of cubicles in the front office at Cottonwood, plastered with dozens of pictures of disabled individuals posing proudly at their daily jobs, says what many perhaps cannot say themselves. They work at local fast-food chains, convenience stores, Montessori schools and other countless employers. These folks, like the youngsters at Van Go, have taken full advantage of opportunities afforded by the support they've received.
Cottonwood Incorporated started in 1972 with 30 employees in an 8,000 square feet of space. Today, the company employs 209 in a massive compound of 66,000 square feet and supports between 580-600 people with developmental disabilities. In 1995, through the federal government's Developmental Disability Reform Act, Cottonwood became the Community Development Disabilities Organization (CDDO) for Douglas and Jefferson Counties, making Cottonwood the single point of entry connecting all individuals with developmental disabilities to the network of services in the area.
According to Peggy Wallert, Director of Community Relations/Development, Cottonwood focuses on teaching its consumers "soft" skills – how to make and maintain eye contact, respecting personal space, perhaps something as simple as how to properly shake a hand. Many who come to Cottonwood suffer from autism, making many of these skills challenging.
---
"Getting and maintaining a job requires a wide range of skills," Wallert says. "People who come into our system are people who are going to need our help throughout a lifetime. That means we need to accomplish three things: have a deep understanding of the disability, get people to express what it is they like and then support them in any way we can."
"What we try to do is make it so these people have the most seamless, independent life possible."
What makes Cottonwood unique is that it is both a business and a work training center.
Individuals are trained by a staff of job consultants on what to expect and how to act at a job interview. There are classes on how to dress for success and how to count money.
They can receive help with job placement through two avenues. Work Services is an onsite work program that provides employment on a variety of contracts Cottonwood Industries has with other businesses. JobLink is Cottonwood's community employment division, assisting individuals with jobs in the Lawrence community. Once a month, Work Services and JobLink come together to form JobConnect, a work club that stresses those "soft" skills so important in becoming independently employed.
Hundreds of Cottonwood clients go to work for Cottonwood Industries, the business side of Cottonwood that manufactures, among other things, those cargo straps for the U.S. Department of Defense, which averages $10 million in sales annually and is the company's largest contract. Many Cottonwood consumers work at both Cottonwood Industries and in the community.
The result has been a huge boon to the Lawrence economy.
"Since the mid-1980s, Cottonwood has helped develop more than 2,300 jobs in the Lawrence area," says Phil Bentzinger, Director of JobLink. "We have 240 people employed in 180 businesses. In a college town that experiences a lot of turnover in the labor force, that's provided some stability."
Bentzinger points to a study, Research and Practice with Severe Disabilities (RSPD), that showed from 2002-07, supported employees funded by vocational rehabilitation throughout the country returned an average monthly net benefit to taxpayers of $251.34, an annual benefit of $3,016.08, per employee and generated a cost-benefit ratio of 1.46.
"It's been generally a good experience," says Mark Maranell, general manager at Ekdahl Dining Center in the University of Kansas Memorial Union, which has employed 56 Cottonwood consumers since 1996. "Employees we get from Cottonwood like having this job, they care about their job, and they want to do a good job. They're available to work at times of day when a lot of our college students can't work. And, they're long-term employees who are dependable, which helps keep our turnover costs down."
Jon Smiley, owner of Cork and Barrel, a wine and spirits retailer with two locations in Lawrence, said he also has had positive experiences with employees he's hired from Cottonwood.
"It's been great," Smiley said. "They've been efficient and on time, and they're very hard-working. They're a part of our family."
Smiley said, typically, employees from Cottonwood come into the stores early in the mornings and work in stocking and cleaning.
"Absolutely, we'll hire more Cottonwood folks here in the future," he said. "It's been a great partnership."
Wallert says, "It's a partnership that works for everyone."
The artwork of the employees who work at Van Go is omnipresent throughout Lawrence. In fact, it can safely be said that Van Go's young artists have transformed the landscape of the city with their colorful, high-quality works of art.
---
Perhaps nothing has had as big an impact, at least visually, as Van Go's Benchmark program, a summer project in which employees commission with Lawrence companies and organizations to design, build and decorate benches that specifically reflect that company's/organization's interests or purpose. Typical price for a bench is $1,000, and Kristen Malloy, Director of Programming at Van Go, says there are more than 250 benches displayed throughout the community.
Remember Annastasia Payne, the young artist who credits Van Go with bringing her out of depression and her social shell? Her favorite project is a bench she created for Max Falkenstien, legendary KU sports broadcaster that is radio-themed and sits inside Allen Field House.
"It's awesome to see how many people walk by it every day," Payne says.
Van Go started in 1997 when Lynne Green, the organization's executive director, recognized a need for a population of at-risk youth to have after-school engagement. At first, Green, a social worker and art gallery owner, provided outreach to public housing driving a 1972 Checker limousine. Eventually, money was raised through a public capital campaign and the space Van Go now occupies a few blocks east of downtown was established. Like Cottonwood, Van Go's space has expanded greatly over the years. What started as 3,500 square feet is 12,500 today.
"She saw art as a vehicle for self-expression and self-esteem," Malloy says. "We give youngsters on-the-job training and pay them an hourly wage. And, we build in social training around that, developing leadership and job skills."
Van Go accepts youths 14-21. The JAMS (Jobs in the Arts Makes Sense) program is for the 14-18 year-olds; the older youths are in the TAT (The Arts Train) program. To stay employed at Van Go, employees must do two things: attend school every day and show a willingness to learn and try hard every day.
The impact Van Go has on the youths that attend and to the community is as real and large as that of its neighbors at Cottonwood. A survey of Van Go alumni conducted in 2012 showed that 91 percent felt Van Go prepared them for future employment; 94 percent felt their lives were made better by working there. Since its inception, Van Go has constantly surpassed federal guidelines for employment, education and basic skills proficiencies.
In 2005, Van Go was awarded the Coming Up Taller Award, a national award given each year to exemplary programs that enhance the lives and learning of young people through the arts and humanities. Green accepted the award in Washington, D.C. from then-First Lady Laura Bush and has a picture of the occasion on a cabinet in her office.
"We were very proud of that," Green says. "We're the only Kansas organization to win that award."
For the employees of Van Go and Cottonwood, sources of pride are as abundant as the high energy and smiles that decorate their work spaces each and every day.