Business on the Hill
Business School's Executive Education Seminars Provide Leadership Development, Opportunities for Collaboration
| 2016 Q4 | by Lauren Cummingham
Each year, the University of Kansas (KU) School of Business hosts a series of seminars designed to prepare leaders across industries with the knowledge and skills to confront today's challenges.
The Mount Oread Leadership Series brings together professionals from a wide variety of backgrounds—military officers, business executives and managers, leaders in federal agencies—and provides intensive graduate-level leadership development.
The seminars, each a week long, offer a collaborative learning environment in which participants with diverse experiences share lessons learned, develop networked approaches to complex problems and form teams of leaders that bring together the best from their respective communities of practice.
"It's a great honor to provide executive education in a format that broadens the capability of leaders across the spectrum of companies, national security institutions and federal agencies that make up our society," says Tom Jindra, director of the Center for Business, Industry and National Security at the KU School of Business. "The outcome is a shared broadening, not only in our understanding of critical leadership processes but also of one another."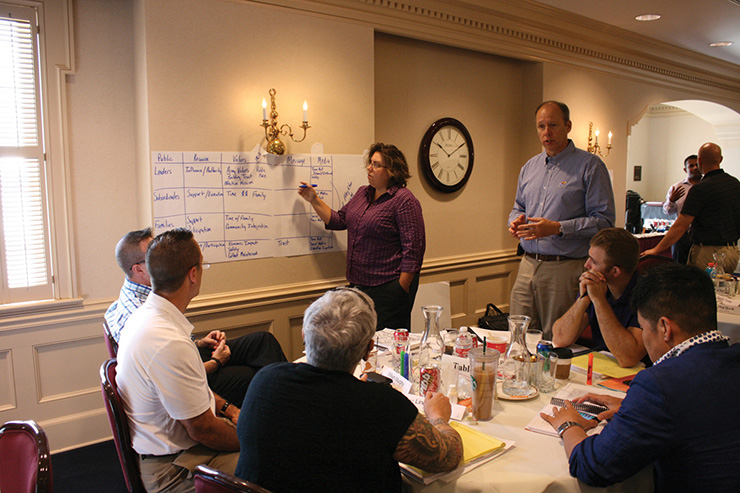 The University of Kansas was selected in 2015 as one of only four civilian universities in the nation to host strategic broadening seminars for U.S. Army officers, warrant officers, senior noncommissioned officers and civilians.
In the seminars, the School of Business emphasizes practical learning with considerable dynamic engagement within each group of participants.
"Anytime you can bring people with so many diverse backgrounds—educational levels, vocational backgrounds—anytime you can bring that many people together, it's extremely valuable," says Capt. Kurtis Hout, who participated in the program last August.
Ultimately, the goal is for professionals attending the seminars to leave with an increased set of tools they can immediately apply to their respective organizations.
"It's been very interesting for me, coming from a federal agency, to particularly watch the folks in the military talk about their structure, some of their issues that they have, and then those from industry offer another unique perspective," says Jeff Johnson, meteorologist-in-charge at the National Weather Service in Topeka, another participant of the program.
The business school's upcoming 2017 schedule of programs primarily focuses on leader development and the management of change. The programs take place on KU's Lawrence campus and are open to all organizations.
The Mount Oread Leadership Series program concentrations, and the dates of each seminar, include: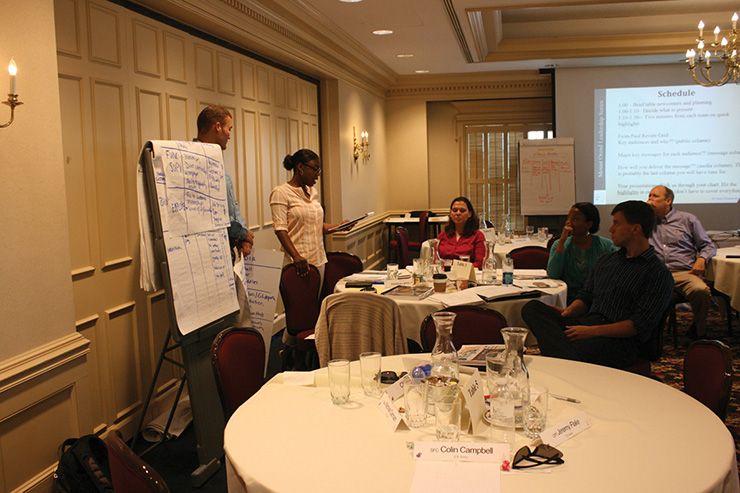 • Senior Executive Leadership, which focuses on understanding the strategic process, Feb. 27–March 3, 2017
• Leadership and Change, which focuses on strategic and senior leader skill development, March 2–March 31, 2017, June 5–June 9, 2017, Aug. 7–Aug. 11, 2017
• Leader Identity, Style and Skills, which focuses on self-awareness and communication skillsets, June 12–June 16, 2017
• Leading in a Global Environment, which focuses on the issues of global leadership, June 19–June 23, 2017
For more information about the programs or to register, contact Dave Byrd-Stadler, director of corporate and community engagement for the KU School of Business, at 785-864-8047; or email dstadler@ku.edu.