NEWSMAKERS
| 2017 Q1 |
NewsMakers: Send us your press release, promotion, professional recognition, new hire or board of directors change to newsmakers@lawrencebusinessmagazine.com for our upcoming issue.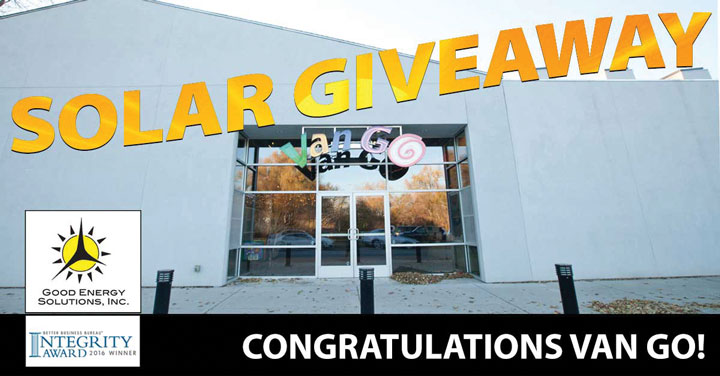 Good Energy Solutions Gives Away a Solar Energy System to Van Go, Inc.
Good Energy Solutions, Inc., a Lawrence-based solar energy and electrical company, has awarded a solar energy system to Van Go, Inc., a non-profit organization located in Douglas County, KS as part of the Good Energy Solutions "Solar Giveaway" program.

"We are excited to install a 2 kilowatt solar electric system on the roof top of the Van Go building to help the organization pursue their 'green dream'. The solar system and additional LED lights will assist the organization to lower their electric use by more than 250 kilowatt hours per month so that they may put more money toward helping kids and teens in our community" said, Kevin Good, Owner and President of Good Energy Solutions.

The Solar Giveaway program was introduced in November of 2016 as a way to thank local non-profit organizations and to give back to the community of Douglas County. Ten applications for the Solar Giveaway program were received and reviewed in December. "We expect to continue our Solar Giveaway program for years to come in order to help non-profits in our community," said Good. "It was difficult to pick a winner, but everyone that submitted an application will be considered for future giveaways."
---
Sean Dawson, CPA and Abram Chrislip, CPA Named Shareholders at Mize Houser & Co., PA
Mize Houser & Company P.A., a regional accounting, payroll, tax and audit firm with offices in Topeka, Lawrence and Overland Park, Kansas is pleased to announce that Abram Chrislip, CPA and Sean Dawson, CPA have been admitted as shareholders in the firm.

Chrislip joined Mize Houser in 2003 as a manager in Mize Houser's Lawrence, Kansas office. His practice focuses on providing audit services to governmental entities, as well as tax planning and preparation for individuals. He is a graduate of the University of Kansas with a BS in Accounting and Busi-ness Administration. Chrislip is a member of the American Institute of Certified Public Accountants, the Kansas Society of Certified Public Accountants, and the Government Finance Officers Association.

Dawson has over 20 years of experience in both public and private accounting, having worked in the consulting, tax and audit areas of public accounting firms as well as serving as a controller and CFO for private companies. His practice focuses on providing accounting, payroll and consulting services to a variety of industries. Sean is a graduate of the University of Central Missouri with a BS in Business Administration. He is a member of the Missouri Society of Certified Public Accountants, and serves on the board of the South Metro Fire Protection District.
---
TreanorHL Dedicates Valentine's Day to Community Service
TreanorHL, a nationwide architecture firm, is giving new relevance to Valentine's Day with a staff-led, fully paid volunteer day of service they're calling "Love Connects". This company-wide initiative gave employees an opportunity to offer their time and talents to benefit local charity partners simultaneously across their nine U.S offices on Tuesday, February 14th.

"Making people's lives better is an integral part of why we do what we do. On February 14th, our whole company is heading out there to give back and help strengthen the communities we live and work in," said Dan Rowe, TreanorHL president. "We're calling this our "Love Connects" volunteer initiative. We plan to do this annually moving forward to spread goodwill, to connect with our communities, and hopefully help people who could use a little kindness," Rowe added. TreanorHL has more than 150 employees nationwide.

As part of the day of service, TreanorHL employees will spend their regular work day at a local nonprofit of their choice in their community.