Foundation Awards 2018
Fill out the Form to be
a Business of the Year
at the
Fifth Annual Foundation Awards
March 2018
---
---
Below is the Article on Fourth Annual Foundation Awards – March 2017
| 2017 Q1 | photos by Patrick Connor


On March 1, the Lawrence Business Magazine and Cadre Lawrence Foundation Awards with presenting sponsor INTRUST Bank were celebrated at the Six Mile Chop House in Lawrence.

This year marks the fourth year Lawrence Business Magazine and Cadre Lawrence have partnered to honor locally owned or franchised for-profit businesses that have been open for at least three years and have shown growth in jobs (adding at least 20% or a total 20 new jobs) within the year.

The mission of the magazine," says Ann Frame Hertzog, publisher and editor-in-chief of Lawrence Business Magazine, "is to cover people and businesses making a positive impact on our community, and what better way to show that than to support the Foundation Awards."

"A key fact is that 80 percent of local job growth is done by existing businesses in a community, not new businesses," Hertzog says. "And the Lawrence Business Magazine and Cadre Lawrence want to honor those established companies and celebrate their contributions to our local community."

"Cadre Lawrence was formed in 2013," says Zak Bolick, co-founder of Cadre Lawrence, and commercial relationship manager of presenting sponsor INTRUST Bank, "with the mission to support and actively promote economic development in Lawrence and Douglas County. We look for opportunities to support job creation, sales, and property tax generation, and provide balanced and thoughtful feedback to our elected and appointed officials in that regard."
It's not only about adding jobs and opportunities within the community; it's also about making a commitment to stay local by collaborating with other businesses and buying locally. The Footprint Impact Award recognizes a business that has made a significant community impact by making a conscious business decision to work and interact locally—a business that not only focuses on the growth and success of its company but also on giving back to the community. This year, John and Cathy Ross of Laser Logic were recognized for its dedication to the Lawrence community.
"We think it is important to not only think about what a business does but how they do business," Hertzog says. "Businesses committed to impacting our community and creating a local footprint of mutually beneficial relationships. That strengthens our community. Our Local businesses, supporting our local businesses—keeping it local."
The Master of Ceremonies for the evening was the living legend, the renowned voice of the Jayhawks for over 35 years, Bob Davis. A fourteen-time winner of the Kansas Sportscaster of the year award, he was inducted into the Kansas Association of Broadcasters Hall of Fame in 2006 and was named to Dick Vitale's "Sweet Sixteen" list of best college basketball broadcasters.
"Bob knocked it out of the park," claimed John Ross, who along with his wife Cathy are owners of Laser Logic and winner of the 2017 Footprint Impact Award. "His sense of humor and stories he told about learning the business of radio when he started at a small radio station in western Kansas, still ring true today – hard work and dedication to learning all aspects of the business. And then, of course, just hearing Bob Davis announce your name is a quite a thrill."
The keynote speaker for the evening was Laverne Epp, Executive Chairman of the BioScience & Technology Business Center at KU (BTBC). He is currently a Trustee of the Kansas University Center for Research as well as a director of KU Innovation and Collaboration. He serves as an Advisory Board member of the Entrepreneurial Council of the KU School of Business where he is also a lecturer.
"Mr. Epp's speech resonated with me," stated Darin Lutz, owner of 2-time Foundation Award Honoree. "He was so on target when he talked about how important it is for a growing business to have employees that you trust. I wouldn't be here without the great employees I have."
"Congratulations to all the 2017 Foundation Award recipients. This year, we recognized the growth of 13 businesses in Lawrence adding jobs in our community," Bolick said during the ceremony. "In four short years, the Foundation Awards has recognized local businesses and celebrated more than 405 jobs they have added to Douglas County. Their work and dedication are examples of the strength and importance of our small business sector."
Alpha Roofing – A Two-Time Honoree
It specializes in residential/commercial tear-off and reroofs. Alpha Roofing LLC is a reputable company and has maintained excellent standing with its customers, suppliers and the Better Business Bureau of Northeast Kansas. It is registered with the State of Kansas, licensed in many jurisdictions and is required to maintain licensing status through continuing education each year. Alpha Roofing LLC is insured with both workers compensation and general liability, and has been in business in Douglas County for 12 years. Customers include but are not limited to homeowners, insurance companies, city municipalities, contractors, historic societies, apartment/management companies and real estate professionals. It maintains a permanent, fully staffed office to help provide customers with the highest level of customer service.

Last year, the company grew from five full-time employees to seven.


DEW- Hilary's Drink Eat Well
In 2005, founder Hilary created her original veggie burger recipe for her restaurant Local Burger, in Lawrence. She wanted it to taste great and be free of all common food allergens and artificial ingredients. She met all of her goals with that recipe, and customers soon named it "The World's Best Veggie Burger." Hilary's considers long-term sustainability in its business practices. It also cares about the health of customers, employees and the ecosystem.

Hilary's has been in business for seven years and has 42 employees. The products are easy to prepare at home, and the company currently offers more than 20 products, including veggie burgers, veggie bites, veggie sausage and salad dressings.

Last year, the company grew from 42 employees to 52.


Essential Goods LLC
Essential Goods began more than four years ago in downtown Lawrence, sharing space with another retailer in a second-story space off of Massachusetts Street. It carried about 30 local artists' works, featuring a monthly rotating gallery for Final Fridays. Shortly after opening, it moved to space below Phoenix Gallery, building its artist base to more than 160 artists' works, with around 75% of them being local or from Kansas. At the end of 2016, Essential Goods was able to move to a ground-level location along Mass Street, providing its artists with much more visibility and foot traffic, and consequently increased sales of their works.

The business remains active with Final Fridays, and it looks forward to hosting even more events that feature artists' work in its new, larger space.

Last year, the company grew from three employees to five.


Laser Logic Inc. – FOOTPRINT IMPACT AWARD WINNER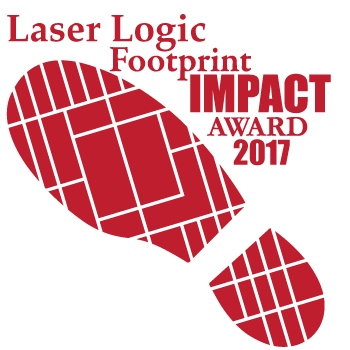 Laser Logic Inc. is a full-service Xerox sales, service and supplies dealer founded by John and Cathy Ross in February 1991. It has been serving the Lawrence business community for the past 26 years.
Laser Logic achieved Platinum Level sales the last two years and Gold Level in 2014 and 2015. Its employees have served the Lawrence/Douglas County community in many various ways during the past quarter-century. John and Cathy are proud to call Lawrence their home. It has been an awesome place to grow their business and raise their kids, where they continue to appreciate their love for Kansas and Kansans.

Last year, the company grew from four employees to six.
John, Cathy and Laser Logic have volunteered time and resources to the following organizations: They also highly encourage their employees through their HOHO program (Helping Others Help Others). This program was created to provide hands-on involvement within and across the Lawrence/Douglas County community. They buy everything they can source locally. John make it a priority to spend Laser Logics time and financial resources with those who are committed to making Lawrence and Douglas County a wonderful place to live, work, play, raise a family and educate our kids.
Some of the local organization Laser Logic help support in many ways are: American Heart Association, American Red Cross, Baldwin MS Golf Tournament, Ballard Center, Bert Nash, Big Chill Golf Tournament, Blue Santa, Boy Scouts, Boys and Girls Club of Lawrence, Bras Across the Kaw, Caddy Stacks, Car 54 Golf Tournament, CASA, Catch-a-Break, Chamber of Commerce, Chocolate & Tea Auction, Citizens for Students, CLO, CoC Small Business Council, Concern of Police Survivors (COPS), Cottonwood, DCABA, Douglas County AIDS Project, ECKAN, Folds of Honor, FOP, Free State High School, Friends of the LiedCenter, Headquarters, Healthcare Access, Hearts of Gold, ICAN, Just Food, Kansas Blue Knights, Kansas Center for Leadership, Kansas International, Kansas Public Radio, KU Athletics, KU MSW Student Group(s), KU Studio 804 Inc., Lawrence Arts Center, Lawrence Breakfast Cosmos, Lawrence Children's Choir, Lawrence Community Shelter, Lawrence Flames AAU Girls Basketball, Lawrence Humane Society, Lawrence Jaycees, Lawrence Parks and Recreation, Lawrence Police Foundation, Lawrence Public Library, Lawrence Senior Center, Lawrence-Douglas County Valor Awards , Leadership Lawrence, LMH, LMH Endowment Association, Luncheon Optimist, MDA Lockup, Meals on Wheels, Mental First Aid, No More Domestic Violence, Patriot Guard, Pawsible Dream, Peaslee Tech, Penny Jones Golf Tournament, Project Graduation, Red Shoes Calendar, Ride4COPS, Rotary, Salvation Army, Society for the Prevention of Head and Neck Cancer, Special Olympics, St. Mary's Academy & College, St. Patrick's Day Parade, The Jim Lutz Fund, The Spirit of Kaw Valley Association, Therapy Works Great Pumpkin Pursuit, Three Sisters Festival, TIPS for TOTS, Toys for Tots, United Way, VNA, Vote Yes for Lawrence Kids, Watkins Museum, and Willow.
Congratulation to John, Cathy and the Laser Logic Team and thank you for your dedication to the local Lawrence community and businesses.
Lawrence Sign Up
Lawrence Sign Up is a graphics, signage and wrap company located in North Lawrence. It has built a reputation by creating and installing various types of advertising signage. As one of only three 3M Certified Installation companies in the state of Kansas, its growth has been in wrap and mural printing, and installation for clients in many different industries. Its expertise in wrapping has allowed the company to grow employees while increasing revenues every year it has been in business.

Company members are proud to be based in Lawrence and look forward to continuing to grow their product offerings and serve the Lawrence business community. It has been in business since 2010.

Last year, the company grew from five employees to nine.


Love Grub Dog Food
Rexroad Foods, the makers of Love Grub Pet Food, is proud to be Lawrence's locally owned pet food company. Now in its fourth year, the company has grown a presence in more than 50 retailers in the Lawrence, Topeka and Kansas City markets. As the only locally owned pet food company in the area, Love Grub aims to provide consumers a true choice, offering superior products at a good value. When you feed your dog Love Grub, not only does your pet benefit, but you are also supporting a local company that pays local taxes and hires local employees.

The company acknowledges its growth would not be possible without its customers, and company members are thankful for the communities' continued support.
Last year, the company grew from two employees to three.


M Cubed Technologies
The philosophy at M Cubed Technologies is that if you monitor, maintain and manage your entire network from your server to your workstation, you will prevent costly downtime some companies face and avoid loss of revenue. The majority of all computer errors can be prevented, and M Cubed's system makes sure of that. It provides preventative IT every minute and hour every day of the year. It believes its M techs will already know of potential problems and will have already fixed them. Monitor, maintain and manage for peace of mind in your network. M Cubed Tech has been in business since 2014.

Last year, the company grew from one employee to four.


PixNinja
It is a full-service un-agency specializing in design, web, marketing, branding, advertising, multimedia development, art and fun. It has been in business in Lawrence for three years and, just the other week, had its ribbon-cutting to open new offices in downtown Lawrence in the historic Standard Mutual Life Building (800 Vermont St.).

The company believes in creative and accessible design, budget conscious solutions and holding its employees accountable to its clients. PixNinja prides itself on versatility and accessibility. No titles or job positions exist, as none of its three full-time employees fit into any box or category. They refer to themselves as "sneaky awesome ninjas" who are great at what they love and love what they do.

Last year, the company grew from one employee to three.


Rainbow International Restoration of NE Kansas – A Two-Time Honoree
Rainbow International Restoration is a locally owned 24/7/365 emergency-services company that specializes in fire, water, smoke and mold damage mitigation and reconstruction. It helps residential and commercial property owners restore their properties to pre-loss condition as quickly as possible after a devastating event. Rainbow operates in Lawrence, Topeka, Eudora, Baldwin City and the surrounding communities. It has been in business for five years. Rainbow International works closely with individuals and insurance adjusters to ensure that property and contents are restored quickly in an effort to keep claim costs to a minimum. Nick and Raegann Berger, franchise owners, are preparing to construct a new 10,000-square-foot facility to use as their operating headquarters in early 2017.

Last year, the company grew from seven employees to nine.


Ramen Bowls
Ramen Bowls noodle shop was founded 3½ years ago and was inspired by the ramen and saimin of Honolulu's Chinatown. After living on the island of O'ahu for four years, owners Tim and Shantel Grace decided to bring their newborn child and their noodle concept back home to Kansas, and boy was that a good idea!

Today, their menu is part "Hawaii" and part "Lawrence," and every year, it evolves further beyond the owners' original vision. The future for Ramen Bowls is infinite and includes a rooftop bar, a second shop in Overland Park and a new cold-pressed juice concept in downtown Lawrence called Lucky Berry. Stay tuned for more on that!

Last year, the company grew from 32 employees to 48.


Summers, Spencer and Company P.A. – A Two-Time Honoree
When you look at SS&C, you will see it is not your typical CPA firm. It goes beyond the expected to help you prosper today while strengthening your plans for tomorrow. It is small enough to offer highly personalized service but also large enough to offer unmatched versatility and expertise.

The company goes beyond tax planning, filling out forms and auditing. Its employees advise clients about their current financial situation and prepare them for a better future, helping them retain more of their earnings along the way.

It continually embraces the latest technologies for the security and convenience of its clients.

In Northeast Kansas, SS&C employs 70 professionals.

Last year in Lawrence alone, the company grew from 16 employees to 24.


TherapyWorks
The company provides physical therapy, aqua therapy, massage therapy, personal training and a wellness center. The locally owned orthopedic outpatient clinic serves every age and physical therapy need, from infants to hip-replacement cases to women's health needs. It offers a functionally based, hands-on, individualized rehabilitation program that includes patient education, exercises and pain-relieving modalities as needed without the use of drugs. By fully understanding each client's individual goals, the company's goal is for its caring professionals to be able to return each client to vibrant health.

TherapyWorks is committed to its patients and to making Lawrence the best city in America. It has been in business in Douglas County for 24 years.

Last year, the company grew from 36 employees to 46.


Wonder Fair
The spirit of Wonder Fair lies in the conviction that creativity is essential for the well-being of individuals and their communities. Wonder Fair believes in the power of the handmade, the connecting and transformative properties of art and the importance of shared experience. Its practical commitment to these beliefs is to maintain a gallery, a site for social dialogue and creative exchange. Through the gallery and its rigorous exhibition schedule, as well as a diverse range of special events, the company has formed a hub of interconnectivity, a link between family, friends and like-minded strangers within Lawrence and beyond. Through its shop, it approaches these beliefs with entrepreneurial verve, empowering artists and enriching the community. Founded in 2008.

Last year, the company grew from one employee to seven.