Lawrence Business Magazine & Cadre Lawrence Foundation Award

CELEBRATING THE BUSINESSES OF THE YEAR
Advanced Plumbing • Aestheticare of Lawrence • Alpha Roofing • Bigg's
Cromwell Environmental • Good Energy Solutions • Griffith Payments
Next Level Baseball Academy • Printing Solutions
Silverback • The Summit • Treanor Architects
Purchase Advanced Tickets: $20.00
$25 at the door
CHECKS CAN BE MADE OUT TO:
LAWRENCE BUSINESS MAGAZINE
memo line: Foundation Awards
or online below.
ABOUT THE AWARD
Local business growth is the foundation of the local economy. The Lawrence Business Magazine and Cadre Lawrence think it is important to celebrate those businesses – our Businesses of the Year. The Foundation Award was established to recognize growth in for-profit businesses, that are locally owned or locally franchised in Douglas County, and have been in business a minimum of three years prior.
EVALUATION
Companies will be honored with the the Foundation Award that have shown growth in employment by 20% or 20 people from January 1, 2014 to December 31, 2014.
NOMINATIONS
Nominations can be submitted for consideration by any Douglas County Company, open a minimum of 3 years, that is locally owned or franchised and has shown growth by increasing its employment by 20% or 20 people in the time frame noted above. To submit a nomination (please note that self nominations are accepted.) simply fill out the form below, providing as much information as possible.
Nominations must be completed and submitted by January 31, 2015. Submit below or print and email to info@cadrelawrence.com.
QUESTIONS
For any questions or further clarification, please contact: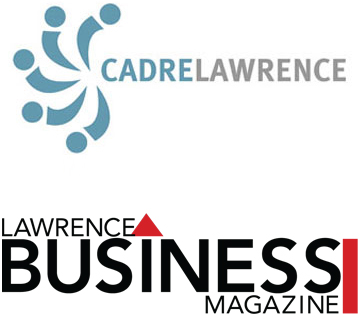 info@cadrelawrence.com
FOUNDATION AWARD EVENT
February 26, 2015 – 5:00 to 7:00 pm
The W Banquet Hall at 704 Connecticut Street
Guest Speaker:
Dr. Lynne Murray, 29th President, Baker University
Award Presentation:
TBD
$20 advance purchase admission
Appetizers Served/Drinks available
IN RECOGNITION, HONOREES RECEIVE
• Foundation Award Brick at February 26 Ceremony
• 4 complimentary tickets to the ceremony
• Recognition in Lawrence Business Magazine
• Radio Time on Cadre Lawrence Show
• Presentation at Cadre Lawrence meeting
• Press notification of all recipients
Thank you, Foundation Award Sponsors
Intrust Bank
KERN Marketing Group
Cadre Lawrence