A HEALTHY RECIPE FOR BUSINESS
March 2012
by MEGAN STUKE
photos by STEVEN HERTZOG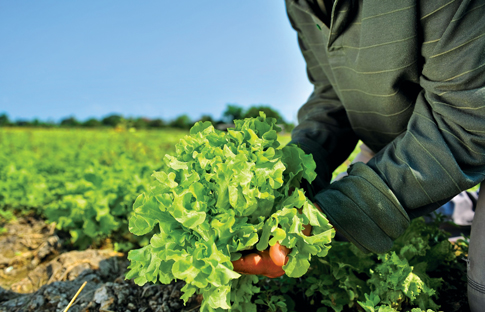 The offices of Hilary's Eat Well above Local Burger in downtown Lawrence, are sunny and friendly, much like the owner, Hilary Brown. Predictably, the offices are busy, generating and emitting a happy energy that is contagious. Brown herself is a bundle of unbridled energy and enthusiasm – bouncing from one project to the next. She's quick with a smile and these days she has a lot of projects to
smile about.
In 2005, Brown opened Local Burger on Vermont Street in Lawrence. She had a vision and wanted
to provide a different kind of fast food. Her food would be fresh, sustainable, organic, all natural and sourced from the most local providers she could find. In the process of creating the menu for Local Burger (which features elk, pork, buffalo, beef, chicken, turkey and tofu), she developed a veggie burger, knowing a large portion of her clientele would be vegetarian. The veggie burger was an instant success and it wasn't long before her customers started requesting that she sell it in stores.
Brown liked the idea of an additional profit source, but she was a new business owner with a lot on her plate. Learning the ins and outs of mass producing, marketing and selling the veggie burger outside of her storefront was a low priority. She did manage to get the veggie burger into a few places like the University of Kansas' Memorial Union. Sales were good, but the project stalled when Brown had a baby and went on maternity leave.
"You know," Brown laughs. "Our baby took top priority."
"Mike was fantastic," Brown says. "He was a great employee and took the initiative to get the recipe set and systemize the process of producing the veggie burger."
Two local investors jumped onboard in 2010 and Brown started thinking more big picture.
"My introduction to the burgers happened at Local Burger in 2011," says Alison Langham, an investor in Hilary's Eat Well. "In the summer of 2011, Hilary approached me about investing in her company. I studied the Hilary's Eat Well business plan, which I found compelling and convincing. I know the organic allergen-free food market is on the rise, and I know Hilary is passionate about her business–all this plus the strength of Hilary's team made my investment decision easy."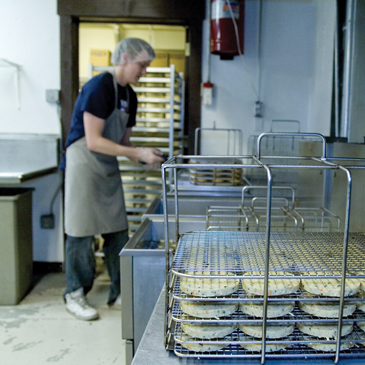 As word of the veggie burgers grew, so did orders. Lawrence Memorial Hospital, The Merc, Checkers and Hy-Vee picked up the burgers. Lawrence restaurants 23rd Street Brewery and Bigg's BBQ began serving the veggies burgers on their menu.
"This is the kind of thing I love," Brown beams. "Local businesses helping other local businesses. Doug Holiday (owner of Bigg's) and Matt Llewellyn (owner of 23rd St. Brewery) are great. I can't say enough good things
about them."
Whole Foods in Kansas City began selling the burgers in their metro shops and they now have approval to distribute to Whole Foods Markets across the country.
"It's grown really fast," Brown says. "The goal has always been to distribute nation-wide, and we're getting there. You can find our products on shelves in over 44 states, including Puerto Rico and Hawaii. We get more locations every week through our national distribution contracts, and hope to expand to all 50 states soon!"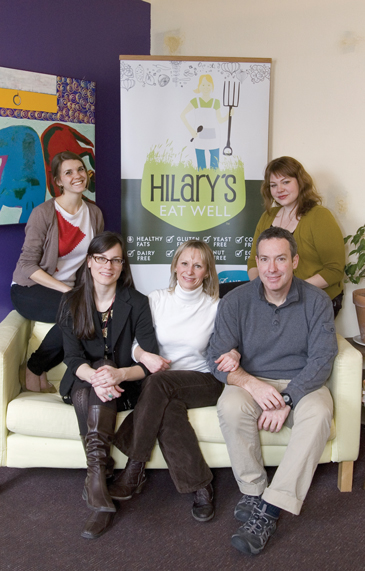 As the business grew, Hilary added staff. In November 2010 they opened a production facility in east Lawrence, Derick Alexander came on board to be her production manager. She added a strong sales duo: Allen Levine and Marisa Ford, who worked together previously in the natural food supplement industry, and felt strongly about the mission and product of Hilary's Eat Well. Alyssa Koestner, a former employee at Local Burger, came back to the Drink Eat Well fold to act as administrative coordinator, among other roles. Becky Harpstrite, an independent contractor, acts as the creative director, and developed the logo, branding, web design, advertising and packaging for the company. Everyone works closely together and it's clear they feel like a family.
Brown is proud of her young company, but quick to pass the praise. "I have people who are smarter than me in a lot of areas," she says with a mater-of-fact tone. Ford and Levine came on board with a great deal of knowledge about distribution. Alexander is practically a one-man show, handling all of the production development himself.
"We need a new packaging machine," Alexander says, with a far away look in his eyes. Brown hopes they can stay in their current production location at least until the end of year, but the growth has been swift and she's sure by next year they'll be looking for more space for more equipment.
The success of Local Burger and the emergence of Hilary's Eat Drink Well have established Brown as a local visionary.
"I never really set out to be a veggie burger distributor, but I've always been an 'idea person'," she says. "I would make lists of products I thought up that should be out there, anything from toothpaste to different foods."
She has painstakingly researched the environmental impact of the ingredients she uses. Having been a farm apprentice at Growing Growers, an organization dedicated to developing organic farms around Kansas, she had a strong understanding of the ecological and health implications of each ingredient she selected.
When she talks about her ingredients and her thoughts on farming and agriculture, her eyes light up. Hilary Brown discusses grains the way some women talk about jewelry. Her belief in her products and in the bigger picture of agriculture, health, and sustainability is infectious.
Hilary's Eat Well