BREWING COMPETITION
March 2012

by DEREK HELMS
photos by STEVEN HERTZOG
The good people of Lawrence like beer. Maybe it's the college vibe or the stress of modern life, but we like to tip a glass. Lawrencians' affinity for hops and barley bodes well for its two microbreweries, Free State Brewery and 23rd Street Brewery.
Last year, Free State Brewery served nearly 408,000 pints of their original beer. Not bad for a business born from one guy's basement hobby. When ChuckMagerl, proprietor of Free State Brewery, started brewing beer in the 1970's the idea of opening a successful brewpub and moving into bottling for regional distribution was far from the target. He liked good beer, and was interested in Kansas state liquor laws.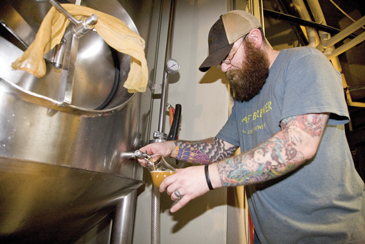 Magerl was managing at Lawrence's Community Mercantile and brewing beer in his basement. He had been brewing for a number of years, and had taken an interest in the Kansas Alcohol code that prevented commercial brewing of beer.
"Kansas was notorious, as we all know," Magerl says. "In the 1970's there was a craft wine boom across the country. I knew there was only a matter of time before craft beer brewing took off. Unfortunately, the laws in Kansas prevented anything other than minor hobby brewing. Local legislatures had hinted at some changes in the governing of alcohol, and I got in the middle of the process."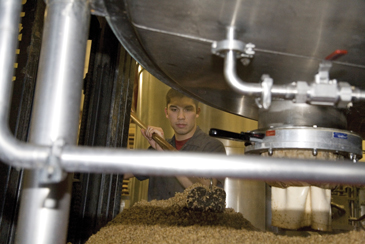 Magerl immersed himself in the effort to relax commercial brewing regulation. He spent "countless" hours in Topeka researching legislation, meeting with politicos and doing his best to affect the pending regulation.
When Kansas alcohol code was rewritten to allow commercial brewing, Magerl and friends got to work. In 1989 Free State Brewery opened as the first legal brewery in Kansas in more than 100 years.
Last year, Free State Brewery served nearly 408,000 pints of their original beer. Not bad for a business born from one
guy's basement hobby. "I don't give a damn what anybody says," "Brewing this beer has been a thrill," Magerl says with a laugh. "I never anticipated our venture being this successful, but I've always known that the people of Lawrence like a well-crafted beer. We've always put the beer first, and marketability second. Being focused on the quality of our product is a cornerstone of the business. I don't take for granted that I am able to make a profit from what I used to do as a hobby. If this all went away tomorrow, I'm sure I'd still brew for myself."
"We have such a strong and appreciative beer community here," says Steve Bradt, brew master at Free State Brewery. "The homebrew club in Lawrence is a perfect example. They have flourished over the years and I know they help to drive interest in our creations. We also have a lot of people in and near Lawrence who are pretty well travelled, whether for school, business or the military. Many of them were early supporters. They found out about craft brewed beers in other countries when craft brewing and the Free State were still in their infancies."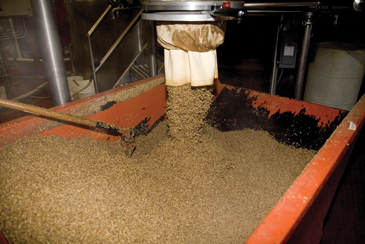 Community interest in craft beers was a major motivation for Matt Llewellyn, owner of 23rd Street Brewery. Llewellyn took a much different route to beer brewing. After working as a manager at Old Chicago for 10 years, he partnered with a Kansas City group to open 75th Street Brewery. Soon, Llewellyn bought the business outright and changed the name.
"The time at Old Chicago was great," Llewellyn says. "I was introduced to a lot of different beers there. It really fueled my desire to open my own shop and definitely brew my own beer. I like good flavorful beers and I knew the people of Lawrence appreciate high-quality brews. Free State's success is a testament to both their talent and Lawrence's desire for great beer. I'm happy to be a part of that."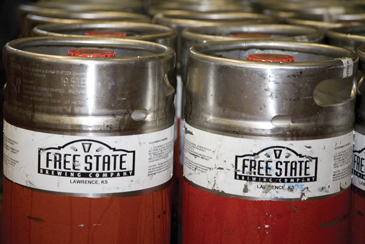 The brew house is home to a 15 barrel Pub Brewing System. In the past few years, 23rd Street has doubled their production to exceed 1000 barrels (2000 Kegs) per year and have begun distributing to other bars and restaurants throughout Kansas.
Bryan Buckingham, brew master of 23rd Street Brewery, has, essentially free range to create whatever he wants. "Matt doesn't set boundaries or budget restraints on our brewing," the bearded Buckingham says. "Having the freedom to create whatever comes to mind is unbelievable. I don't take that for granted."
Buckingham has been brewing for more than a decade, both in his garage and commercially. Originally from Oregon, Buckingham worked his way up the brewing ladder, starting at the bottom by washing kegs. "I sold my shares of Breakdance America," he says. "Right around that time, one of Sean's silent partners wanted out. Sean and I had been talking about me coming on board with Blue Collar for awhile, but I wasn't really interested unless there was an option for ownership. Having one of his partners step down opened the door for me."
"Yeah, I know the ins and outs of brewing," he says with a sigh. "I love doing this. And I think all brewers create beer out of appreciation. We have that in common and it creates a great community between brewers. It's not uncommon for us to help our Free State if they are short on supplies or for them to help us fix equipment. I think we all realize we are in this together and can appreciate the work, and beer, we all produce."
Magerl echoes Buckingham's feelings about Lawrence's community of brewers.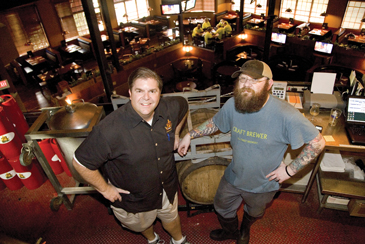 "Without question we all help each other," Magerl says. "I think our brewers and the crew at 23rd Street talk at least 3 times a week."
Buckingham and Brandt agree that the kinship between brewers is more than
just business.
"I stop in for a beer at Free State a few times a week on my way home from work," Buckingham says.
"Making the beer is friendly," Magerl says with a laugh. "Drinking beer is a social endeavor and I think we're both comfortable doing whatever we can to help the other. I'm a fan of good beer, and I'm happy to help others make it."
Magerl is happy to help Llewellyn if they are in a pinch (and vice versa), but he does admit that, at some point, it is business."It's a bit of a Jekyll and Hyde situation," Magerl says candidly. "We go out of our way to help with production and the day-to-day situations that arise, but distribution is cutthroat."
Llewellyn whole heartedly agrees.
"I like to drink their beer, and I'm more than willing to help them when I can, but I want everyone to drink my beer," he says with a laugh.
23rd Street Brewery
Free State Brewery