building a hospital to serve the community
Second Quarter 2012
story by DAISY WAKEFIELD
photos by STEVEN HERTZOG
A hospital is a study in paradox. It depends on sick people, but charged to get them well. Its success measures are judged by auditors and academies, but consumers and third parties pay it. It is in necessary affiliation with local practices and doctors, but is subject to strict regulations for any fiscal collaboration. These factors, not to mention looming health care reform, make the running of a hospital an immensely complicated business.
Gene Meyer does not seem fazed. He is alert and informed. The CEO of Lawrence Memorial Hospital (LMH) is focused on running the community hospital he aims to make one of the best in the country.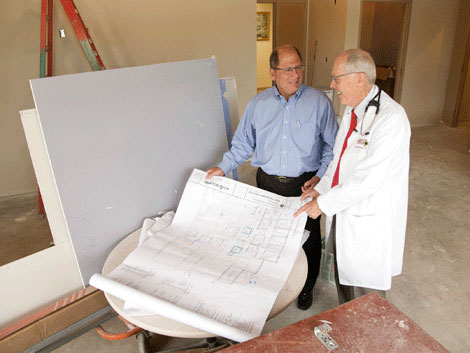 By all counts, Meyer seems to be succeeding. Success can be measured by a 95% patient satisfaction rate, a cardiology service line that is in the top 5% of heart attack care nationally, an oncology service line that has 150 clinical trials and a long-term bond rating upgrade from A2 to A1 from Moody's.
In his 15-year tenure as CEO, Meyer has been heralded as the visionary that took LMH from a small town hospital to an acclaimed regional medical center. While his strategy from the outside seems to be procurement — expanding the hospital campus, developing satellite clinics, acquiring local practices — Meyer disputes the dictum "bigger is better," and says instead — better is better.
"Community hospitals cannot and should not be all things to all people," Meyer says. "We have to carefully assess the needs of our population and look very closely at what our capabilities are in meeting those needs. Our philosophy has been if LMH cannot do things well from a quality, safety and outcome standpoint, then we probably shouldn't do it. We look to provide services that meet a community need, in which we have the talent and expertise to provide the service, and there is a sufficient volume necessary to do those services well."
At its core, LMH is a community hospital, driven by the needs, resources and input of Lawrence and surrounding areas. The quality of services and collaboration between employees are interwoven into the culture. That is a direct benefit to the residents in the community in terms of quality of life, but it also serves as a business and people recruitment tool.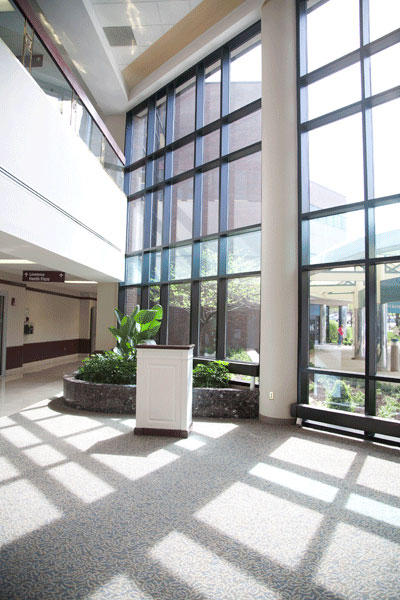 What that has meant for LMH in recent years is expanding and cultivating certain service lines, particularly cardiology and its related disciplines. In November 2009, when Cardiology Consultants, a Kansas City-based practice affiliated with St. Luke's Health System, pulled out of Lawrence, LMH maintained four of the doctors and began its own practice, Cardiology Specialists of Lawrence. They recruited two more cardiologists to join the team and enfolded the Lawrence Vein Center. In January of this year, a new pulmonary practice began at LMH. Along with two new pulmonologists due to arrive in August, LMH is also expanding its cardiovascular-pulmonary laboratory. This full cardiovascular/pulmonary line means that all the business that used to go to St. Luke's is now staying in Lawrence.
Along with cardiology, LMH is the employer for the practices of Lawrence Ob/Gyn Specialists, Lawrence General Surgery, Lawrence Neurology Specialists, Lawrence Wound Healing Center, The Oncology Center, Vascular Surgery Associates, Mount Oread Family Practice, and as of July 2011, the Internal Medicine Group. As well, LMH is part investor in Lawrence Surgery Center. LMH also operates four satellite clinics, in McClouth, Tonganoxie, Baldwin, and a newly built clinic in Eudora. These clinics employ a handful of physicians and support staff.
For the 43 physicians who are employed directly by LMH, the system can provide a house of support to manage the bureaucracy of regulations and reimbursement issues.
"Doctors didn't go to medical school to learn to run complicated businesses; they want to take care of patients," says Janice Early, Director of Community Relations at LMH. "And younger physicians have more of a commitment to a balance of family/work – it's a different style than older physicians. They don't want to work all those hours and be on call all the time. By being in an employment arrangement, they can spend their time doing what they do best."
For LMH, the satellite clinics and practices are not exactly all-win-no-loss. The hospital takes on the pressures of dealing with the regulations and red tape of individual practices and physicians. As well, all of the satellite clinics, and several of the individual practices, show a net loss for 2011.
But the practices and satellites send patients to LMH for lab work, tests and surgeries that generate income across the wider financial picture of the hospital. They spur name recognition and brand loyalty to LMH. For bedroom communities, the existence of an LMH clinic encourages them to find physicians closer to where they live rather than closer to where they work.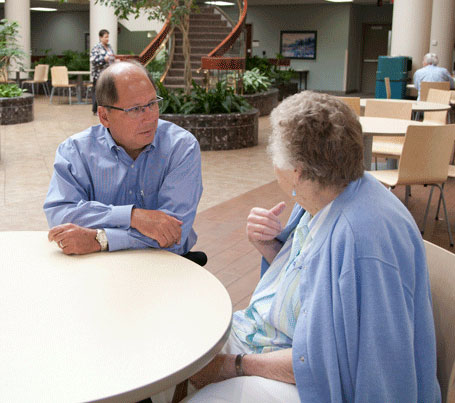 Part of the purpose of the satellite clinics is to draw the community line in a bigger circle than just around Lawrence. The hospital aims to serve districts on all sides of Lawrence, drawing people from not only small towns, but also the eastern edges of Topeka and outlying Kansas City. Serving these communities creates a symbiotic relationship between those populations and the hospital: the communities gain greater options for excellent healthcare, and LMH draws in their business to the main campus.
"We have a specific strategy with the satellite clinics," Meyer says. "We want to provide access to care that is unparalleled in those communities. Does Tonganoxie need an additional two primary care physicians in that community? Probably not. But because we want to support the healthcare of people in Tonganoxie, we have staffed 2 physicians there to provide excellent options. Does it cost us? Yes. Does it come back to LMH in revenue from patients that we previously did not serve? Absolutely."
The strategy Meyer touts is working. In 2011, LMH's net operating income was $9.5 million, up 15% from the previous year. The profit includes $10.5 million in charity care charges (up 33% from 2010) as well as $19 million in bad debts (up 15% from 2010). With its non-operating income, including investments, LMH's total net revenue in 2011 amounted to $12.2 million.
Meyer attributes the 20% increase in net revenue partly to sound financial management and partly to more astute practices in receiving payment.
"Much of the way we charge government and insurance companies is based on complete and accurate documentation of the services we provide," Meyer says. "In the last couple of years, we've improved the way we document the services that we rightly should be paid for. We are doing a better job of coding and documentation that allows us to be paid appropriately. The key to that is accurate documentation."
The accurate documentation created several new positions in the last year. With healthcare reform, meeting regulatory requirements is becoming a significant challenge. Within the next three years, Meyer foresees 10 new positions will be created to manage it. While these jobs have obvious benefits, Meyer says that he would rather see jobs that create new revenue streams and support the hospital's duty as caregivers, rather than contribute solely to overhead expense.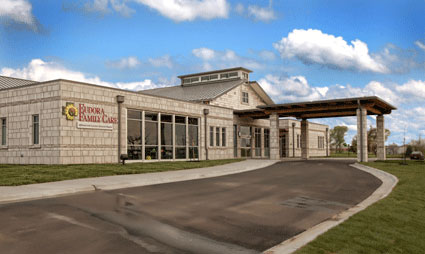 When it comes to healthcare reform, Meyer does not shy from sharing his opinion. He says that healthcare reform is more about providing health insurance for 32 million uninsured Americans, rather than the healthcare delivery system. In Douglas County, this would mean that 10-15k people would be new healthcare consumers under the reform. While Meyer expresses humanitarian sympathies for the uninsured, the administrator in him asks how hospitals can possibly deliver medical care to an opened floodgate of millions of new consumers with no change in the delivery of care. Especially for a standalone community hospital like LMH that does not have a wider health system to spread costs over, health care reform implies a massive impending load of financial and delivery pressures.
"Provision of healthcare insurance in some fashion is a positive," Meyer says. "How we pay for that and the requirements that that places on community hospitals is extraordinary. Community hospitals are going to see reductions in what they get paid for the services they provide. While we may be fortunate to have the resources locally to attempt to meet these requirements, the increased burdens will put tremendous pressure on the LMH's of the world and other community hospitals."
Another pressing worry is the shortage of primary care physicians. There is already a local and national supply pinch in primary and family medicine. Meyer points to the financial incentive discrepancies between a primary care physician and a specialist as the main reason. Primary care physicians see more patients with less internal resources, and they bear the brunt of reimbursement and regulation issues.
With the uninsured population using between 40-45% of healthcare that the insured population uses, the current healthcare infrastructure simply does not have the wherewithal to meet an exponential rise in demand. This is Meyer's advocacy box — to reform not just health insurance, but healthcare delivery, to circumvent a breakdown of supply and demand.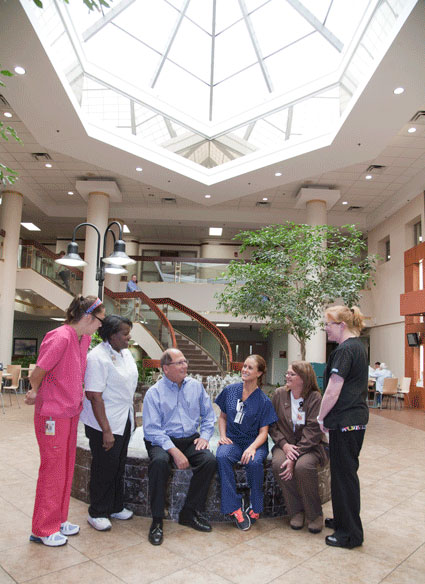 "Our country has become accustomed to access, convenience, and I-want-it-now when it comes to healthcare," Meyer says. "What should we expect from healthcare reform? Get used to waiting. We can't add 32 million more Americans into our environment and not increase providers and expect the same convenience and access you have before."
Meyer says that he welcomes a better system of health insurance provision for the uninsured. But to stop there would be to sabotage the health care industry and patients. Reform to health care delivery must accompany the potential colossal changes to health care insurance.
"Our health care industry is the world's 16th largest economy, and now we're saying that we're changing the way that this Titanic is moving," Meyer says with pensive hope. "That's not easy. The changes in the next 7-10 years will be more monumental than the changes in the last 50."
Meyer's advocacy for community hospitals and changes in healthcare delivery supports his actions in running LMH. As a nonprofit hospital, $110 million of net income over the past 5 years has been reinvested into LMH to build the system to meet community demand. The physical campus has been increased by 1/3, with an enlarged ER, laboratories, parking and food service. Significant investment has been made into the informational technology system of the hospital, which has put LMH in the top 7% of hospitals nationwide for technology.
That future, in terms of healthcare, is still being written. Meyer continues to position LMH in such a way that the community hospital will be able to meet the increased utilization need, with community collaboration and sound financial management as priorities.