lawrence farmers market
Second Quarter 2012
story by ANN BROCKHOFF
photos by STEVEN HERTZOG
Saturday mornings at the Lawrence Farmers' Market (LFM) have an easy feel. Shoppers buy spinach, honey and eggs and nibble cinnamon rolls. Vendors swap recipes with customers and banter about the weather, while kids dance to steel guitar music.
Still, there's serious purpose behind the fun.
"It makes for good business," Kevin Irick of Irick Farms says of the atmosphere. "People like to feel connected to who they're buying from."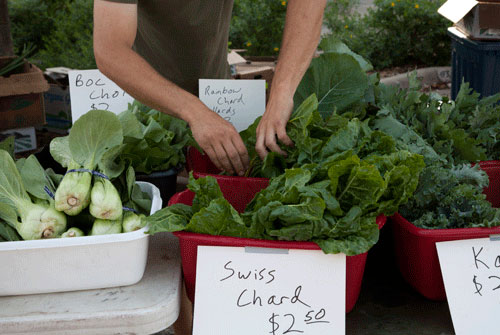 That connection dates back to 1976, when Lawrence launched the first farmers' market in Kansas. Now, the LFM operates three weekly markets. Almost 100 vendors sell everything from vegetables, meat and flowers to emu oil, mushrooms and rosewater lemonade. And the LFM has proven to be good for business, the local economy and the community.
GOOD FOR BUSINESS
More than 3 million people shop at the nation's 7,103 farmers' markets, according to the Farmers Market Coalition. That adds up to an estimated $1.3 billion in consumer spending, the advocacy group says.
"Ninety percent of what we sell, we sell here," says Mike Glass of Whispering Cedars Farm & Gardens, whose family produces beef, vegetables and flowers.
The LFM is what market coordinator Pam Bramlett calls "a genuine farmers' market," in that every product must be grown or made within 50 miles of Lawrence by the vendor selling it. The selection on any given day reflects the season, and shoppers know what they're buying is fresh and local.
"That's why the Lawrence market is so special," says Irick, whose stall this spring was stocked with basil, poblano chili, tomato and other plants. "We grow all our own stuff."
But it's not just about farmers. There are hand-made processed foods like jam, wine and breads; freshly made tamales and sausage biscuits; and artisan crafters selling yarn spun from wool produced by their own sheep and hand-painted lavender-filled dryer pouches.
"Kathy makes every product by hand from lavender we've tilled, harvested, dried and stripped," says Jack Wilson, who co-owns Washington Creek Lavender with his wife, Kathy Wilson.
Selling face-to-face encourages customer feedback—instant market research, if you will—and builds long-term relationships that generate repeat sales. Gathering with other vendors also fosters community and collaboration.
"It's critical to our sense of community," Jack Wilson says. "It's critical to the soul."
GOOD FOR THE LOCAL ECONOMY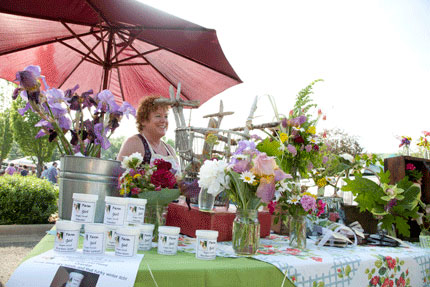 Saturday market attendance runs between 2,500 to 4,000 people, and the dollars they spend circulate throughout the economy long after the closing bell rings. Vendors tend to hire local employees and buy groceries, gasoline and other supplies locally. And all of it generates sales tax.
"The impact of local food on the local economy is huge," says Ellie Garrett, a community developer contracted to coordinate the LFM's promotional efforts. "Just over 80 percent of the money spent with a local farmer ends up staying in the community."
The LFM also attracts visitors from Topeka, Kansas City and elsewhere, further boosting spending and sales tax revenue. Enough of them liked what they found last year that The Pitch, a weekly Kansas City arts and entertainment newspaper, named the LFM its Best Farmers' Market for 2011.
Still, there are challenges. The Saturday morning market operates from April through November, while the Tuesday and Thursday season is slightly shorter.
The LFM's struggled to increase traffic at its weekday markets, perhaps due to the strength of the Saturday session, some vendors suggest. There's also increased competition from other area farmers' markets, Community Supported Agriculture (CSAs) and grocery stores like Checkers and Hy-Vee, which have added more local products in recent years.
The LFM is now working on a new promotional strategy that will better utilize social media and reach families, seniors and low-income residents. Market staff hopes membership in Downtown Lawrence Inc. will also generate more cross-promotional opportunities, and that regular activities hosted by the nearby Lawrence Arts Center will draw more families with children to the market.
"I would like every farmer to sell out at every market," says Jozie Schimke, chair of the LFM board and co-owner of Earth Flowers.
GOOD FOR THE COMMUNITY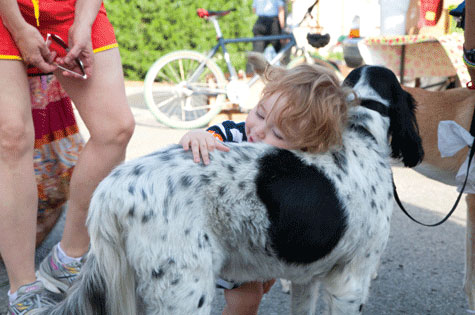 Farmers' markets directly impact a community's health by improving access to fresh fruit, vegetables and other foods, but the indirect effect is just as significant.
Markets are an ideal place to teach consumers—especially kids—where food comes from and connect them with the people who grow it. Then, the LFM shows them what to do with that food once they get it home.
The LFM kicked off its 2012 season in May with a cooking demonstration by Kenneth Baker, the executive chef and owner of Pachamama's. Michael Beard, chef at 715, will follow in July, but there will also be more basic offerings teaching market-goers how to select, combine and prepare fresh foods.
"It's got to be simple," says Garrett, who also helped start Back Door Bakery to showcase how ingredients from the LFM can be used.
But if there's one message Garrett wants to communicate, it's that consumers of all income levels are welcome at the LFM.
The LFM is one of 15 state-wide participating in the Kansas Farmers Market EBT project, which allows Food Assistance Program recipients to use their Kansas Vision debit cards at farmers' markets.
Vision cardholders can purchase $1 market tokens and use them to buy breads and cereals, fruits, vegetables, meat, fish, poultry and dairy products from vendors, as well as food-producing seeds and plants. Other shoppers can use the wireless system to buy $5 market tokens with their credit or debit cards.
The LFM and Cottin's Hardware Farmers' Market, also in Lawrence, are also participating in a two-year pilot project that allows participants in the Lawrence Douglas County Women, Infants and Children Special Supplemental Nutrition (WIC) program to buy fruit and vegetables from approved vendors.
Volunteers for Just Food, a program administered by the East Central Kansas Economic Opportunity Corporation, glean surplus food from vendors for distribution through its food pantries. The LFM also works with Homegrown Lawrence, which supports Farm-to-School programs in Lawrence schools, and collaborates with Douglas County Master Gardeners.
Such efforts help bridge the gap between urban and rural populations and build a healthier Lawrence.
"A sustainable local food system is an important community resource," Garrett says. "We have to make it accessible."
GOOD GOVERNANCE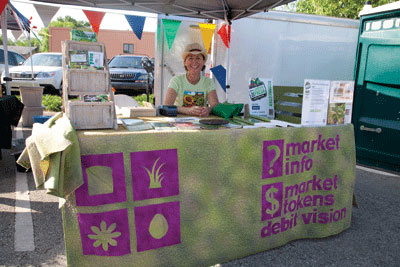 But none of it happens without good governance. The LFM operates much like a non-profit; indeed, Bramlett says it recently applied for 501(c)(3) status. Its 10-member board of directors includes six vendors and three community representatives, and there are two annual membership meetings.
Only LFM members can sell at its markets. Annual membership dues are $40, and first-time members pay a non-refundable $25 inspection fee. There's also a $50 advertising fee per stall (some members have more than one) that goes toward signs, advertising and other promotional materials, and a stall fee.
Stall fees vary depending on the day, stall location and type of pass. In 2012, a one-day stall pass for Tuesday or Thursday cost $9; a season-long corner stall at the Saturday market ran $280.
The LFM's $44,000 annual budget covers business liability insurance, promotions and other costs, and three part-time paid positions: the market director, market assistant and marketing coordinator. LFM members volunteer on committees that tackle issues like whether to add additional winter sessions.
Bramlett manages day-to-day operation such as registering vendors, collecting fees and assigning stalls. A market assistant helps with the Saturday market and runs the Tuesday and Thursday sessions.
This is Bramlett's first season on the job, although she previously managed the Brookside Farmers' Market in Kansas City and owns Lulu's Garden, a wholesale herb farm. So far, she's impressed with the LFM's operations.
"Everybody has the market's best interest at heart," Bramlett says. "This market's been around a long time and has really become an anchor in the community."