Non-Profit: lied center
Second Quarter 2012
story by DAISY WAKEFIELD
photos by STEVEN HERTZOG
Entering the Lied Center of Kansas's administrative offices seems pretty straightforward: open the glass door, walk in. But in actuality, those who enter do so to a time machine, a sophisticated movement of operations that happens in manifold time periods.
For Tim Van Leer, Executive Director of the Lied Center, this means that he moves in between three seasons at any given time. A presenting season is from September to April, so he is currently finishing up the 2011/2012 season. He's already completed all the bookings of the 2012/2013 season, which he started working on in January 2011. And this past January of 12, he started working on the 2013/2014 season.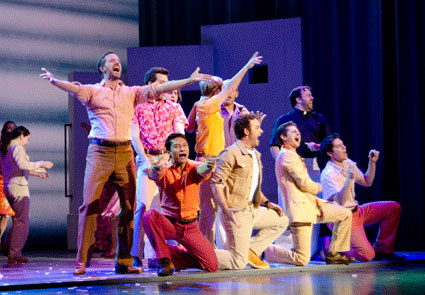 And then there's Megan Poindexter, Director of Development, who operates between a performance calendar (September to April), a fiscal calendar (July to June), and a donation calendar (January to December).
Welcome to the business of performing arts, where what you see is only a fraction of what is really going on backstage.
History of the Lied Center
The Lied Center was founded in large part through the Lied Foundation Trust, whose benefactor, Ernst F. Lied, attended the University of Kansas from 1923 to 1925. Former aide to Lied, Christina Hixson, became the trustee upon Lied's death, and has overseen the dispersion of the trust's funds to varied causes throughout the state. Another Lied Center for Performing Arts exists at the University of Nebraska, where Lied graduated.
Since opening its doors in 1993, the center has been home to performances, university and community events and presentations. The main auditorium seats 2000. In 2011, another $2.5 million project was completed which provided an expansion of the lobby, as well as the Lied Center Pavilion, a smaller, more versatile space for workshops, classes and receptions.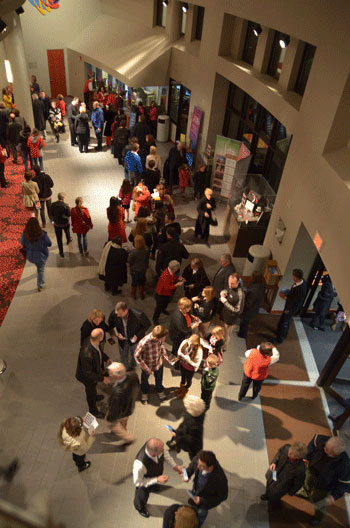 Economics and Performance Art
The Lied Center is funded through ticket sales, support from KU, facility rentals, endowment funds, grants and private donations. Gross revenue for the fiscal year 2011 was almost $2.5 million, with ticket sales at $575k.
"Friends of the Lied" is the private donation vehicle that allows businesses and individuals to contribute to the Lied Center. These donations comprise about 15% of overall revenue and help to keep the ticket prices at an affordable rate to the general public. These funds also allow the Lied Center to offer educational programs for free or discounted rates.
"We feel strongly that arts shouldn't be a hoity toity thing; it should be accessible to anyone in any economic situation," Poindexter says. "In 2010/2011, Our Friends of the Lied donors contributed $240k, through individual and business contributions."
As with any other business, the Lied has been affected by the recession. The booking process has been more difficult than usual, as artists were concerned about committing to tours. And while the number of donors has not decreased, there have been adjustments in how much they donate.
"That indicates to me their commitment, as well as their caution," says Poindexter. "But we have made sure that ticket prices have stayed in a place where people could afford it, adjusting each season in accordance. We were careful with our budget and accessed endowed funds to do this."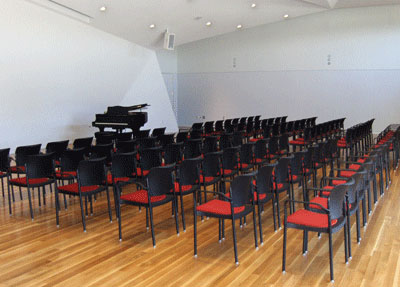 Education at the Lied Center
From insect life span performances for 2nd graders in the district, to teaching artists interacting with students at the Baker Wetlands, students in USD 497 are on the receiving end of performances and educational partnerships with the Lied Center. The center's School Performance Series provides free performances to each student in the district. These performances are divided by age groups and are used to support classroom curriculum. In recent years, this program has been expanded to include students in Baldwin, and private schools in Lawrence, charging a minimal amount per student.
Visiting artists also may offer Master Classes before or after performances, sometimes staying for a week just to interact with the community. This is where the new Pavilion is put to good use, as it can be turned into a space for Master Classes, small concerts, lectures or dining area.
"We look for artists that look to pay it forward," Poindexter says. "At least half do at least something of a master classes. Jin Xing, the first transgender person in China, did dance classes when she was here, and was able to interact with the LGBT community. And Intergalactic Nemesis, actors who do a live action graphic novel, did stuff with KU theatre students."
The Lied Center's Impact on Lawrence
When confronted with the notion that the economic impact of arts is subjective, Van Leer animatedly objects. He pulls out an Arts & Economic Prosperity study that states, "…nonprofit arts are a $33.5 million industry in Lawrence — one that attracts audiences, spurs business development, supports jobs and generates government revenue."
Besides the fiscal impact of revenue and 15 full-time and numerous part time jobs, Poindexter emphasizes that the existence of the Lied Center is an enhancement to Lawrence as a community.
"Having access to the arts encourages creativity, and creativity is good for economic well being of our society, through job creation, and innovation," she says. "I see this also in that our corporate sponsors tell us that it matters to them that they are sustaining a nice quality of life for their employees and customers through their support."