Nancy Longhurst
general manager, The Olivia Collection
Third Quarter 2012
story by ANNE BROCKHOFF
photos by STEVEN HERTZOG
Standing with Nancy Longhurst on the ninth floor terrace of The Oread, taking in the nearly 360-degree view of Lawrence, you know this is exactly where she wants to be.
Longhurst's spent much of her career in hospitality management, and she's now general manager of The Olivia Collection. The group includes The Oread, The Eldridge and The Eldridge Extended, and allows her to do what she likes best—take care of guests.
"I enjoyed my other jobs, but my passion is the hotel industry," says Longhurst, 55.
She discovered that passion early on, when she took an office job at the Holiday Inn Holidome while attending the University of Kansas. Longhurst eventually became its director of sales, before leaving to help renovate The Eldridge in the early 1980s.
The building was at the time an apartment complex. Longhurst helped transform it into an historic hotel and became its first general manager. But the work was demanding and the hours long, so when another opportunity came, she took it.
"I think at that point I just needed a break," Longhurst says.
She worked in the computer industry for seven years, and then became executive director for the Lawrence Chamber of Commerce's Leadership Lawrence program in 1999. Longhurst loved it, but she missed hospitality.
In 2005, The Eldridge's new owners asked Longhurst to return as general manager. She then oversaw design of The Oread's operations systems during its construction. Longhurst took her current position when that hotel opened in 2010.
Her schedule is still grueling—often 12-hour days, plus Saturday nights and catching up on emails during her off-hours—but Longhurst actually sees more of her family than ever.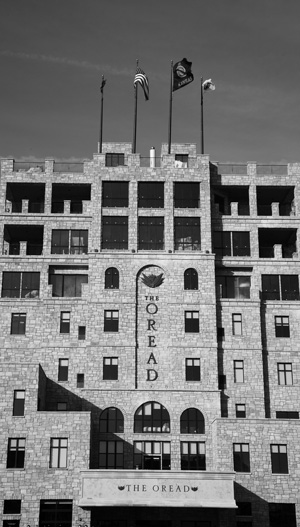 David Longhurst, her husband, is assistant general manager of The Eldridge. Her son, Harrison, works at The Eldridge's front desk and as a bellman. Her daughter, Natalie, recently began a job in the banquet department and spends one day a week in the office.
Longhurst sees their involvement as a way to impart her own work ethic to her kids. After all, it's how she grew up.
"We were raised to work and work hard. It's just what you did," says Longhurst, who grew up in Shawnee, Kan., and spent weekends at her grandparents' farm near Smithville, Mo., helping with the gardening, canning and other chores.
It's still what Longhurst does. She arrives at her office—an open desk next to reception at The Oread—around 7 a.m., and then spends days meeting with staff from all three properties, booking entertainment, inspecting everything from ballrooms to store rooms and overseeing all other operations.
Together, the properties have 155 rooms, 320 employees and dozens of meeting rooms, event spaces and restaurants. The sheer scale means Longhurst can no longer handle every detail herself.
"Now we're too big," she says. "I've learned you can't do everything yourself. Your team is vital to your success."
Sundays are Longhurst's home days, and she loves getting away to places near, like Missouri's Grand Lake or Lake of the Ozarks, and far, such as St. Maarten in the Caribbean.
Longhurst continues her community involvement, although she tries to limit it to one board membership at a time. Currently, she's on the Cottonwood Foundation Board of Trustees. Why? Because it's just what you do, Longhurst says.
"Any good business person wants to give back to their community, because they're the ones who make you thrive and grow," she says.