PROFESSIONAL SPOTLIGHT
Interview with Doug Gaumer – Intrust Bank,
photos by STEVEN HERTZOG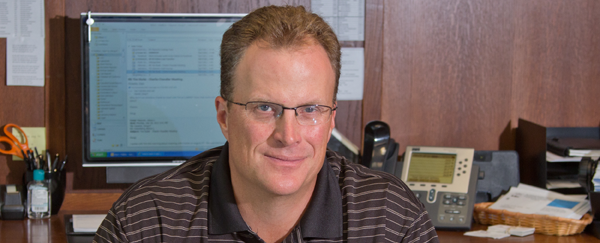 LBM: What is your company's most important commodity or service?
DG: Banking products and services have become rather commodified, that is, that features and benefits of our products and services are similar to that of our competition. As a result, our most important service is providing a positive customer experience to everyone that we serve.
LBM: Other than monetary, what is your company's most important priority?
DG: Our most important priority is enhancing and expanding our relationships with current and prospective customers.
LBM: What has been some of the most important aspects of your success?
DG: It begins with hiring great people who are passionate about delivering excellent customer service. The right team, combined with clear expectations about their purpose and a culture that supports fulfillment of that purpose, creates an organization capable of achieving success.
LBM: How do you manage your day-to-day stress of business?
DG: I am a firm believer in delegating responsibility and empowering people to make decisions. In my mind, it is simply logical to have the person closest to the decision, make the decision. There are clearly exceptions, but proper execution of that principle has multiple benefits. The employee feels good about the increased responsibility, the organization benefits as more times than not the person closest to the decision will not only make the right decision, but make it in a more timely manner. Further, delegating allows me to focus on doing the right things for the bank, that is, activities where I can add the greatest value. This allows me to address both profitable and volatile issues as they arise, which reduces my day-to-day stress.
LBM: How do you reward excellent work performance?
DG: We have multiple layers of incentives dependent upon one's position within INTRUST Bank. Most of these incentives are production based, but for employee's that go above and beyond, we do "on the spot" bonuses, as well as, recognition awards.
LBM: How do you manage poor performance?
DG: We conduct annual reviews of all employees; however, if we have a performance issue with an employee, we address it immediately, and typically create an outline of action steps to remedy the poor performance. It should be noted that we have zero tolerance for poor behavior (violation of Bank Policies, treating people poorly, etc…).
LBM: What is the biggest challenge you feel your company faces?
DG: The current economic and political/regulatory environment has made banking rather challenging. The challenge is identifying and capturing opportunities created from this environment to improve the fundamental strength of the organization.
LBM: How many people does your business employ? How many of those live in Lawrence? Does your company encourage people to live in Lawrence? What is the benefit?
DG: INTRUST Bank employs 24 people who all live in Lawrence. We do encourage our employees to live in Lawrence. We simply believe that people who are invested in the Lawrence Community will be better long-term employees.
LBM: What would you change about doing business in Lawrence?
DG: We are fortunate to be home to the University of Kansas, whose success has allowed this community to experience enormous investments that leverage the relationships with KU, but these investments aren't enough to continue growing our local economy. The challenge going forward, in my opinion, is how to both attract and retain new and existing businesses. It is imperative that we reverse the trend of flat to declining economic growth. I believe it begins with reducing transaction costs (time and expense for simply receiving permitting or zoning) for those willing to risk capital in making an investment in Lawrence. Our current policies are expensive, time consuming, and often, political. I would like to see Lawrence become a more competitive community for attracting investment. By pursuing an aggressive, but strategic, growth strategy, Lawrence becomes a more prosperous and productive City.
LBM: How does your business make a positive impact on the Lawrence community?
DG: The banking industry has been the victim of a tremendous onslaught of negative news. I would hope that the Lawrence Community realizes that the banks in Lawrence were not participants in the reckless behavior of the large Wall Street Banks. The banks in Lawrence are community-oriented in that they help local investors translate their ideas into reality. In addition, banks in Lawrence make significant investments in the community both with physical locations and through donations supporting the many great causes in this community. As such, it is through helping our customers achieve success, along with investing in our community, that INTRUST Bank has a positive impact.