PROFESSIONAL SPOTLIGHT: DOUG STEPHENS
March 2012 photo by STEVEN HERTZOG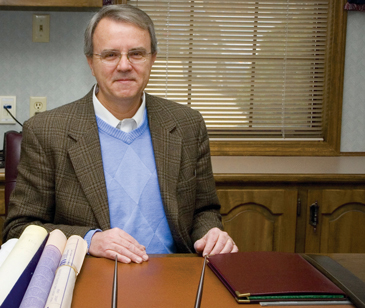 Stephens Real Estate
LBM: What is your company's most important commodity or service?
DS: We specialize in buyer and seller representation of real estate in the Lawrence, KS area. Staffing is key because we need to build relationships with our clients.
LBM: Other than monetary, what is your company's most important priority?
DS: Providing service. In this economy, providing the right service to our clients is more important than ever. Our clients rely on us to give them the best information possible so they can be decisive in their actions. We've built our reputation on being the best for our clients.
LBM: What have been the most important aspects of your success?
DS: Our business model is based on having the best agents in the field. We don't typically recruit agents from different firms. We recruit folks that are new to the industry and train them in our
way of conducting business. Our high-quality staff helps minimize turnover. Our agents stay with us and we all work to support each other.
LBM: How do you manage the day-to-day stress of business?
DS: Real Estate is a very emotional and stressful business, especially lately. We try to take as much emotion as we can out of the transaction. By managing emotions, we are able to keep a level head and control a lot of the stress that comes with our industry.
LBM: How do you reward excellent work performance?
DS: We like to hand out awards for top performers. But let's face it, we work in sales. We reward excellent work performance with financial windfalls.
LBM: How do you manage poor performance?
DS: We're lucky in the fact that we haven't experienced much poor performance. When it occurs, we rely on a lot of coaching with management and training, and re-training when needed, to get our employees where they need to be.
LBM: What is the biggest challenge your company faces?
DS: The current housing recession. It's a very difficult time for both
buyers and sellers. I think it's the worst real estate market since 1981.
LBM: How many people does your business employ? How many of those live in Lawrence? Does your company encourage people to live in Lawrence? What is the benefit?
DS: We have 53 employees, the majority of which are full-time. All of our employees live in
Douglas County. I can't think of a time we've had an employee that didn't live here. I think that's great. We encourage all of our employees to be active in our community. It helps make us a
good corporate citizen.
LBM: What would you change about doing business in Lawrence?
DS:We need to start reforming Lawrence as a destination for economic development and job creation. We need high-paying positions in Lawrence. I think to do that we must emphasize all that is great about Lawrence: KU, great schools, our support of the arts.
LBM: How does your business make a positive impact on the Lawrence community?
DS: We encourage our people to be very active in the community. We want our people to be leaders in the community
LBM: You operate in a very competitive industry. How have you manage to remain
relevant and profitable?
DS: When I started in this industry, there was something like 3 companies in town. Now there are more than 30 real estate companies that have a share of the Lawrence market. We've remained relevant by keeping our staff and support system.
LBM: Over the course of your career, what has been the single largest change in the Lawrence real estate environment?
DS:The development of buyer representation has really changed the real estate world. Also, the amount of information available online is absolutely incredible.
LBM: What do you foresee as being the biggest challenge to the Lawrence real estate market?

DS: Lawrence needs more economic growth and job creation. We need
more well-paid clients looking to buy.
Stephens Real Estate
2701 W. Sixth Street
Lawrence, KS 66049
Phone: 785-841-4500
Fax: 785-841-8437
Toll-Free: 1-800-875-4315