SPIRIT OF AN ENTREPRENEUR
by Derek Helms
photos by STEVEN HERTZOG
As a young professional, Julie Goonewardene never imagined being an entrepreneur.
"I always thought entrepreneurs were crazy," Goonewardene says with a laugh. "Really. I never understood why someone would take on all that risk and stress with no guarantee of a return. No thanks."
Well, her opinion has changed. As the new Associate Vice Chancellor Innovation and Entrepreneurship and President of The Center for Technology Commercialization at University of Kansas (KU), Goonewardene is charged with helping faculty at KU capitalize on their research.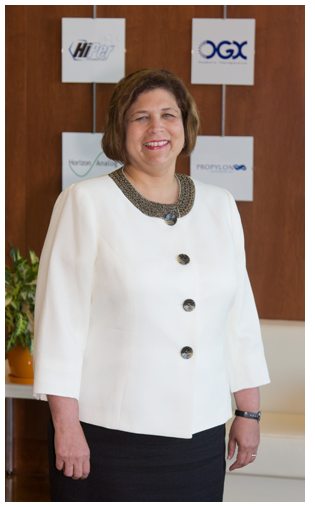 "This is the greatest job in the world," Goonewardene said. "I spend my time helping absolutely brilliant people take their complex and sometimes a bit abstract ideas and turn them into a marketable product or service. Really, it's completely fascinating."
Prior to coming to KU in January, Goonewardene established herself as a major player in the world of academic entrepreneurship. As the Director of Business Development at Purdue University, Goonewardene was at the helm of the Purdue Research Park, the largest university-affiliated research park in the United States. A study compiled by Thomas P. Miller and Associates of Indianapolis and released in June estimates the Purdue Research Park provides an annual economic impact of $1.3 billion to Indiana's economy.
Wally Meyer, Director of Entrepreneurship Programs at KU, said the business school is thrilled to have Julie on board.
"You can't work in the academic and entrepreneurship arena and not know what Julie helped accomplished at Purdue," Meyer said. "The research park at Purdue is absolutely an example of what is possible, and I know Julie played a major role in its success. To have her working on behalf of our researchers and faculty is absolutely something from which Lawrence, KU and the state of Kansas will benefit."
At Purdue, she created a philanthropic venture capital investment fund, handled faculty entrepreneurial programs and worked closely with Purdue-based startup companies. Previously, she spent more than 20 years in the private sector, including six years as founder, CEO and president of Cantilever Technologies, which was purchased by i360technologies Inc.
Goonewardene's consulting expertise is born from more than one successful stint as an entrepreneur. After ushering start-ups to successful public offerings, it became clear to Goonewardene that maybe she was a little bit crazy too.
"I learned that I really like to create things," Goonewardene said. "The process of taking an idea, putting in the work to make it a marketable product, and then being successful is thrilling. I thrive in the collaborative spirit that is essential for a new company to be lucrative."
A collaborative spirit is exactly what she is trying to build on Mount Oread. Goonewardene's major function is to, for lack of a better tern, hold the hands of KU faculty looking to capitalize on their research.
"There is no end to the things I try to do to help," Goonewardene said. "This campus is bursting with brilliant people. Professors have already come to me with phenomenal ideas. Some of them are well along the way, and my office is needed only as a small guiding voice. Others are much less developed. It's my job to guide that idea, find investors, determine marketability and help with a business plan."
Wally Meyer said Goonewardene's influence has already been felt on campus, not just by faculty members. "Specifically, Julie's work with a possible start-up on campus has provided KU students with opportunities to learn needed business skills," Meyer said. "Because of her help with the company, our students are working on market research that is essential for any entrepreneur. They are actively doing the work they are in school to study." Goonewardene is clearly excited about the possibilities.
"The campus is at an inflection point," Goonewardene said. "That's one of the reasons I am so excited to be here. There are so many inspiring people on this campus, I'm thrilled to work with them. Yes, these are challenging times for all universities. But I'm a huge believer in the social sciences and our faculty are doing truly noble work."
As Goonewardene and family settle in Lawrence, she has noticed an unnecessary amount of humility. KU as a university and Lawrence as a city need to stick out their chest. Both are, according to Goonewardene, absolutely fantastic.
"Kansans tend to be modest," Goonewardene said. "But KU needs to be a bit more willing to brag about its outstanding infrastructure, assets and capabilities. This university has a lot to offer in terms of economic development, and we've seen plenty of examples of that recently. Given the state and nation's economic challenges, KU has an important role in creating an educated workforce and engaging in research and innovation that creates jobs and grows the economy," Goonewardene said. "That's what we've been doing. And I believe the best is yet to come."