BUSINESS OF ART
by Ann Frame Hertzog and Steven Hertzog
Now more than ever, businesses need to be smart, proactive and creative. No place is that
taken more to heart than at the Lawrence Arts Center, where being creative is at the core of the business model. Since it's inception more than 35 years ago, the Lawrence Arts Center has developed into a solid business, anchoring downtown and providing Lawrence with a powerful recruiting instrument.

COMPREHENSIVE NUMBERS

The Arts Center has 12 full-time employees, 5 part-time employees, and more than 100 contract-teaching artists and performance staff. In the course of a year, there are hundreds of volunteers that help at the front desk, in the preschool and on field trips, in the visual arts studios, as ushers, bartenders, photographers, event planners, financial advisors, and more.
The Arts Center also has unpaid internships in exhibitions, education, and performance programs.
All employees and volunteers work toward the same goal of provided services or programming in one of three departments:
1. Arts Education
Annually, the Arts Center has 500 children in preschool, 200 in Summer Youth Theater and Tech Theater, 150 in winter ballet, 500 in dance, 400 in elementary school summer camps, 150 In Arts Institute classes and hundreds more in other performance and visual arts classes. More than 300 classes are offered each year with approximately 2,700 enrolled.
2. Exhibitions
The Art Center galleries host up to 30 exhibitions a year.
3. Performance
With the new season that began on August 1, 15 shows will be produced at the Arts Center. These will include The Pied Piper of Hamelin, A Kansas Nutcracker with the Lawrence mandolin Orchestra, Willy Wonka, and Cabaret, as well as theater for very young children. The Arts Center will also bring in two contemporary dance companies.
FUNDING CHALLENGES

The Lawrence Arts Center utilizes multiple income streams and resources to budget for all of its programs. For this fiscal year, beginning August 1, the Arts Center has planned a budget working with 65% from earned income (tickets, tuition, art sales), 7% City of Lawrence, 28% donations and grants. The budget reflects the loss of state and NEA funding for the arts.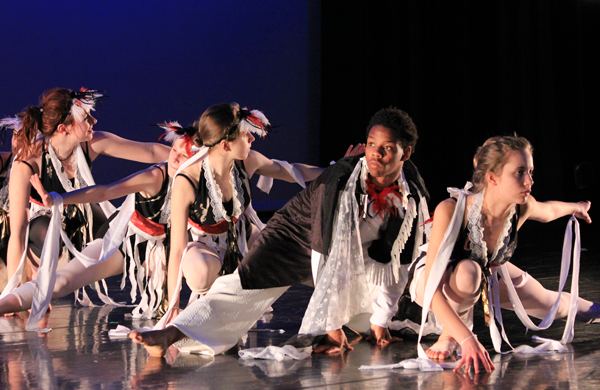 "One reason that this funding is vital is because it was for operations; losing this type of support is difficult for all arts organizations as it is difficult to replace," said Susan Tate, Executive Director of the Lawrence Arts Center. "The losses in state funding make private and corporate support more important than ever. In additional to the absolutely essential financial support businesses bring to arts organizations, our business partners offer models for management, financial advice and marketing ideas. In turn, a thriving arts scene helps businesses attract and retain the best workforce. Business support of our work is natural because our interests are the same: exceptional quality of life and an innovative creative community."
QUALITY OF LIFE

The Arts Center has become a focus of the downtown area and a fixture on the quality of life index for businesses looking to relocate to Lawrence.
"The Arts Center is one of those things that make Lawrence unique," said Beth Johnson, Vice President of Economic Development for the Lawrence Chamber of Commerce. "In addition to their other criteria, companies want to locate in communities that offer employees a high quality of life. One of those considerations is the presence of the arts as a fundamental part of the community culture and we have that in Lawrence thanks in large part to the Arts Center."
PARTNERSHIPS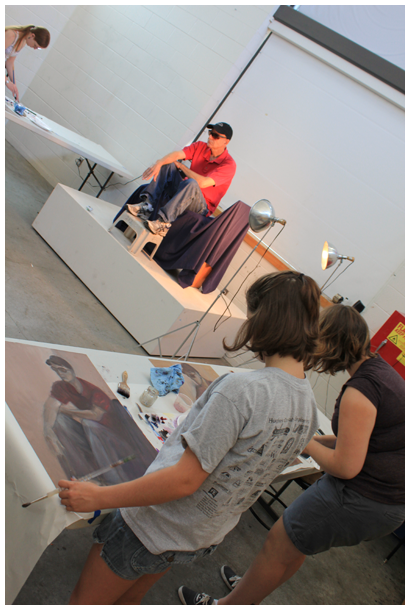 Through years of hard work and thoughtful planning, the Arts Center has developed strong relationships with local businesses and organizations. Those relationships take advantage of the strengths of the business partners while developing a symbiotic partnership – both the Arts Center and the business partner are stronger. In various capacities, the Lawrence Arts Center employs over 120 people each year; offering arts education that complements arts classes in public and private schools; providing live music, theater, dance, and a film series; coordinating Final Fridays and attracting people of all ages to downtown Lawrence. Business partners help make this possible through financial support, in kind donations, advocacy and advice.
"Our business partners now and in the future should believe that they are investing in our quality of life and in a type of community that attracts and maintains the best workforce when they support the Arts Center," Tate said. "We hope that our business supporters know that a creative community always offers these rewards, and when they support arts organizations, we all benefit."
EXPAND THE AUDIENCE

The Arts Center takes advantage of gallery shows and performances to add educational elements to the program. For example, in addition to the social and historical aspects of an exhibit like the upcoming feature of Baron Wolman's Rolling Stone photography, the Arts Center will also conduct a panel discussion about photography to the community as well as a separate lecture by Wolman about his work.
This exhibit, like all others at the Arts Center, aims to engage, challenge and expose the audience to art. "The images Baron has created have the unique ability to communicate differently to the varied generations that will certainly see the show." Ben Ahlvers, the shows' curator and Director of Exhibitions at the Arts Center, said. "For many from the baby boomer generation, it's nostalgic. For younger generations there's potential to gain insight to a time in American Popular culture's history and to gain new perspectives on the period and musicians who were essential to it." Given the subject matter within Baron's photographs (rock stars), there are likely to be new audiences coming into the galleries.
"It's the chance to expose new people to the Arts Center's possibilities that gets the staff excited," Tate said. "We feel that if we can get someone to come through those doors for one exhibition, show or class, they will be back for more."
WHY START WITH ART?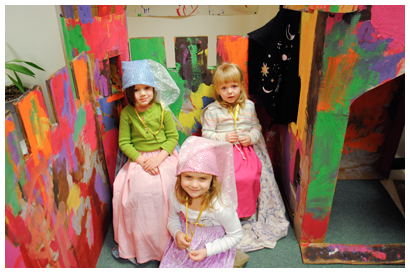 The Arts Center is not content to just let the future unfold; they are taking an active part in creating their future. By developing creative minds, the Lawrence Arts Center Preschool uses a creative arts-based teaching structure to bring out children's natural interest in learning.
"The foundation for higher learning begins in early childhood," Linda Reimond, Arts-Based Pre School Director explained. "The 'Arts' build that foundation by empowering children to become confident, problem solvers, and creative thinkers. Why art, you ask? Because learning through the arts enhances brain development, supports individual leaning styles, and helps prepare for success in school and in life. Children who feel free to make mistakes and to explore and experiment will also feel free to invent, create, and find new ways to do things. " The pre-school helps to raise well-rounded children that will grow to become the social and business innovators of the future.
THE FUTURE
Susan Tate is excited for the future in Lawrence. "It is the community that makes us strong, and business partnerships that help us grow," Tate said. "As we head into the future, we
know with the business community behind us, the Lawrence Arts Center can be a regional leader in community-based contemporary exhibitions programs, arts education, artist residencies, and performance."
VISIT: 940 New Hampshire Street,
Lawrence, Kansas 66044

CALL: 785-843-2787


BROWSE: LawrenceArtsCenter.org


HOURS:
9:00 a.m.- 9:00 p.m. M-S | 1:00- 5:00 Sunday
The Arts Center is a 501©3, making gifts tax
deductible for their donors.