The Business of: Hardware
Third Quarter 2012
story by DEREK HELMS
photos by STEVEN HERTZOG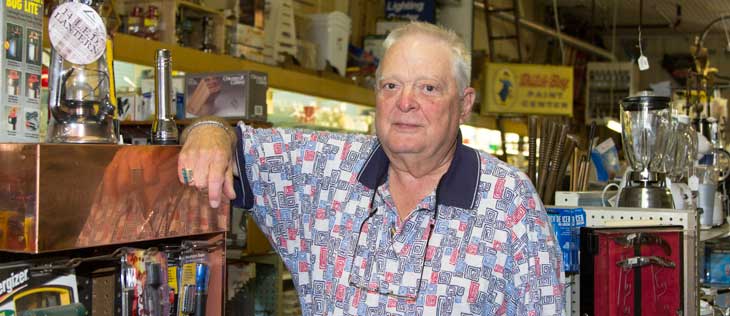 In the United States, the business of hardware stores is a hundred billon dollar annual industry. Ranging from corner-store shops to massive lumber yards, there are as many as 30,000 hardware stores in the country, but numbers are declining as "home centers" take the place of mom & pop shops. The hardware store market in Lawrence is representative of the national industry at-large. Local and regionally owned shops fight for market share with larger national chain stores.
If the hardware store market in Lawrence is an ocean; The Home Depot is a blue whale. The Lawrence box store has been the biggest player in local lumber, tools and supplies since opening in 2003. Though local sales figures are not available, according the corporation's annual report, national Home Depot net sales increased 3.5% to $70.4 billion for fiscal 2011 from $68.0 billion for fiscal 2010. Comparable store sales increased 3.4% in fiscal 2011, driven primarily by a 2.6% increase in comparable store average ticket. Comparable store sales for U.S. stores increased 3.0% in fiscal 2011.
Bruce Knight, Lawrence store manager and The Home Depot associate for 14 years, says the store is excited to celebrate its 10-year anniversary in April.
"We feel privileged to be a part of the Lawrence community and try to give back through our Team Depot volunteer projects and be good community partners," Knight says. "The Home Depot values Lawrence."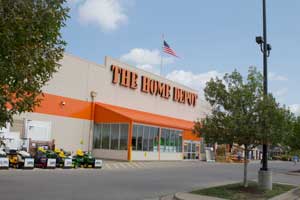 The shop, covering multiple acres off south Iowa Street employs up to 150 people each spring, their busiest season. On average, 125 people wear the trademark orange aprons and work in the store's multiple divisions. The Home Depot is the only full-service home center in Lawrence. The store offers lumber, equipment, large appliances and experts on staff.
Knight says the company prides itself on helping not only major contractors, but also weekend warriors tackling home repair.
"We carry over 35,000 products in stock and are increasing our product selection available online and have instituted buy online and pick-up in store in the last year," Knight says. "We offer a low price guarantee on our in-stock merchandise; if a competitor happens to be lower we will meet the price and beat it by 10%. We also offer specialized credit options including consumer, commercial and project loans."
Though some would argue that The Home Depot's size, national presence and overwhelming advertising budget are its biggest strategic advantages, Knight disagrees.
"Our people, including bilingual associates reflective of our community, are the strength of the Home Depot brand," Knight says.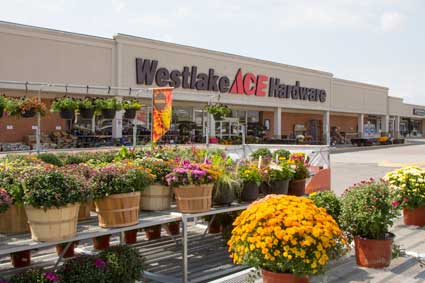 Westlake Ace Hardware, if not as large as The Home Depot, has its own fair share of the Lawrence hardware market. The regional company (85 stores in KS, MO, IA, NE, TX and NM) opened its first Lawrence storefront on 23rd Street in 1984. Fifteen years later Westlake's second store opened on 6th Street. The company employs about 1,500 people between stores and corporate office. Local employment numbers vary by season.
Westlake is the largest independent Ace dealer in the country. A management investment firm owns all Westlake Ace Hardware stores. Westlake is not an Ace franchise per se – but a dealer of Ace branded products, among other repair and maintenance and lawn and garden products. As a privately held company, Westlake does not release financial information.
Though spring is traditionally their busiest season, Westlake finds itself at the mercy of the weather.
"The summer drought has been challenging for our lawn and garden business throughout the Midwest," says Liz Benditt, corporate spokesperson. "We are thrilled that temperatures are dropping and customers are picking back up their outdoor projects before winter kicks in. Customers consistently have home repair projects that keep them busy. But we do see a surge in the spring season when we bring out our live goods and garden centers."
According to Benditt, it's people, not products that separate Westlake from competing hardware stores.
"We have a strong commitment and focus on customer service that you do not see at other stores," Benditt says. "Our employees are trained and rewarded based on their ability to be genuinely helpful to each and every customer."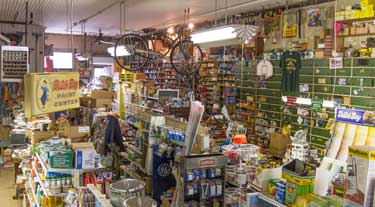 If The Home Depot and Westlake Ace Hardware represent the current and future of the hardware store industry, two Lawrence shops are snapshots of the past. Ernst & Son Hardware and Cottin's Hardware, both in downtown Lawrence, are two long-time, locally owned stores.
Ernst & Sons is nearly as synonymous with downtown Lawrence as Massachusetts Street itself. Located in the same building (826 Massachusetts Street), operating as the same store and owned by the same family since 1905, Ernst & Son is now in its third generation.
"Yep, we've held on well and done okay," owner Rod Ernst modestly says. The 78 year-old shopkeeper took over store operations from his father in 1973. His grandfather opened the store 107 years ago and passed it on to Rod's father.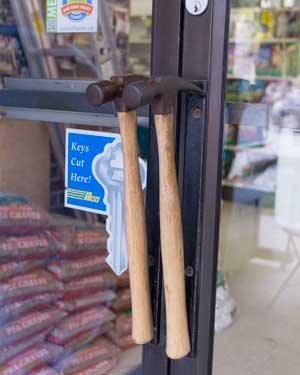 Rod Ernst has experienced the evolution of the local hardware business from the small locally owned stores to the major corporations. In his more than 60 years in the business, Ernst says the process of purchasing goods has created the greatest challenge for smaller stores.
"We don't operate on the same foot as the big box stores," Ernst says. "Back when we started, and for years and years, all stores purchased their goods through wholesalers. We were all on the same foot. Then these box stores started to get big in the 1970's and they started to just bypass the wholesalers. Well, now they're not on the same playing field as us smaller stores, and it makes it harder for us to compete on price."
Ernst & Son's store is a bit like a time capsule. The old wooden floor creaks as customers walk through the aisles. Tools and equipment hang on the wall and an old-fashioned cash register sits on the counter. Not much has changed in the store over the past 50 years. When major competition moved into to Lawrence in the late 1970's, Ernst & Son managed to maintain their market share.
"Lawrence was big enough to absorb that," Ernst says. "And we're still here after most of those big stores south of town are gone."
Ernst admits that it's hard for his small store to compete with The Home Depots of the marketplace on price. But, Ernst says, they offer things the big stores don't always have.
"We carry merchandise that others don't," he says. "It's hard for the larger stores to maintain supplies of some of the more obscure items, because they have to keep moving merchandise through. If we get something and it doesn't sell right away, we keep it until it does."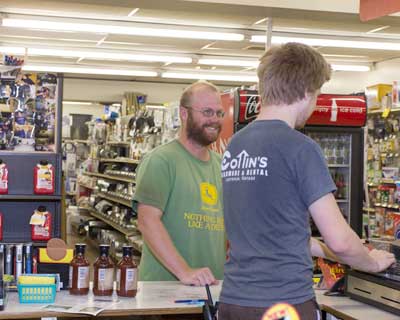 Ernst credits a viable downtown and steady customers as two keys to his success. Though he doesn't promote the idea of a nostalgic trip to the hardware store, he does appreciate seeing generations supporting his store.
"Yeah," he says with a sigh. "I meet people who first came in with their grandfather, and are now bringing in their grandkids."
Much like Ernst & Son, Cottin's Hardware and Rental is fighting for market share with The Home Depot. Cottin's Hardware & Rental has been a family owned and operated hardware store since 1946. Linda Cottin and her husband purchased the store from Bob & Barbara Zimmerman in 1992.
"Our biggest challenge is getting more customers through our door," Linda Cottin says with the mater-of-fact tone you'd expect from a woman that has spent much of her life working in hardware. "Competing with a home building center is tough, not to mention the other hardware stores in town."
Linda says Cottin's pride themselves on their customer service. Though most of the products available at hardware stores are the same, the customer experience certainly is not.
"I really think our customer service sets us apart in the local market," Linda says. "Yes, you can go to a box store and walk their aisles and aisles, but you may not be able to get a good answer to your question. We will answer your questions, or put you in touch with someone who can. We are here everyday to help people."
Business has shifted in the 30 years Cottin has owned the store. Considerably more business is now from folks working on home repairs themselves. Twenty years ago, contractors were a major source of sales. Cottin credits a change in information for the shift in business.
"I think there is a lot more information available now, and a lot more people are doing minor repairs and home improvements themselves."
Though the market is competitive, Cottin says she knows the future of her store is best served by working with the other local hardware stores.
"We communicate with Ernst & Son or Westlake a lot," she says. "We don't have the purchasing power or resources of The Home Depot, so we often work together with our suppliers. For instance, maybe we need a product, but our suppliers don't carry it. We can call the guys at Ernst and maybe they have a supplier for the product. Then they call us with the same issue on a different product. It's a good relationship and I think we all realize we can work together and be successful."
Cottin also credits the community for supporting locally owned hardware stores.
"Lawrence is a great community," she says. "We are here to help the people of Lawrence however we can. I think the community appreciates that, and we appreciate their business."