Non-Profit: Van Go celebrates 15 years of
arts and kids
Third Quarter 2012
story by DAISY WAKEFIELD
photos by STEPHEN HERTZOG

Lynne Greene, Founder and Director of Van Go, calls her employees her kiddos and it's not meant to be patronizing. The employees are ages 14-21, and in her heart, they are her kids.
A former social worker and art curator, Greene started Van Go in 1997 and merged her two passions – disadvantaged youth and art. Her vision was to give at-risk youth a venue for building relationships and esteem through making art.
To do this, Van Go hires teens for main and interim sessions of making art. The teens, who are called Apprentice Artists, work 10 hours a week and are paid minimum wage to create products for sale for fundraisers and commissioned work. Referred for employment mostly through social workers at schools, 70% of the employed teens at Van Go fall within poverty lines. Because of their socioeconomic backgrounds, they are at high risk for substance abuse, teen pregnancy, juvenile delinquency and mental problems.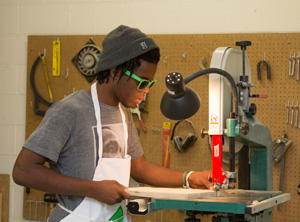 "We get the kids that other people consider the 'throw away kids,'" Greene says, "But you look out on that [workspace] floor, and you see a bunch of teens who are working hard at their job. They are respected for what they bring, what they give, and who they are. For many of these kids, there is no other place where they can feel successful. But here, it is a failsafe program."
The failsafe aspect of it is what keeps the teens coming back. Many of them apply for a second or third session, and some are employed from 9th grade through their senior year of high school. The program has an attendance rate of 95%, a completion rate of 97%, and a higher graduation rate in similar peer comparisons. A separate program works with youth 18-21 in the transition from school to adulthood, aiding in social services and job placement.
The studio space is a converted warehouse on the east side of town at 7th and New Jersey. It looks artsy even from the parking lot, with brightly painted Van Go Mobiles and planters of flowers. A large mural greets visitors in the open foyer. Glass offices and a computer lab of Macs line the perimeter of a large working studio floor. The woodcutting workshop, display studio and full kitchen round out the space.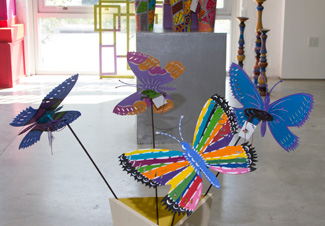 Van Go employs a 5 full-time staff and several part-time staff, including a full-time social worker. The teens work on their projects in the main studio space, but they also intermittently weave back to the offices, for help with homework, or advice on future plans, or most poignantly, an empathetic ear.
"We do as much esteem building through the process of making art as some one-to-one social service programs do," Greene says. "Making art builds esteem in these kids and ultimately impacts if they finish school."
Like other humanitarian non-profits, Van Go relies heavily on grants and individual donors for their yearly budget of $641K. Their sources of funding include city and federal grants (38%), private foundations (12%), United Way (3%), private donors (10%), sales of artwork and facility rental (28%) and corporate sponsors (6%).
Though the organization has suffered the loss of state funding, it has been able to keep up with their budget needs through increased private donations. But they are constantly mining for new grants and sources of funding.
To sell artwork, Van Go holds several fundraisers throughout the year. What Floats Your Boat is held at the Clinton Lake marina, where there is an auction of summer-themed artwork set against beer, barbecue and a live band. The Holiday Adornment Sale is another major fundraiser at the studio, transformed into a twinkling wonderland for sales of wooden wastebaskets, fused glasswork and holiday ornaments.
Van Go's crowning achievement and most recognizable symbols are the art benches adorn businesses through the community. The Summer Benchmark project, which is a commission of 20-22 benches each year, begins in late May and ends with the bench dedication in late July. Businesses or individuals commission the benches for $1000 from Van Go, who assigns the work to employees whom they feel are a good pairing. Van Go has sold out of commissions each year.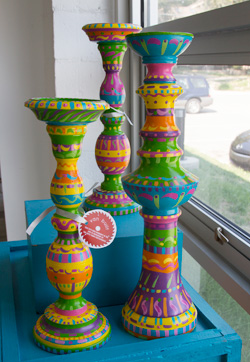 The artist meets twice with their client – initially to discuss the theme, and then again for the client to review and approve the design. They create blueprints for their design, and benches are cut at the workshop, with older teens doing their own woodcutting. A huge checklist of 30 steps is plastered on one of the studio walls for the workers to methodically go through all the stages of planning and implementing the work.
The project culminates in a bench dedication, where the client sees the completed bench. The client agrees to display the bench and artist statement at their place of business. Close to 300 benches dot the business landscape throughout Lawrence. Word of mouth has widened the clientele to across the US, with notable clients being Best Buy, Del Monte, poet laureate Rita Dove and author Toni Morrison.
Greene says that this business model serves as an effective tool for teaching the teen workers everything from meeting deadlines to interpersonal skills. The recognition that the teen receives through the public display of their bench is a profound part of the program's success.
"When the kids make a bench that they know will be in the public and seen, it's an extension and reflection of them," Greene says. "It's a birthing process for them, from a seedling of an idea to the completion of their work."