CORNERSTONE OF DOWNTOWN
| Fourth Quarter 2012 | story by ANNE BROCKHOFF | photos by STEPHEN HERTZOG |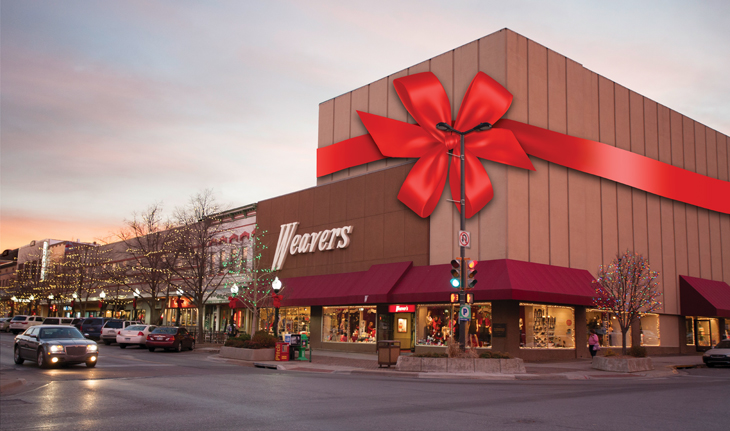 THE GIFT IN DOWNTOWN
It might have been 30 degrees outside, but Gina Hummel grinned as she sang Christmas carols and waited for Santa to "land" on the roof of Weaver's Department Store during the annual Downtown Holiday Lighting Ceremony.
When Santa arrived, he was quickly rescued by the Lawrence-Douglas County Fire/Medical service and delivered into the cheering crowd. Watching it all has been a Black Friday tradition for Hummel and her family the past five years, and she can't imagine it taking place anywhere else.
"We love Weaver's," says Hummel, a Lawrence resident who regularly shops in the store. "It's the main hub for events like this."
Weaver's has long provided a backdrop for Lawrence life, which is something of an accomplishment given that the era of independently owned department stores is largely over.
Newman's in Emporia, Innes Department Store in Wichita, A.A. Wiesner and Son Department Store in Hays and countless others across Kansas have disappeared over the years. The culprit? An onslaught of competition from chain retailers, discount stores, shopping malls, big box retailers and online shopping.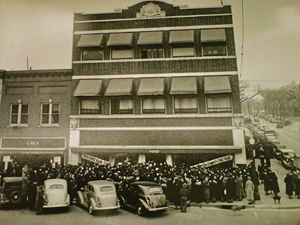 There's nothing special about Kansas, though. Countless independent department stores across the country have suffered the same fate, says Dr. Vicki Howard, associate professor of history at Hartwick College in Oneonta, N.Y.
"The fact there are still a couple holding on is amazing," says Howard, author of a forthcoming book on the history of department stores. "You can probably count them on one hand."
Weaver's is among them, and it remains a true department store. Its four floors offer men's and women's clothing, intimate apparel, shoes, luggage, linens, gifts and gourmet housewares. Cosmetics lines including Clinique and Lancôme, perfume and special occasion dresses draw locals and out-of-towners alike.
"In prom season, girls come in from far western Kansas and from beyond Kansas City," says Weaver's vice president Earl Reineman. That's a far cry from the small dry goods store Lathrop Bullene opened at 723 Massachusetts Street in 1857, one year before R.H. Macy opened his first "fancy dry goods" store in New York. The store did a solid business in groceries, tools, cloth and other staples, moving to several locations on Massachusetts Street as it expanded, according to an online exhibit by the Watkins Community Museum of History.
A.D. Weaver joined the business in 1883 and later married Bullene's daughter, Gertrude. The couple bought the store in 1886 and renamed it Weaver's. Their son, Art Weaver, began working there in 1915.
Weaver wanted to expand, so when the Innes Bullene & Hackman Department Store closed, he took over its building at 901 Massachusetts Street. It was the perfect location, but terrible timing—Wall Street crashed shortly after the new Weaver's opened in October 1929.
The store survived the Great Depression and World War 2, but soon faced new pressures from chain stores like J.C. Penney, Sears and F.W. Woolworth Company.
"Independent merchants who had been the biggest store on Main Street began to feel threatened," Howard says.
Department stores adopted chain strategies in order to compete. They created buying groups to boost purchasing power and trade organizations like what is now the National Retail Federation to better understand market trends—practices that still benefit Weaver's.
But it wasn't enough to save some stores. The industry had begun consolidating in the 1920s, and the trend accelerated after the war. Almost 60 percent of the country's independent department stores either closed or merged between 1929 and 1954, going from 2,166 stores nationwide to just 905, according to Howard.
Art Weaver successfully navigated that increasingly challenging landscape and in 1950 recruited Larry Flannery to the store. When Weaver decided to retire, Larry Flannery, his friend, Jack Eckles(owner of the now-defunct Eckles Department Store in Dodge City) and a group of Kansas investors formed a corporation to buy the business in 1962.
Weaver's Inc. still owns the store, hosts an annual meeting for shareholders and is governed by a four-member board of directors.
The privately held company doesn't disclose sales figures, but current Weaver's president Joe Flannery is positive about its performance.
"We're on solid ground, knock on wood, and we just want to maintain that," he says. But 1962, proved a consequential year in retail history. That was when Kmart opened its first discount department store in a Detroit suburb; it had 166 such stores by 1966. Walmart also opened its first store in Rogers, Ark., in 1962, while Target kicked off in Roseville, Minn. These companies initiated an avalanche of change in the industry, but change didn't scare Larry Flannery.
"My father always emphasized the importance of continuous change," says Joe Flannery. "He was always looking at the latest trends."
Weaver's bought the men's clothing store next door and opened the wall to connect it to the main store. It added more women's ready-to-wear apparel, and converted the basement from storage and sign painting to retail space for housewares. Weaver's now has 20,000 square feet of selling space, plus another 10,000 square feet of offices, storage and other operations.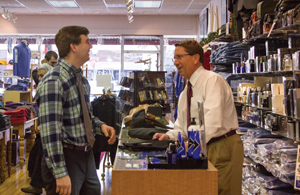 In 1971, Weaver's took advantage of the city's downtown improvement program to give its building a face-lift. The main store was red brick with rows of large windows; the front of the menswear store was stone. Both were handsome, but inefficient and incongruous, so the company added the façade that's still in place today.
"As much as I loved the original building, I think updating the exterior has probably helped over the years," says Flannery, who joined Weaver's in 1972 after graduating from the University of Kansas.
Flannery became Weaver's president and its general manager— only the fifth in its 155-year history—in 1987 after his father unexpectedly passed away. He had his work cut out for him. Competition had only intensified, and independent department stores were still losing ground.
According to Howard, the 660 one-store companies (most of which she assumes were independently owned) still in business by 1984 accounted for just 1 percent of the U.S. retail market.
Most department stores were by then owned by national chains, and many were leaving downtowns in favor of new digs anchoring the regional malls springing up across the country. Such malls opened in Salina, Hutchinson, Manhattan and other Kansas towns in the 1980s, but Lawrence resisted developers' efforts to bring one here.
"That made a big difference," Flannery says. "It saved our downtown."
But even regional malls faltered as so-called big box retailers eschewed malls in favor of separate footprints in the 1990s, and online retailers gained momentum in the new millennium. Throughout it all, Weaver's remained focused on its own mission, Reineman says. "We have to change with the times, but, at the same time, we have to maintain the qualities that make us unique and special," he says. "That's a fine balancing act."
Flannery and Reineman agree that their most important quality is customer service.
Weaver's offers perks including tailoring, free home delivery, shipping, special orders, free gift wrapping year-round and a wedding registry. But the real difference has more to do with people, says Cathy Hamilton, executive director of Downtown Lawrence.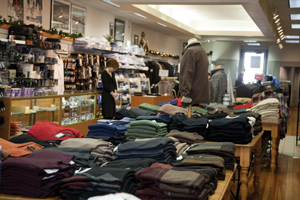 "Their customer service is really second to none," Hamilton says. "They have a lot of long-term sales associates there, and there's an old-fashioned way of doing business."
The store's 50 employees are evenly split between full and part-time staff; another 20 positions are added during the holiday season. Benefits include paid vacation and holidays, a flex-time option, a 401(k) retirement plan, in-store discounts and a health care plan.
Flannery says turnover is low, something he attributes mostly to the relationship between employees, the store and its customers.
"We've had dozens and dozens of people who've worked here for 20, 30 or 40 years," Flannery says. "That's just the history of Weaver's."
In 2000, Weaver's began a new chapter by purchasing its building for an undisclosed sum. Owning the building means Weaver's has more control of its overhead and other costs—financial stability that's essential to an independent store's survival, Howard says. The store has in recent years restored the original wood floors in the men's department and second floor walkway, and it still uses the pneumatic tubes that once shuttled transactions between sales counters and a central cashier for internal messages.
Carpets and fixtures are regularly updated. The company is also installing energy efficient interior lighting, participates in Westar Energy's WattSaver Program and in August replaced its exterior sign with an LED version.
Weaver's continues to refine its merchandise mix, focusing more on men's and women's fashions, shoes and gourmet housewares in recent years. Most of the store's inventory is purchased about six months in advance—Weaver's bought much of its spring apparel and footwear in September and October.
How does the store's management know what to buy? By using forecasting techniques to analyze everything from past sales and current inventory levels to prices, cash flow and retail trends.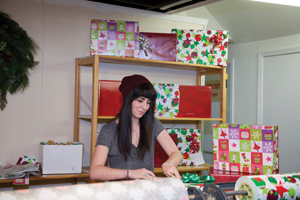 "It's all based on the time of year, and every quarter is different," Flannery says.
Weaver's uses buying affiliations like The Gourmet Catalog & Buying Group (kitchenware), N.W. Buyers Menswear Buying Group and The Doneger Fashion Group (women's fashion) to get the same merchandise sold by Williams-Sonoma, Nordstrom and other upscale chains at favorable prices, Flannery says.
Collaborating with such groups also lets Weaver's tap into their forecasting and trend expertise. The store always reserves part of its purchasing budget (called open-to-buy in the industry), so it can adjust inventory levels as needed.
"Their trends are usually on-target, but we feel as an independent operator we can adapt quickly if things do change," says Flannery, who serves on the National Retail Federation board of directors, Lawrence Memorial Hospital board of trustees and Douglas County Bank board of directors.
Direct mailings and catalogs remain the most effective way to reach Weaver's customers, Flannery says. The store also advertises in the Lawrence Journal-World and local cable television. It uses social media to connect with shoppers, especially students at the University of Kansas, who account for about a quarter of its customers.
There's a web site, too, that will soon change as Weaver's adds online shopping to the mix next year. The new site is still in development, and Flannery is reluctant to set a launch date until it's fully functional and supported by the store's distribution and shipping systems.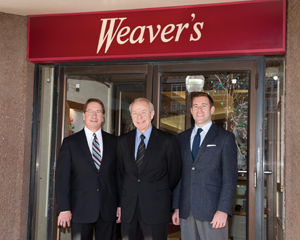 Once it goes live, though, it's unlikely to cannibalize in-store sales, says Weaver's merchandising manager Brady Flannery. "If we're able to build a presence there, as well as with our brick-and mortar store, it only means greater opportunity for us," says Flannery, who is the third generation of his family to work at Weaver's.
In the meantime, there's plenty of enthusiasm for what happens in the store. There's the Weaver's spring sale in April, the downtown sidewalk sale in July and its anniversary sale in October.
And then there are community events like Santa's rescue and the weekends of visits with Santa on Weaver's first floor during the run-up to Christmas. Such things forge lasting connections with generations of customers, creating a sense of community that's invaluable, Howard says.
"These stores are local institutions that are specific to a place," she says. "They're not just Internet sites or standardized stores. They're family businesses."
Joe Flannery appreciates the role his store plays in Lawrence, and he's optimistic that Weaver's will remain as one of downtown's most recognizable anchors.
"We have challenges like all retailers, but we pride ourselves on adapting and we think we're going to be in Lawrence for a long time to come," says Flannery. "We're looking forward to the future."