DOWNTOWN IN FOCUS
| First Quarter 2013 | story by DEREK HELMS | photos by STEVEN HERTZOG |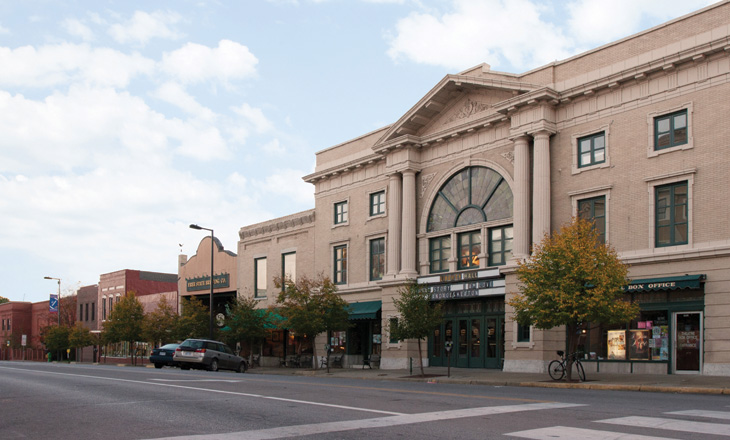 David Milstein is proud of Liberty Hall. As the tall, bearded Milstein sits in a casual conference room on the second floor of the iconic Lawrence venue, he smiles a lot. He says he likes thinking about the history of the building.
"We take a lot of pride in this building," Milstein confesses. "It took a lot of work, but its all been worth it."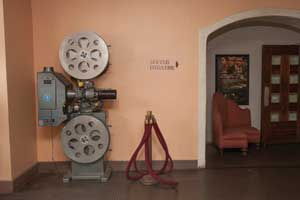 In the mid-1980s Milstein had sold a large share of his surplus store, Sunflower (now Sunflower Outdoor and Bike) and he was looking for a project. A contractor by trade, he was actively searching for a project that could fulfill his desire to work with his hands.
Walking into the main theater area of Liberty Hall, it's hard to picture the structure the way it was when Milstein bought it in 1985. According to him, it's almost a totally different venue now. He had noticed a small classified ad for a "building for sale on Massachusetts Street." Milstein call the listed number and met an agent a day later.
"Oh, it was rough," Milstein says with an exhale. He leans back in his chair, looks to the ceiling, scratches his rough beard and shakes his head. "The first thing I noticed was the strong smell of stale beer, which wasn't surprising considering the floor was covered with empty beer cans and bottles. A boxing ring was in the middle of the floor because apparently the night before a fraternity had hosted some boxing matches. The walls were painted black and the place was just in really bad shape."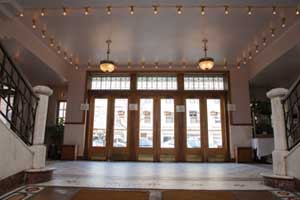 Most young entrepreneurs might have seen the condition of the building and have only seen the amount of money needed to invest. Not Milstein.
"Well," he says as if he's never about it before. "I guess when I saw the building, I felt like I was looking at my future. I saw a way to calm my need to work with my hands and help revive a great structure."
Purchasing the building was a project in its own right. The previous owners had fallen on rough economic times and the building had multiple leans filed against it. Milstein worked with Charlie Oldfather to clear the leans and secure financing for the purchase. Then he got to work.
"I knew it was a project, but that was part of the draw," Milstein says.
Renovation work was extensive and time consuming. Milstein estimates the work took 14 months to complete. Floors, walls, fixtures and electrical work were all replaced. The hall became, essentially, a brand new building. The huge murals that border each side of the stage were painted by friends in an effort to ground the building.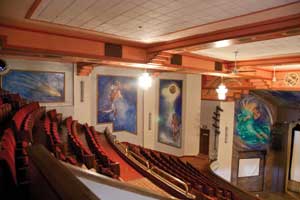 "We put the stars on the ceiling and the artists painted from the top down," Milstein says. "Those pieces of art show the connection from the sky down to the earth. I think we get as many compliments on those as anything else we've done."
The first event the new Liberty Hall hosted was memorable.
"It was the Brazilian club from KU," Milstein recalls with a smile. "I'll never forget it. They served passion punch, which was purple. We had brand new floors and carpet and all. I learned quickly the frustrations that come with running an event space."
Milstein's goal was always to make the hall a movie theater and live event space, but he never anticipated how tough things would be in the beginning. Profits were few and far between in the first few years of operation, but that never seemed to bother him.
"I used to say, 'well, it can't get worse," he says with a loud laugh. "I guess it was just cock-eyed optimism, but I never doubted this would be a success."
It soon became clear that independent movies and the occasional concert weren't going to financially sustain the building. Milstein renovated what was an old bus depot into Free State Brewery and La Prima Tazza coffee shop (the coffee shop is part of the Liberty Hall property). He added the video store and began renting remaining retail space (now housing Lucky Paws Bakery and Be Moved Yoga Studio).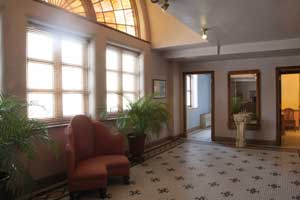 Twenty-eight years after purchasing the run down building, Milstein is proud of the bustling business. Despite the constant worry that something could go wrong with the building, he says profits are spread across all aspects of Liberty Hall, so no one aspect is pressured to cover another.
"By volume, the coffee shop produces the most profit," Milstein explains. "Movie revenue and concessions make up a good portion of profits followed by video and movie rentals."
Despite being lauded as one of the best venues for live music in the region, Milstein explains that concerts really don't produce much profit.
"We rent the hall out about 120 nights a year, for various events," he says. "If there is a performance, we get a set hall-rental price and the take from concession and alcohol sales."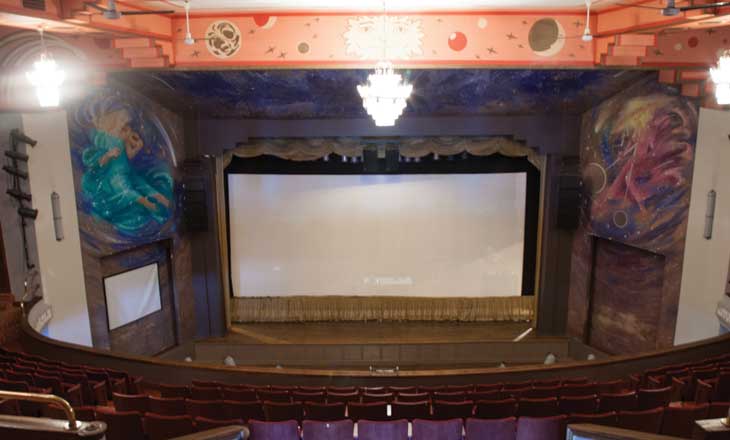 Milstein says it hard for him to pick a favorite event Liberty Hall has hosted (when pressured, he says the Joan Baez shows have been great). In fact, he hardly ever attends events, especially movies.
"The last movie I saw here was about 20 years ago," he says. "I couldn't concentrate on the film because I was thinking about all the aspects of showing the movie."
What David and wife Susan are most proud of are the people. Susan estimates the write 40-50 paychecks every pay period, mostly to part-time employees.
"But some of those people have worked here for 10 years or more," she says with a broad smile.
Though not directly involved in the day-to-day operations of the venue, Milstein still works everyday.
"I'm more of a supervisor now," he says. "I can't not be involved. I care to much about this building and all the people working here."
■