SPACES: LOCAL WATERING HOLES
| First Quarter 2013 | story by MARK FAGAN | photos by STEVEN HERTZOG |
The Sandbar, West Coast Saloon and Yacht Club all have a little coastline in their themes. These three establishments have been a part of the local landscape since the 80s offering a little vacation from our Midwest winters. Take a tropical pub crawl and experience the heartland version of coastal watering holes.
Yacht Club
530 Wisconsin Street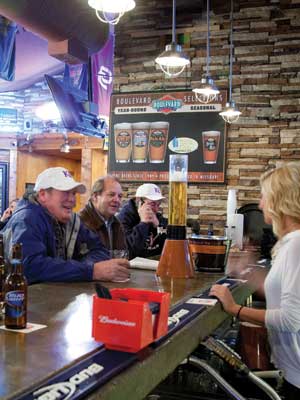 Looking for 21 brand new flat screen TVs and comfortable new seating? The Yacht Club is the place for you. Established in 1988 the 211 person bar has hosted numerous high school reunions, mom's weekends and graduation weekend celebrations. "I love it when people choose to have personal event celebrations here," owner, Steve Prososki explains. The Yacht Club is a family friendly bar and grill offering a lunch and dinner menu and is just the place for celebrations of 30-50 people.


West Coast Saloon
2222 Iowa Street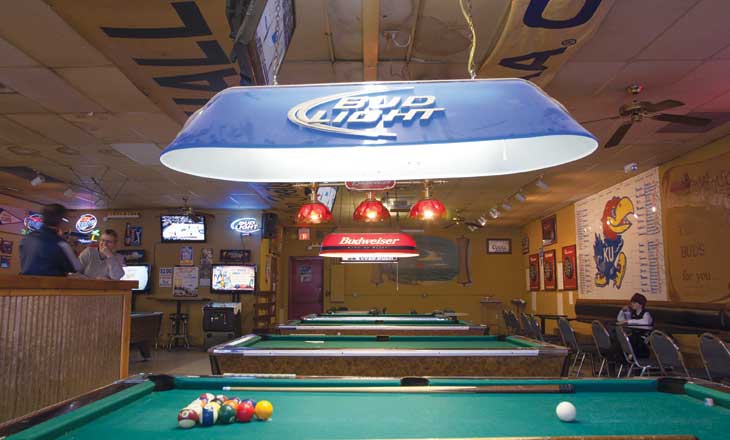 The best burger in town can be seen from the entrance of the West Coast Saloon. The burger is a black Angus 80/20, 1/3 pounder, "you see hear and smell the burger as you walk in the door" says the owner Shaun Trenholm, "even the buns are good and baked locally." Shaun with two friends and former track athletes, Jim Groninger and Kendall Smith, opened the 200 person bar in 1981. "We were young, broke and really lucky! Owning a bar was envisioned over a beer at Johnny's!" Shaun explains laughing, "We thought, why not!" The original theme included railroad ties and sand, becoming one of the bars signature design elements. The sand is now gone, but the spacious bar offers a great space for parties, cocktails and, of course, burgers.
Sandbar
17 East Eighth Street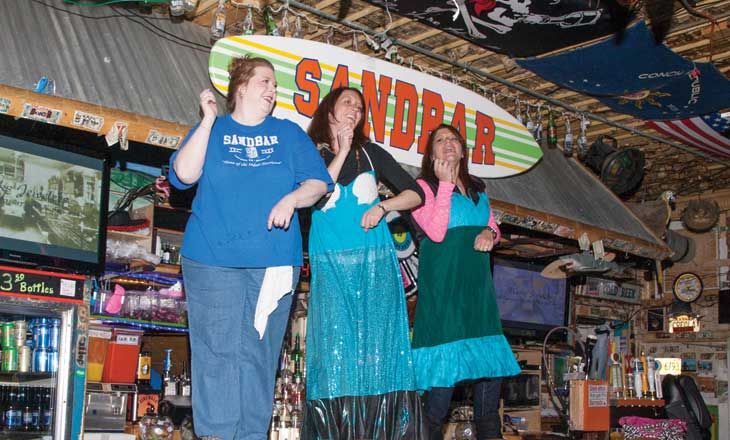 Longing for "happiness in a glass" says Sandbar partner David Johanning, try one of their 9 specialty tropical drinks adorned with toys in each "it's our adult version of the happy meal". The welcoming and playful staff provides a bar to dance on and costumes to wear during their signature Hurricane sing-along song. Complete with an industrial fan (for indoor hurricane theatrics) the downtown bar once known as A.J's has been around since 1989. Peach Madl (an original owner) was a native Floridian missing the coast. She felt the tropical theme would invite the perfect patrons. The Sandbar is a quaint 49 person bar with wonderful regulars supporting an annual Birthday bash in August and the KU Relays in April. Known for closing 8th street for a beer garden and a band, the Sandbar is the place to be when longing for a tropical celebration. ■