WHY LOCAL ONLINE VS RELATIONSHIPS
| First Quarter 2013 | story by MARK FAGAN | photos by STEVEN HERTZOG |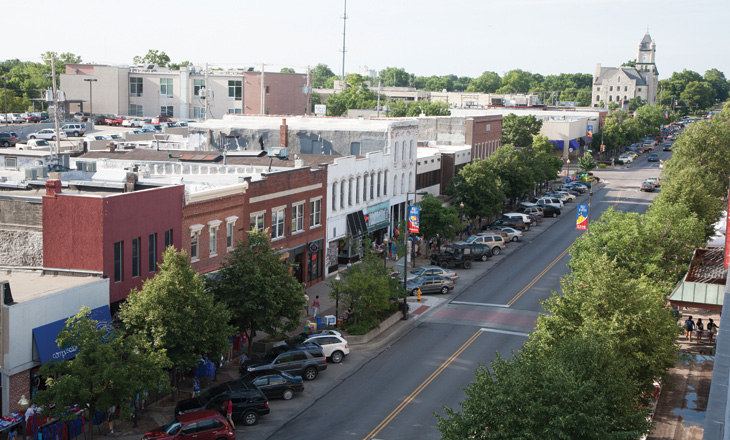 Community banking is the biggest it's ever been — everyone, everywhere, all the time — and that makes building relationships more important than ever.
It's just that his banking community is the biggest it's ever been — everyone, everywhere, all the time — and that makes building relationships more important than ever.
"Before, everything was all in person: a handshake and a signature. Your statements were always delivered by mail, unless you stopped by to pick it up in person — and we had a lot of small-business people who did that," Haggart says, recalling his earliest banking days that continued into his early tenure as president and CEO of Douglas County Bank in Lawrence. "Now we have the best of both worlds: You can have all the Internet services you want, but when you have a question — you need additional advice on the lending side, or even if you don't know how to use or are not familiar with all of the services available on the Internet — we have people you can talk to.
"Our 'in the door' service is extremely important. We have someone right here: Someone you trust, someone you have a relationship with."
Emphasizing the people-first nature of the financial industry is nothing new, but these days a personal approach provides the strongest differentiator for steadfast local banks going up against national lenders and dozens of Internet-only competitors that have popped up in recent years.
Cam Fine, president and CEO of Independent Community Bankers of America, which represents and advocates on behalf of 7,000 community banks nationwide, has emphasized the importance of relationships that includes making donations for everything from youth baseball uniforms to vans for veterans, but reaches beyond: "Our business depends on building and maintaining personal relationships with our customers, supporting other small businesses that in turn provide jobs and services, and helping our communities."
Local banks make a difference in the economy, too. They make loans to local businesses, which provide products and services throughout the area. They employ local residents, whose duties include answering questions, addressing concerns and outlining opportunities for customers. And, unlike major online-only operations that run on out-of-town servers, Lawrence-based banks keep revenues in town to continue circulating throughout the community.
It's a business relationship that continues to thrive in Lawrence. For years the town's locals — like thousands of their community-banking colleagues elsewhere — have run branches, loaned money and generated interest following a traditional path: longtime stability, local knowledge, market savvy and, yes, personal connections.
And rather than run from space-shrinking technology that has fueled outside competition, the locals have embraced it. Secure Internet connections empower customer conveniences that include direct deposits, online bill payments, email account alerts and an expanding list of capabilities that give business- and personal-banking customers all the conveniences they want — and all the choices they could imagine.
It's the people that make a difference.
"You can open an account without ever walking into a bank," says Mark Gonzales, regional senior executive vice president and Lawrence market president for Capital City Bank. "You can close your account online and open another account online without ever talking with a person.
"But it's still important for us today to be in touch with every customer. We like to k now all of our customers. They're not just a number. That's the difference between a hometown bank and a big bank: You're not just a number."
While most customers use some form of mobile banking many still prefer to have access to personal contacts, whether that's to call with a question or stop by for some advice or simply to see what possibilities might be ahead as personal and business conditions change.
Maintaining a personal focus remains important through office hours, branch locations and community connections, Gonzales says, but it's also expanding through social media. Banks can connect with customers through Facebook, on Twitter, using blogs and any number of other existing and emerging online outlets to provide knowledge, collect feedback and stay in touch.
In short: Keep the conversation going.
"It's a connection," Gonzales says.
Connections long have been key for Les Dreiling, who entered Lawrence's banking market back in 1981. Mortgage interest rates had climbed into the high teens, and Dreiling was busy collecting loans before becoming a loan officer.
Today, as president and CEO of Lawrence Bank, Dreiling counts on his personal contacts to help make a difference — both for the bank and for its customers. Knowing people's needs and goals can lead to optimal applications of products and services. Different businesses face different challenges and opportunities, further heightening the need for person-to-person contacts.
Mutual understanding, after all, offers the best chance for mutual success.
"Every business is unique," Dreiling says, noting that such differences are best discovered in person. "You can't get that online."
Simply punching numbers into an online system doesn't offer a full picture of a customer's potential, he says. Dreiling, for example, wants to understand a customer's character when considering how or whether to make business loans.
He's never seen a computer program that can gauge what's inside.
"Character is a big component of banking," Dreiling says. "You want to know who you're dealing with. How do they handle themselves? What do they do in the community?"
Banking may be based on numbers, but the overall business is about so much more. Take a simple example, Dreiling says: As winter thaws, a potential business customer gearing up to provide landscaping services seeks a business loan. A fill-in-the-blanks application might call for payments within a month, which in turn could frustrate the potential customer and cost the bank a solid partner.
Reviewing options in person could lead to a deferral of payments until anticipated cash could start flowing.
"You open lines of communication and see what you can do and cannot do," he says. "We're just as good as our customers. We have to work together. We'll find a way to get things done."
Commercial relationships make business grow for Emprise Bank in Lawrence, says Cindy Yulich, the bank's community bank president. About 80 percent of the bank's business in Lawrence comes on the commercial side, and that 80 percent helps drive new retail accounts.
Yulich counts on technology to help her stay in touch with her customers, for whom business isn't always conducted from 8 a.m. to 5 p.m., and whose principals aren't always in the same place. She typically gets 10 or so texts each day from folks with business on the mind: a house closing coming up, or a contract to be signed in the morning, or a meeting that's been set up for just before lunch.
"It's all the time, and that's a benefit," says Yulich, who considers texts and email crucial to her connectivity. "It's amazing how much I can get done. If I'm in a lunch meeting, I can keep a deal going, and that's what's important."
Oh yes: connections. Yulich started her banking career in 1981, before moving on a decade later to open a bank in Lawrence. She had a single connection in town.
"The only person I knew in Lawrence was Bob Billings," says Yulich, of the co-founder and lead developer of Alvamar Inc. "I had no idea how fortunate I was. He introduced me (to people), and it was a great way to start building relationships – relationships we still have today."
Community banks indeed regard their customers as their most valuable currency. Banks strive to meet demands for products, services and conveniences to keep account holders and loan customers happy, because that's good business.
Douglas County Bank is among those where personal service pervades the operation, in a bank where up to 70 percent of all customers make use of online or mobile banking services. And while all 79 employees are available for face-to-face contacts, nine employees in particular are assigned to meet expansive needs through Account Services — a role focuses on customers' inquiries, questions and concerns regarding online, mobile, automatic-clearinghouse and other systems whose convenience extends from computer screens to in-person communications.
Relationships are important, of course, and the bank's president wouldn't have it any other way.
"When someone has a question they want to talk to a real person," Haggart says. "We do that. The same can't be said for a bank that's totally remote and totally internet. We always have someone right here to deal with." ■